This tornado shlurps data, stores for less, CTERA, CTERA
They might suck, but cloud security crew are poised to become major players
Analysis The Dummies' Guide to Cloud Storage Gateways for Suppliers says: "Cloud Storage Gateways are incoming data tornadoes that will suck up data from your on-premises arrays and splat it down on cheaper competitors' kit or, worse, send it to the public cloud forever."
Just kidding. That Dummies' Guide doesn't exist – we invented it to make a point. And now we're going to illustrate it a different way with a look at CTERA, which means "Cloud Earth".
The company was started because founders Liran Eshel and Zohar Kaufman thought they could apply a security company approach to storage – an approach they had learnt when Eshel was CEO and Kaufmann VP for R & D at SofaWare. Check Point had earlier bought SofaWare, and they departed in April 2008.
Their idea was that data accessed by users – files mainly – would move over time from data centres where companies could control access to the cloud where they couldn't. So if access to the cloud went through gateways they supplied, they could provide security facilities to stop bad people stealing data and silly people letting them.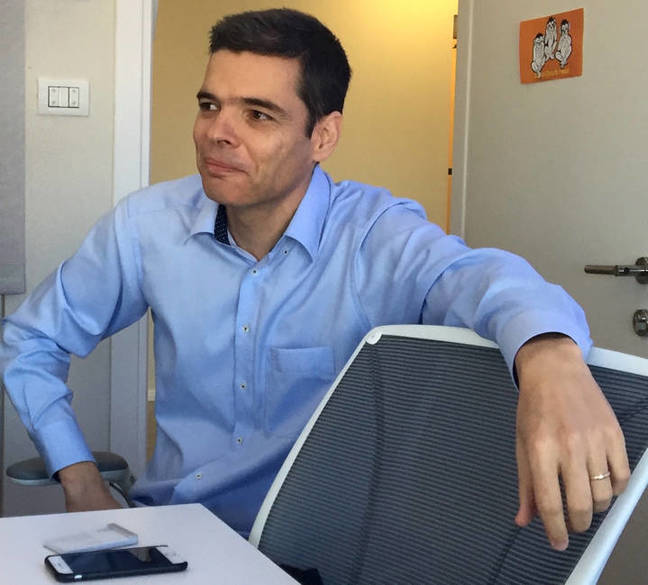 CTERA co-founder and CEO Liran Eshel
They could also enable scattered, roaming and mobile device users in an enterprise to share files much more easily than tight-ass, paranoid data centre admins would let them.
Dropbox and Box were offering freemium services and shadow file sharing was out of control. CTERA, Egnyte and others offered secured sync and share using the public cloud, or on-premises back-end storage, and so brought law to the wild sync-and-share west.
A cloud storage gateway was part of what CTERA provided, but its core IP concerns file sync and share, and security.
Denying direct file storage access
CTERA denies direct access by file sharing, backup and collaboration using users to backend storage arrays, being a controlling storage gateway which can use either on-premises arrays or the public cloud for its backend storage. So it's an off-ramp from on-premises storage for organisations wanting to use Amazon, Azure, Google, and other public CSPs.
Transactional file IO is still direct from applications to primary data-storing filers. The rest, the secondary, nearline file storage data is all open to CTERA's access control.
The company believes cloud and cloud storage is transforming enterprise IT and has interpolated its software in storage user's file access devices and those users now access file storage through CTERA's portal, with a global cloud file system, which directs file IO requests either on or off-premises.
CTERA Portal
CTERA's Portal DataCenter Edition (CPDE) is installed in a customer's data centre and functions as a cloud service delivery platform. It is used to create, deliver and manage file sync and share, backup, and mobile collaboration services, which are cloud storage applications. It is scalable and uses backend storage systems from Dell-EMC, HDS, IBM and AWS; either on-premises, the public cloud, or a hybrid.
Users in remote sites and mobile users access these services via cloud gateway appliances, agents, and mobile apps. The portal ensures data consistency, maintains version history, and facilitates file sharing among users, supporting several access methods, such as NFS and SMB/CIFS. It employs global source-based de-duplication and data compression. Only incremental data changes are transferred for storage in the backend systems cloud, and data blocks are stored only once, which reduces capacity needs and overall network traffic.
Admins can use CPDE to create one or more tenants, called Virtual Portals, on a single set of physical servers. Virtual Portals are accessed by end users and management staff via web-based interfaces. CTERA says the portal can be used to create storage-as-a-service through virtual private clouds, which are hosted on the public cloud.
CTERA cloud gateways and end-point agents are remotely managed with CTERA Portal using a single web-based console. The portal features template-based management, centralised monitoring, customised alerting and remote software and firmware upgrade capabilities. It can manage cloud gateways of various types and sizes as well as individual end-point agents – up to tens of thousands of connected devices – with no need for on-site IT presence in remote locations. Check out the portal administrator documentation here.
CTERA shut-out effect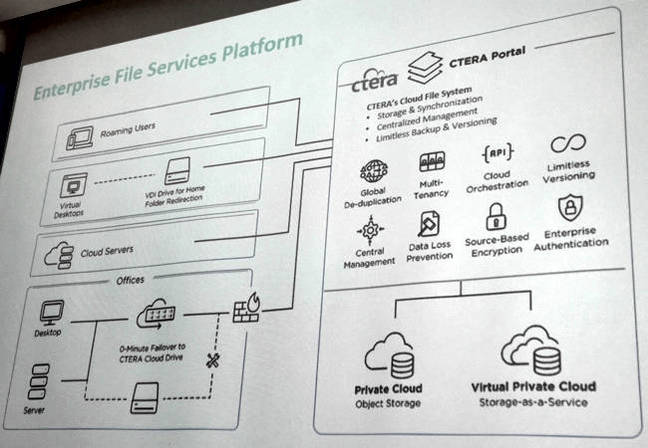 CTERA's view of its software
If you use CTERA software you don't need backup kit for the files accessed through the portal; CTERA provides that. Its software works with the Oracle Cloud Platform, Windows Azure and IBM's SoftLayer (BlueMix as we must get used to calling it) as well as AWS. On-premises storage includes Caringo, Cloudian, DataDirect, HDS, HGST, HPE, NetApp, OpenStack and Scality.
The potential for an incoming CTERA scheme to devastate the business of existing suppliers is impressive, or horrifying; it depends upon your point of view. When Topgolf adopted CTERA, it enabled what CTERA calls significant IT Stack consolidation, affecting OneDrive, Dropbox, Backblaze, and islands of NAS kit.
Topgolf has:
1,000 file sync and share and endpoint backup users
CTERA Sync gateways for Topgolf locations
Everything deployed on AWS and evaluating CTERA AWS backup agents
Thus the company is unlikely to buy any more filers or backup products for the CTERA file population and users, with other suppliers now being shut out.
Comment
Some stats:
CTERA has passed the 35,000 business customer count
It has 200 per cent year-on-year enterprise revenue growth
Customers reside in 110 countries
It has go-to-market partnerships with HPE, Amazon and IBM
You can't knock such success. Customers are buying into CTERA's messaging and its products.
The ability of on-premises array vendors to get stuck in the mud and not realise that cloud storage gateways are a threat to their businesses is almost a given. Even far-sighted EMC couldn't make a go of its in-house file sync and share product, Syncplicity, and sold it off in June last year.
EMC said it was an application and not infrastructure; its then marketing head Jeremy Burton saying: "The standalone (enterprise file sync 'n' share) EFSS market is evolving rapidly; customers are continually looking for new end-user features and functionality to enable their increasingly mobile workforce... This is a step away from EMC's core infrastructure strength."
In other words EMC was not agile enough and outside its comfort zone in running such a business. More fool the on-premises storage vendors. They are letting third parties provide and control off-ramps from their kit to the public cloud, or, indeed, to other vendors. CTERA, Box and Dropbox are slow-motion data tornadoes sucking up on-premises data and making it easy to store in cheaper off-premises repositories. If that's a one-way street and you are an on-premises SW or HW array supplier then these guys suck and you could be screwed. ®