Huawei has a new X6000 model in its FusionServer line of server cartridges stacked inside a rack chassis.
You may not see these much, if at all, in the US, but they will feature in the rest of the world.
The Chinese company's server range includes:
KunLun and TaiShan mission-critical servers
FusionCube hyper-converged infrastructure boxes
FusionServer

E-series blade servers
RH Series rack servers
X Series high-density servers
Within the X Series line we have the X6800 data center server and various V3 server nodes – XH628, XH622 and XH620.
Now we also have the new X6000 high-density server and the XH310 V3 server node. It's a new X6000 because, in 2013, Huawei had a Tecal X6000 High-Density Server using the same form factors. What we have here is a server node processor refresh, DDR4 DIMMs instead of DDR3 ones, plus a local storage refresh with NVMe SSDs replacing some of the previous disk and solid state drive options.

X6000 chassis
The X6000 chassis is a 2U box containing two rows of two 1U-high/0.5U-wide server cartridges, or two full-width server nodes. The 4-cartridge option means a rack can hold up to 800 half-width servers and 160 processors, assuming 2-socket servers. The box can contain up to 24 2.5-inch NVMe SSDs.
We're told the system has a cooling architecture that isolates power air ducts from server nodes.
The server cartridges – nodes in Huawei-speak – support Xeon E3-1200 v3/v4 Refresh and Xeon E5-2400/E5-2600 series processors. The nodes are front-mounted and hot-swappable. Supported node types are the half-width XH310 V3, XH320 V2, and XH321 V2, and the full-width XH621 V2.
The X6000 can have one pluggable I/O module with up to four PCIe 2.0 x 8 slots for IO expansion. There are two hot-swappable power supply units set up in 1+1 redundancy mode, and four fan modules working in N+1 redundancy mode.
The XH310 V3 server node is designed for web serving applications and features:
Xeon E3-1200 v3/v4 Refresh processors
1 x 3.5-inch SATA disk drive
4 x DDR3 DIMMs
Huawei's datasheet says it consumes less power than a conventional 2-socket rack server with one processor, and an "independent BMC module provides management functions, such as SOL and remote KVM, startup, and shutdown, facilitating operation and maintenance of the XH310 V3."
The XH320 is a 2-socket server node using Xeon E5-2400 or E5-2400 v2 series processors and supports 4 x 2.5-inch disk drives or SSDs and 12 x DDR3 DIMMs. It's designed for cloud computing and enterprise data centers.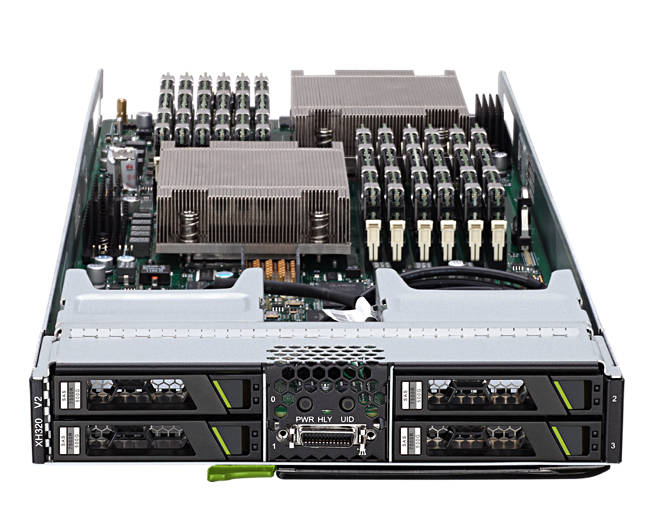 Huawei XH320
The XH321 V3 node is another half-width 2-socket job, this time supporting Xeon E5-2600 or E5-2600 v3/v4 processors, 16 x DDR4 DIMMs, and 6 x 2.5-inch disk drives or NVMe SSDs. There are 2 x 1GbitE or 10GbitE network ports. Huawei says it's "ideal for server applications – such as HPC, virtualization, and web access – that demand high computing density."
The XH621 V2 server node supports up to 24 DDR3 DIMMs, 8 x 2.5-inch drives and the same 2-socket/E5-2600/E5-2600 v2 processors as the XH-321, but up to 12 cores.
Get the X6000 datasheet here. ®