WD has announced an ActiveScale P100 system for storing object data, scaling from 720TB to 19PB (raw), and forming an entry-level archive product tier well below the 672TB to 35PB Active Archive system.
WD now has a Data Centre Systems business unit, DCS, which includes the SanDisk InfiniFlash and HGST Active Archive System products in its remit, plus this new ActiveScale system.
The smallest Active Archive product, the SA1000 scales from 672TB to 4.7PB in a rack and 28.2PB geo-dispersed across three data centres in a single name-space.
WD says the smaller ActiveScale* P100 is both a scale-up and scale-out system and grows to 2.16PB in a rack and 19.4PB across racks. Like the Active Archive it uses object storage software with up to 15 nines of data durability through erasure coding and a geo-spread design.
Geo-spread means it can be deployed in a 3-site configuration to geographically disperse data for higher availability.
The base P1B0720 config pumps out up to 3.5GB/sec and can hold up to 0.6 BN objects. The 9-rack maximum 19.4PB (raw) system can hold up to 16.2 BN objects in its 12.9PB usable capacity.
A base unit takes up 12U of rack space, expansion units 6U, and a fully-configured 19.4PB system 216U. A base configuration has six storage nodes installed in the lower part of its rack (base unit). The mid-part has three system nodes installed above two storage inter-connect nodes in a diagram we have seen;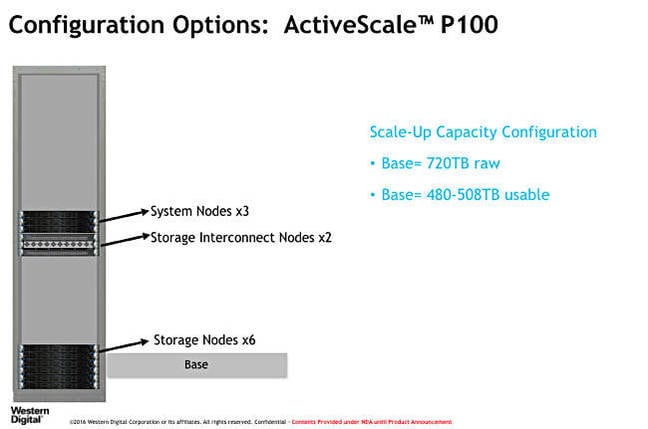 ActiveScale base configuration diagram
The maximum scale-up configuration (2.16PB) needs two expansion units which are installed above the base unit and below the system and inter-connect nodes.
A scale-out capacity system (6.48PB) could include three fully scaled-up 2.16PB systems, while a scale-out performance system (2.16PB) could have three minimally-configured 720TB base systems.
Minimum and maximum ActiveScale P100 scale-up racks; not very pretty. The right-hand rack has three system nodes installed in its mid-part but no storage interconnect nodes are visible. The left-hand system has a base unit and two extra capacity (expansion) units).
From the picture above it appears the P100 uses QCT QuantaGrid SD1Q-1ULH 1U servers. Apparently these servers can hold 6 x 2.5-inch SATA SSDs, 12 x 3.5-inch disk drives, and have a PCIe M.2 slot. There are three rows of 10-slot QCT storage trays above the servers. There is a Dell PowerEdge R415 server (2-socket AMD processor) in the upper part of the rack.
The disk drives are HGST Helium-filled units. We can see a base unit has six storage trays. With its 720TB raw capacity that means 120TB per tray. That would mean 12 x 10TB drives per tray, if 10TB He10 drives are being used.
WD says the operating system is ActiveScale 5 and the system has an S3 interface. There is an ActiveScale System Management (SM) facility.
It suggests using the integrated Active Archive if you have a 2PB unstructured data footprint that is growing fast, and the modular ActiveScale if you have a terabyte-level footprint that is fast-growing.
The ActiveScale system is going to be marketed at on-premise and off-premise cloud users in the life sciences, government/defence, and media and entertainment industry applications. These markets need large content repositories, media streaming and media services, data analytics, data protection and archiving according to WD.
There is a cloud-based tool, ActiveScale CM, which "provides remote system health monitoring and predictive capacity and performance analytics to proactively manage the storage and access" of the ActiveScale P100.
You should be able to find out more detailed information about the ActiveScale P100 here.
List pricing for the ActiveScale P100 system starts at $0.22 per gigabyte and it's available for immediate order.
Comment
That makes a 720TB entry system cost $158,400 at list – so not cheap. El Reg storage desk thinks that if it uses 10TB disk drives, then it only needs 72 of them and the effective per-drive cost is $2,200. You can buy a 10TB helium-filled Ultrastar He10 for $525.00 on Amazon.
Effectively, at the entry-level, you are paying around $120,000 for software, an enclosure, power supplies, fans, controllers, in-cabinet cabling, the scalability, etc, which you might think is expensive. ®
*HPC storage vendor Panasas has an ActiveScale OS and says the ActiveScale term is a trademark belonging to Panasas on its website. But actually WDC is the owner of the ActiveScale trademark. Panasas' website doesn't yet reflect that.