This article is more than 1 year old
Qumulo bangs out new software, Apollo server support
Not the spaceflight programme, the storage hardware
Hybrid scale-out NAS startup Qumulo has banged out a software release twinned with support of HPE Apollo servers.
Qumulo Core v2.5 features:
Snapshots for data protection
Erasure Coding improvements delivering 80 per cent efficiency
Throughput Analytics showing how throughput load is distributed across the file system
Caching of metadata on SSD for up to 25x faster metadata operations
Qumulo says customers can create fine-grained policies and take billions of snapshots with access via NFS and SMB.
Via the analytics customers can get a graphical representation of the file system layout with indicators of throughput and IOPS heat and an at-a-glance view of capacity and activity. There is drill-down access to see which paths and clients are "hot" in realtime to aid troubleshooting of performance issues.
The company has joined HPE's OEM program and supports its Core 2.5 SW on Apollo servers. These are rack-mount, storage-heavy servers intended for high-performance computing and Big Data analytics. Qumulo supports the Apollo 4200 Gen 9 Server.
This is a 2U box with 180TB raw capacity per node (9 x 480GB SSD plus 18 x 10TB HGST disk drive) There are 2 x 40GbitE links per node and a minimum of four nodes in the Qumulo set up. Supported interfaces are NFSv3, SMBv2.1, and REST.
Qumulo says the Core Apollo combo offers scale-out file and object storage for on-premises or private cloud workloads.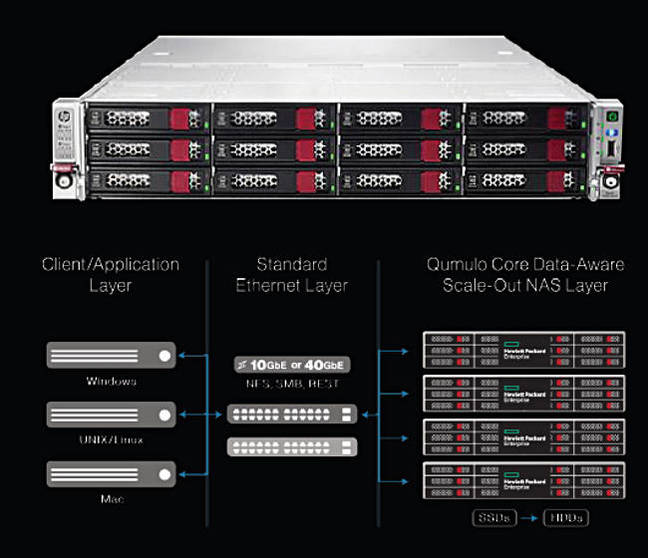 Qumulo Core 2.5 and Apollo 4200
These Qumulo Apollo servers are the first offering on a Qumulo hardware compatibility list, and fit alongside Qumulo's existing 1U and 4U QC-Series appliances. The Apollo's 180TB/node provides a denser footprint than the existing QC-Series appliances.
We'll hear about Qumulo Core support of additional HPE hardware configurations in the first half of 2017, and maybe there will be other server vendor partnerships. We can think of Cisco and Lenovo partnerships quite easily. Dell-EMC might be a stretch as that company has its own Isilon scale-out filers, one all-flash, and file services coming to its XtremIO all-flash arrays as well.
Qumulo's Core SW can also run inside a virtual machine or in the public cloud.
The company wants us to know it has more than 100 customers with 60+ PB deployed and zero churn since its March 2015 product launch. Customers' systems range from 96TB to 4PB+ cluster sizes. It also wants us to know its SW is "rock solid" as its agile development methodology has resulted in 24 versions of its software per year, 60-plus versions in total so far.
Each version is subject to over 300 builds, 1,000 code check-ins and five million automated tests. Gee whizzo, Qumulo, that's a heck of a lot of minor releases. And in two weeks time there will be another one. ®