All-flash and hybrid array vendor Tegile has updated its product range, with the T3000 series of all-flash, hybrid and high density arrays becoming the faster and more capavcious T4000 series.
Tegile is battling it out with Nimble and Tintri as one of three relatively recently founded hybrid array startups that moved into all-flash arrays, and now compete with the mainstream array incumbents, as well as Pure Storage and Kaminario.
The company had four basic all-flash arrays; T3500, T3600, T3700 and T3800. These become the T4000 equivalents; T4500, T4600, T4700 and T4800.
The hybrid flash/disk T3000 line had eight members; the T4000 equivalent has only seven, the T3300 not surviving as a T4300. The other T3xx hybrid products become T4xx hybrid products.
The high-density line, the T10KHD, is an OEM'd version of WD's (SanDisk's) InfiniFlash product. It had three members, the T1oKHD-100, -200 and -300 products. There are now four; T10KHD-4-50, -4-150, -8-100 and -8-300. They have a wider range of high density capacity options.
The effective capacities of the old 3-member T10KHD range were 522, 1,044 and 1,566TB. The new range starts with 307TB, and then we have 721TB, 614TB and 1,843TB. We might expect WD to announce new InfiniFlash products soon.
Here is a Tegile-supplied table showing effective capacities for each new product:

The T4000 products were first mentioned to us back in December last year, with a February 2016 launch suggested. On that basis the products are nine months late.
December T4000 slide: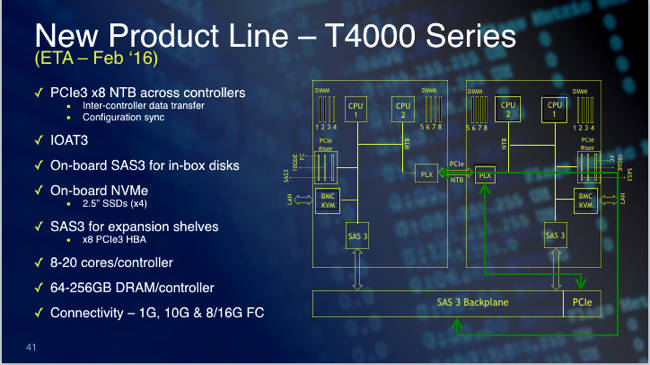 Tegile is not releasing details of T4000 SSD and disk sizes nor controller processor types. It is saying that the new kit has multiple classes of persistent memory as before and the December information encompassed NVMe SSDs. The company says its new arrays "provide 2.3X more memory and 1.7x more IOPS at one millisecond latency to allow enterprises to support applications with high performance requirements."
Tegile's cloud-based array analytics are now accessed through the IntelliCare Operations Center portal. This monitors array capacity usage, configurations, and system health and performance to deliver predictive support.
Customers with Tegile IntelliCare Lifetime Storage receive a technology refresh of their storage system as part of their maintenance contract, and this includes the new T4000 Series, which is available now. ®