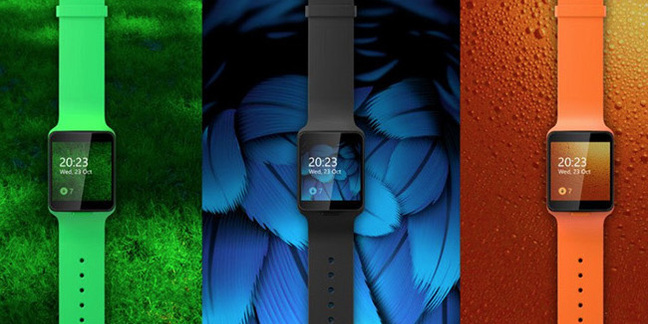 Footage has emerged of Nokia's never-released smartwatch – suggesting Microsoft was wise to kill the project when it acquired the Finns' mobile division.
The Nokia watch prototype in the video dates to the zenith of the smartwatch hype in 2014. Nokia showed the device in private at that year's Mobile World Congress, and it was the year that Google released Android Wear, ahead of Apple's much-anticipated Watch in 2015. Billions of dollars have subsequently been lost chasing a market that remains a tiny niche. Just what we told you would happen back in 2014.
Nokia had already demonstrated a research project called Facet, a strange multiscreen bracelet described as "a multi-segment wristworn system", which you can still see in our story here.
Codenamed "Moonraker", the rectangular timepiece offered few "smart" features: notifications, a step counter and a Facebook can be seen – although more features may well have been planned.
The device shows an NFC badge, indicating potential for electronic payments (which Microsoft still hasn't fulfilled). Moonraker's plastic strap suggests Nokia attempting to appeal to a much wider market. But today that doesn't really exist. Smartwatch shipments crashed 51.6 per cent in the most recent quarter, IDC disclosed last month.
Microsoft cancelled Moonraker and launched its high-end fitness wearable Band instead, only to kill that off too.
Details of Moonraker first emerged last year as an image on a Microsoft employee's Tumblr blog (since deleted), which found its way to leaker Evan Blass. The current video is credited to a Chinese Nokia phones fan site called Nokibar.
Yes, such things still exist. ®
Sponsored: Webcast: Ransomware has gone nuclear