Mozilla launches 'privacy edition' Firefox... that phones home
You had one job, Mozilla. One job
---
Mozilla popped out a new browser today, aimed at the privacy-aware mobile user. Somewhat ironically, it sends Mozilla user data by default: you'll need to turn this off manually.
FireFox Focus blocks ad trackers, analytics trackers and social network tracers by default, although some tracking is permitted. That can be disabled, as can the somewhat incongruous "Send anonymous usage data" option to Mozilla. Mozilla explains what data it collects here.
"Because Firefox Focus blocks these trackers, it is likely you'll notice a performance boost on the many sites that track your behavior.
"When you occasionally see a site that doesn't work because it is dependent on tracking, and if you don't mind that kind of tracking, Firefox Focus makes it easy to open your current site in either Firefox or Safari," the Foundation notes in its accompanying press release.
A hands-on with the iOS version suggests it shows a quick pair of heels – but we didn't perform an in-depth analysis of traffic.
"Firefox Focus continues to operate as a Safari content blocker on iOS, and users will be able to take advantage of Tracking Protection on both Safari and Firefox Focus," the company notes.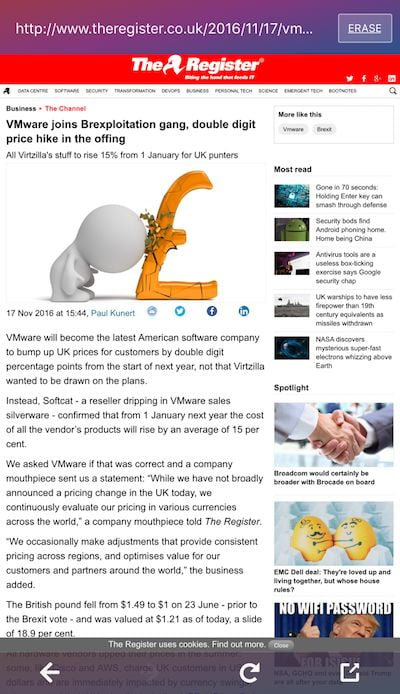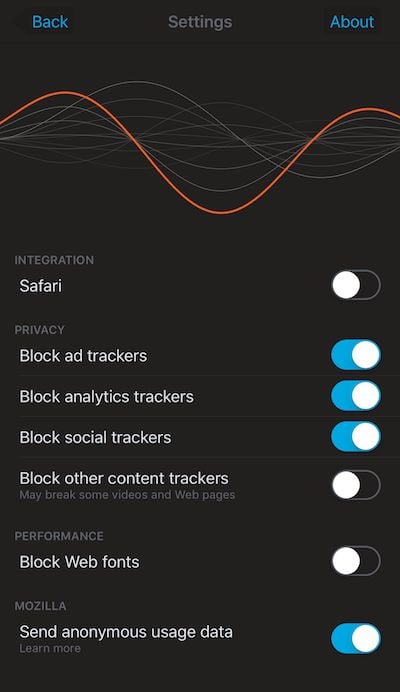 We asked the Foundation why it turned on data collection by default. We'll let you know when we get an answer. ®
Similar topics
Broader topics