This article is more than 1 year old
Flash? Nu-uh. Seagate nibbles on tiny slice of SSD pie
But world SSD shipments up 46%, 128-layer 3D incoming
The utter irrelevance of Seagate as an SSD shipper is shown by TrendFocus's estimated total SSD unit ship numbers for 2016's third quarter, with just 0.1 per cent of the 38.25 million units shipped, 46 per cent up on a year ago.
Stifel MD Aaron Rakers has revealed some of the TrendForce numbers. They cover both enterprise and client SSDs.
The enterprise portion of the total ship number was 4.54 million, an increase of 47 per cent annually and up 12 per cent quarter-on-quarter. Of that total, PCIe drives numbered 417,000, which Rakers says is "up significantly from ~200,000 and ~113,000 units shipped in the prior and year-ago quarters".
He says: "SATA SSDs totalled 3.41 million versus 3.2 million in the prior quarter, while SAS enterprise SSDs grew to 712,000 units shipped versus 450,000 SSDs shipped in the year-ago quarter."
Client (PC) SSDs totalled 33.7 million, up 46 per cent year-on-year and up 14 per cent sequentially.
A pie chart we have crafted from the numbers shows the dominance of Samsung, WD, Toshiba, Intel, Lite-ON, Kingston, and SK-Hynix. The latter shipped 1.61 million SSDs, while Seagate shipped far less, just 38,300 – 0.1 per cent of the total.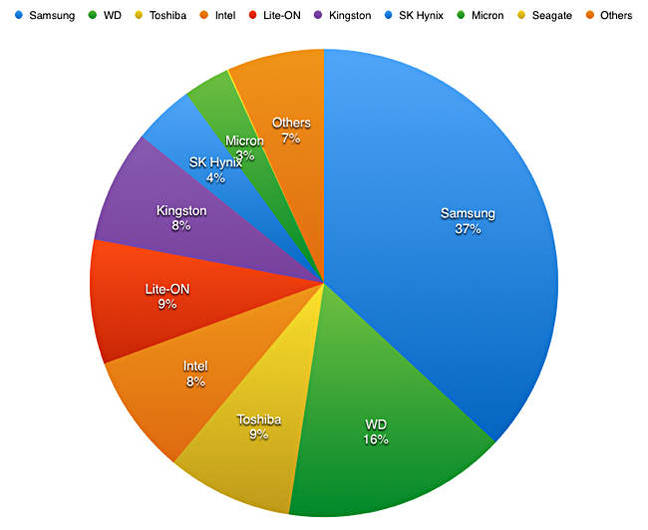 Trendfocus's total SSD unit ships by supplier Q3 cy2016
Rakers writes: "Trendfocus's estimates would imply total SSD capacity shipped equates to approximately 8 per cent of combined HDD and SSD capacity shipped in 3Q16, up from 5 per cent in the year-ago quarter and flat sequentially."
3D NAND roadmap
Currently SSDs are adopting 3D NAND as it is more cost-effective to grow die capacity by layering planar or 2D NAND than by shrinking 2D NAND cell size below c15nm. We understand that Samsung is at 64 layers now, and WD (SanDisk) and Toshiba will be mass shipping 64 layers (BiCS3 technology) in the first half of next year, having started pilot production.
Rakers attended a LAM Research analysts' day where it revealed that the bulk of the flash industry will be at 64 layers in 2017-18, with 96 layers starting production towards the end of 2018. We understand that this means it provides a theoretical 50 per cent capacity increase at the die level, from say 256Gb to 381Gb, unless a die shrink takes place to increase capacity further.

LAM research NAND roadmap
The company sees 128 layers starting production mid-2020, with another 50 per cent capacity increase. We understand that QLC (4bits/cell) NAND will emerge and play an increasing role in data storage from next year onwards.
Planar, 2D NAND effectively stops production in 2017; 3D NAND being more cost-effective at the 64-layer point. DRAM carries on shrinking slowly, below 16nm from the end of this year onwards. ®