Backgrounder HPE has the biggest cojones in the server business, bending tin, designing silicon and pushing photonics, all the while mixing it in the rough and tumble of the COTS jungle.
It has a multifaceted range of servers varying by processor architecture and type, processor carrying card form factor, and chassis design and intent. We're going to try to make sense of this by reviewing the range and then zooming in for a closer look in subsequent articles.
HPE has servers using ARM, AMD, Intel Itanium, Xeon and Atom processors, with Xeons being by far the most used processor type. The basic server processor components come in rackmount, tower, blade, and cartridge form factors. The blade and cartridge products can be packaged inside rackmount chassis of various kinds, and into complete racks which may be clustered together to provide servers for specific application classes, such as Big Data analytics, transaction or database processing.
Here's a stab at tabulating an overview of HPE's server products:
Integrated systems

Synergy
Hyper-converged
Converged
BladeSystem servers

Rack servers

ProLiant racks
Apollo
Integrity Superdome
NonStop

Tower servers – SMB ProLiant Xeons
Blade servers – ProLiant workhorses for various blade chassis
Moonshot – compute-dense chassis of mostly x86 cartridge servers with one ARM cartridge
SGI UltraViolet NUMA servers
Edgeline Internet of Things servers
50,000ft snapshot
Let's try to add a little more detail, like a snapshot from 50,000 feet.
The ProLiant Xeon processors are the workhorses of HPE's servers. Itanium and NonStop processors are/were for high-end and mission-critical servers running core banking transaction processing-type systems; mainframe or near-mainframe equivalents. However, they are getting squeezed out between the vice-like jaws of mainframe longevity and strengthening Xeon use in core systems.
Apollo servers are scale-out, rack-scale systems with a lot of storage, intended for Big Data, analytics, object storage, and high-performance computing (HPC) workloads.

HPE Apollo 2000
Integrity servers means the Superdome ones running HP-UX with Intel's fading Itanium processors and NUMA.
NUMA (Non-Uniform Memory Access) is a vital part of HPE's server technologies. It involves processors accessing two levels of DRAM: local (near) DRAM on the CPU_memory bus, and remote or far (non-local) memory on attached servers, which is slower to access. The cache memory contents on each server in a NUMA setup can be kept coherent by using an inter-processor communication system between the cache controllers.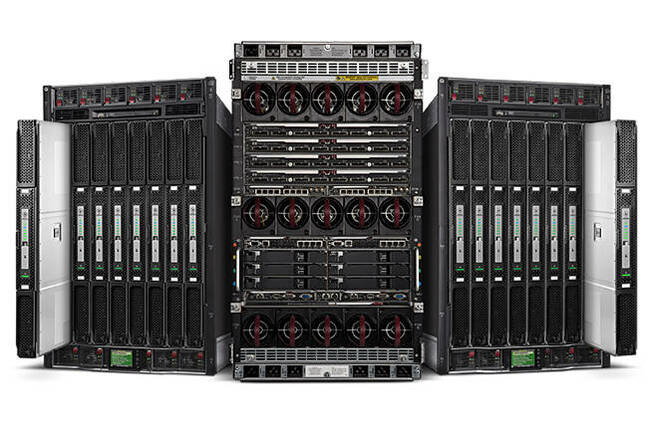 HPE Integrity Superdome X components
Synergy is HPE's composable infrastructure hardware and software bet. The Apollo range has server systems intended for high-performance computing and Big Data analytics. The idea here is to separate out server and storage, decompose them, so that reach can develop separately.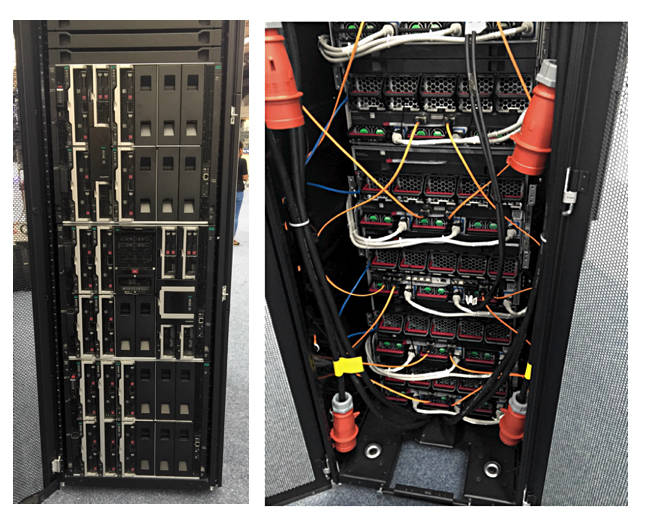 HPE Synergy rack views
SGI was bought in August and brings HPE UltraViolet servers that can be linked via NUMAlink to provide up to 256 processors sharing an SGI NUMA. HPE's own version of NUMA, jointly developed with NEC, is limited to 16 servers and is used in the Integrity Superdome servers.
The BladeSystem is a rackmount chassis carrying blade servers, vertically mounted server cards. Cartridges by the way are physically smaller than blade servers; baby blades you could say. The tower format servers are for small and medium businesses who don't have or need full racks of gear.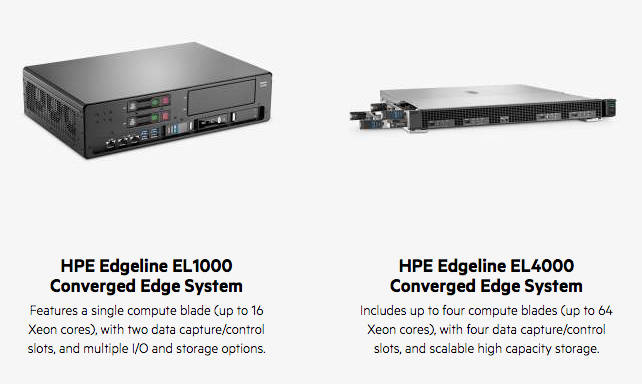 Edgeline servers
Edgeline servers are embedded systems specifically designed to aggregate and process sensor, Internet of Things, data at the edge of networks, such as factories, hotels, car parks, etc. These are based on Xeon or Atom blades and are in their first generation.
Reg Comment
This is the world's largest and most complicated set of servers from a single vendor. It makes HPE the strongest server vendor by far in terms of market and use-case coverage, especially since IBM sold off its x86 line to Lenovo, leaving it with just the mainframes and proprietary Power processor-based products.
Dell is an x86 architecture-only server supplier, as are Cisco, Huawei, Lenovo, and the various ODMs such as Supermicro, Quanta, and so on.
HPE has a history of deep hardware and software development of its servers, from big iron behemoths to embedded small boxes, from commodity Xeon ProLiants to bleeding edge developments like Moonshot. It has taken big and expensive bets on decomposing server components (Synergy), and replacing local DRAM with shared non-volatile memory.
HP's Invent tagline has led to tangible results when you look at the company's server products. There's been no retreat into a proprietary heartland (like IBM) or total adoption of x86 as the core server processor with a sideline in Atoms (Dell for example). Whether HPE can keep this up as it slims down to its Meg Whitman-designed core is a question one can reasonably ask. ®