This article is more than 1 year old
Google declares victory for its Wifi router before it's even shipped
We won because we built it from the ground up, Google insists
Google hasn't yet released its Wi-Fi mesh router, but the company is already claiming to have bested the competition.
Google paid testing services company Allion USA to evaluate how its forthcoming "Wifi" compares to mesh routers from Eero and Luma.
Eero and Luma have both received significant venture funding this year, based on the notion that they can make home networking easier to set up and maintain using mesh technology. Such investor enthusiasm and Google's entry into the market suggests home networking has room for improvement.
Allion USA, based in Beaverton, Oregon, created three home Wi-Fi networks in a 3,000 square-foot, two-storey home, one for each vendor. Each network consisted of two units. It conducted its tests using a MacBook Air.
Google says its Wifi – spelled thus, rather than Wi-Fi – was found to be faster than the competing networking devices by a significant margin.
"Google Wifi is 75% faster than Eero in the living room, and more than twice as fast as Luma at the same location," the company said in a blog post. It also claimed that in the upstairs bedroom, Wifi reached speeds of 228 Mbps, compared to 205 for Luma and 186 Mbps for Eero.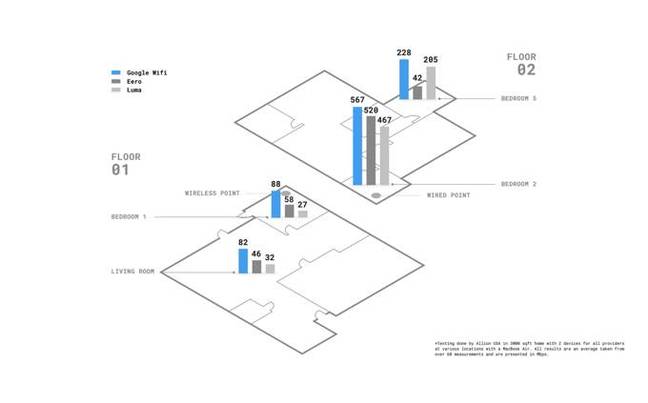 Allion did not immediately respond to a request for further information about how it conducted its tests. Eero declined to comment and Luma did not respond to a request for comment.
Neither company is presently able to replicate the Allion test because Google's hardware won't be available until December 6th.
Coincidentally, Eero CEO and cofounder Nick Weaver last week sent out a note to Eero owners saying that over the next few days, the company intends to roll out an updated version of its mesh networking technology.
"Overnight, you'll see up to 2x the (LAN) speed within your network, far greater intelligence in how your network adapts to your home, and flexibility to add even more Eeros to your system," Weaver said.
Google's newfound focus on mesh networking comes a year after it entered the home router market with a more traditional router, the pricey OnHub. Google declined to disclose sales figures for the device. But at its original price of $200, twice other well-reviewed routers, OnHub probably didn't sell very well. Presently, OnHub can be had for about $127.
Google promised ongoing improvements to OnHub, but upgrades have been few and far between.
At least Google appears to have learned from its OnHub pricing experience. A Wifi 3-pack ($299) is less than the same number of Luma ($399) or Eero ($499) devices. On that basis alone, it may do well.
On a related note, Apple has apparently decided to stop making its AirPort wireless router, a sign the margins in the market and potential sales aren't high enough to justify the iGiant's continued attention. ®