This article is more than 1 year old
Allow us to sum this up: UK ISP Plusnet minus net for nine-plus hours
Packet loss equals knackered broadband service for some
For the past nine hours or so today, bungling Brit broadband ISP Plusnet's internet service has been rather wobbly – with network packet loss wrecking some connections.
This lack of stable connectivity for unlucky punters will hit things like online video and voice calls, gaming and streaming the most. Uptime-adverse Plusnet reckons the degraded broadband performance started about 10.30am GMT on Tuesday – nearly 10 hours ago at time of writing – and admits its webmail service has been rubbish for the past 34 days.
According to a status page for the stability-phobic ISP's internet service:
Some of our broadband customers may be experiencing 'packet loss' or performance issues during certain times of the day.

This can cause websites and other Internet services to be slow to respond, or to occasionally timeout or 'buffer'. We think the problem is only affecting a minority at present and is most likely to be noticed when using 'time sensitive' services like online gaming (lag), Internet telephony (call quality) and streaming (buffering).

Our engineers are working hard to get to the bottom of things, and we'll provide another update as soon as we've anything further to share.

Apologies to those of you experiencing difficulties.
Outage monitoring website Down Detector has a map showing the extent of Plusnet subscribers' woes. As you can see, there are reports from customers across Blighty complaining about failed connections and loss of network packets – from London to Birmingham, Manchester, Leeds, Sheffield and York: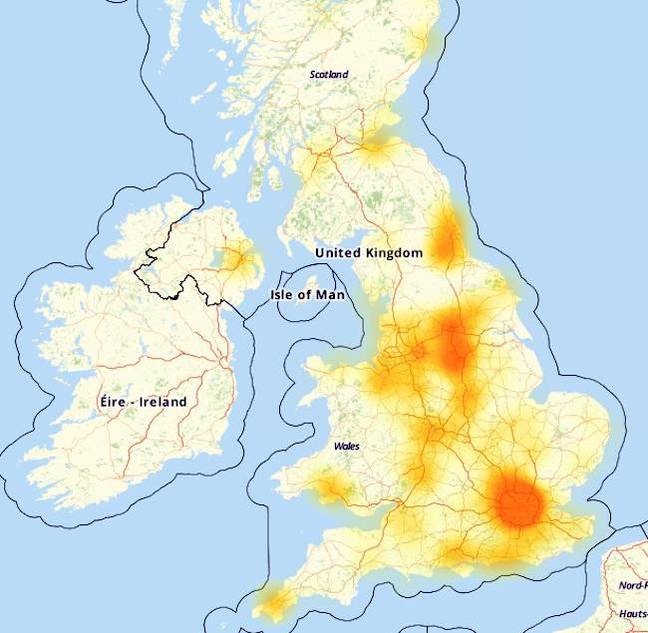 Plusnet is, unsurprisingly, one of the most whinged about comms providers in the UK. A spokesperson for the BT-owned operation was not available for immediate comment. Plusnet is due to update its status page at 11am GMT on Wednesday. We note that late last week BT was carrying out maintenance work on its national networks that would affect broadband services for up to six hours at a time. ®