This article is more than 1 year old
Twitter bans own CEO Jack Dorsey from Twitter
2016 keeps on giving
Twitter today briefly suspended the Twitter account of Twitter cofounder and CEO Jack Dorsey. For a moment, we all thought the big boss had been unceremoniously booted out of the troubled biz or had fallen foul of his own anti-abuse complaints system. But it was probably a bug or something mundane like that.
Twits surfing over to his @jack Twitter profile around 6pm Pacific Time today were unexpectedly dumped at the usual "account suspended" page. Dorsey had 3.91 million followers, and had tweeted more than 20,000 times, before his own network axed him just moments ago.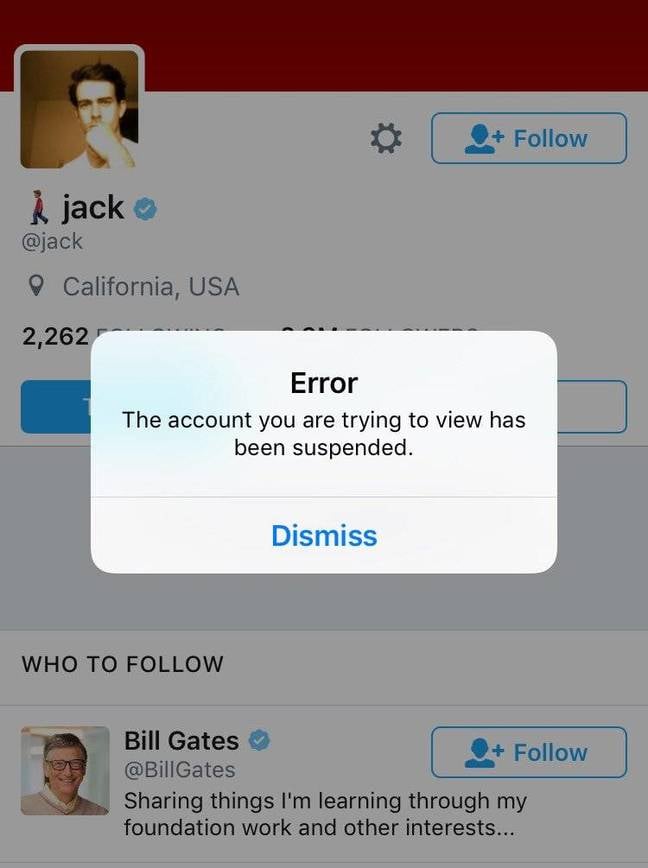 Then about 15 minutes later, his account was restored, dug up from the grave and reanimated inexplicably. It remains a true modern-day mystery thriller set in Silicon Valley – the hipster 40-something startup CEO, in the shared working hack space, with the lead pipe.
We weren't the only ones to notice his sudden strange disappearance:
HAHAHA @Jack Dorsey got suspended from his own platform 😂😂😂

MEME MAGIC IS REAL FOLKS 🚨 pic.twitter.com/vCb4Lbwuno

— Baked Alaska™ (@bakedalaska) November 23, 2016
THERE ARE NO RULES @JACK

— 「S t o v e」 (@FlatAnimeTiddie) November 23, 2016
For a miraculous moment, I witnessed @jack having been suspended from his own shitty website

And it was a pure, perfect life. I miss it.

— Gus (@guscraw) November 23, 2016
It's been a bumpy, well, existence for Twitter but it's been particularly more bumpy this past year. Dorsey fully took over as CEO in October 2015, replacing previous chief exec Dick Costolo. Just days later the post-profit biz started slashing staff, then later struggled to keep anyone on top of its product development, and continued to axe employees.
Dorsey himself blamed an "internal mistake".
just setting up my twttr…again (account suspension was an internal mistake)

— 🚶🏽jack (@jack) November 23, 2016
Given all its woes to date, suspending the account of its own chief executive and cofounder is a bitter cherry on a very wobbly cake. We've asked San Francisco-headquartered Twitter for an explanation – we'll update this piece when we hear back from them. ®