Analysis SAP VP Renu Raman thinks 2U, 24-drive, NVMe storage boxes could provoke a storage VMware moment.
Raman looks after HANA cloud computing at SAP and his interests include high-performance persistence architecture for in-memory databases. What he's clocked is that there is storage hardware now in the same position as the 2U 2-socket compute rack shelf was in 2003.
In a blog post he writes that this compute powerhouse gave rise to VMware and MapReduce/Hadoop-style distributed computing, and became a data centre workhorse. COTS compute hardware development had reached a point where it spawned enormous and far-reaching software developments that have revolutionised data centres.
It was a potent powerhouse because it ushered in multiple cores, multi-threading and DDR2, and faster memory, meaning that you could have significantly more and affordable compute inside a 2U server tray. AMD and Intel couldn't make CPUs simply go faster and faster by bumping up the clock rate, so they used the growing processor chip real estate to increase the core count instead.
These cores sat there, twiddling their thumbs at MHz and GHz rates waiting for damned IO to complete and, as if on cue, up springs VMware, making it easier to provide multitasking based on virtual machines above the OS-level than within the OS itself.
EMC bought VMware and its development was rapid, with things like virtual SMP and VMotion. It even, Raman says, influenced x86 hardware developments in a virtuous circle.
The need for affordable compute/memory nodes was also a requirement for MapReduce and Hadoop and the 2U, 2-socket, COTS server box met that need, ushering in the Big Data movement.
Here's the thing: Raman sees the development of a 2U, 24 drive NVMe storage box as being positioned to act in the same fertilising way on storage as the earlier dual-socket, 2U compute box did on compute software.
The software point is crucial to Raman. This 24-drive shelf is a necessary hardware platform from which storage software developments will spring over the next few years.
What's so great about this box and what it presages?
Raman lists two things:
NVMe drives and ROCE can deliver 30-40GBpsec in bandwidth
16TB flash drives built from 3D NAND and flash's increasing affordability provide concentrated storage density in a small space
El Reg thinks the density numbers are fascinating. Crudely speaking, 16TB now will be 30TB in two years or less, followed by 60TB again in two years or less, meaning a 24-drive box will then hold 1.5PB of raw storage, say 4PB after data reduction measures. Scale out these suckers and you get unheard of storage densities with bandwidth to match.
Top Of Rack Storage
Raman reckons that a logical place to put such concentrated storage density and bandwidth goodness is at the penultimate top of a rack. Have a top of rack switch (TORS) and Top Of Rack Storage (TORS 2?) underneath it, with both sitting atop a rack stack of storage-less servers.
It's now possible to go "diskless" in each server and with the advent of NVMeoF, coupled to a TB 2U box, it's very likely that most cloud-scale infrastructure could be built with compute that has just CPU and memory and all storage consolidated to this TORS within the rack.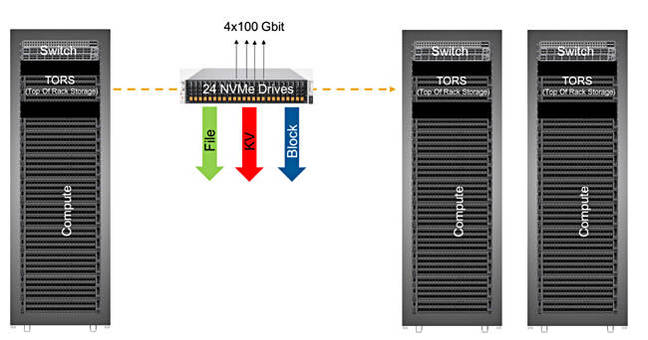 Raman's TORS rack storage scale-out scheme
Distributed storage software
From this box, Raman says, distributed storage systems will spring:
Once again thanks to underlying silicon technology (3D NAND in this case and NVMe), throughput, capacity and cost reach a perfect storm that will enable a whole range of new categories for storage. The value shifts to the software as it did then with VMware.
The key qualities needed in the storage software that is emerging to make best use of these concentrated storage powerhouse boxes are a "truly distributed data management system that is drive, node, rack, DC failure-tolerant, [and has] continuous availability, [and] exposes file, block, object and emerging data access methods (KeyValue, tables, streams, queues, etc)."
Who will emerge to be the "VMware" for storage? He supposes it "is likely to be a company that was founded a few years back much like Google and VMware were founded a few years before the 2003 moment". So a startup possibly rather than an incumbent. But he refrains from naming any possible candidates.
Many storage suppliers have proposed/speculated that they are the VMware of storage and, so far, none has emerged to sit on that virtual storage throne. Does Raman have the right of it at last, or has he been seduced by a sexy storage COTS box into seeing something that isn't there; a TORS mirage? ®.
Similar topics