This article is more than 1 year old
Cheap virtual box hosters – Amazon's Lightsail is out to destroy you (yes, you, Digital Ocean)
Look out for bill shock, though, devs
AWS re:Invent Now that it dominates the public cloud market, Amazon is setting its sights lower – on developers deploying small projects – in the hope that these customers will remain within the AWS ecosystem.
In conjunction with AWS re:Invent in Las Vegas on Wednesday, Amazon introduced Lightsail, a service that allows customers to launch virtual private servers (VPS) configured with SSD storage, DNS management, and a static IP address.
"You get the simplicity of a VPS, backed by the power, reliability, and security of AWS," said AWS chief evangelist Jeff Barr in a blog post. "As your needs grow, you will have the ability to smoothly step outside of the initial boundaries and connect to additional AWS database, messaging, and content distribution services."
Lightsail supports various open-source operating systems – Amazon Linux AMI, Ubuntu, CentOS, FreeBSD, and Debian – and offers a variety of one-click applications (Drupal, Joomla, Magneto, Redmine, and WordPress, among others), and can accommodate popular development stacks (LAMP, LEMP, MEAN, and Node.js).
"AWS is relentlessly developing new compute services to satisfy demands from across the market," said John Dinsdale, chief analyst with Synergy Research Group in an email to The Register.
"With Lightsail, AWS is effectively extending the attractiveness of its services to a lower tier of the market. It's a good move. AWS has the ability and desire to reach out to a multitude of different users and use cases."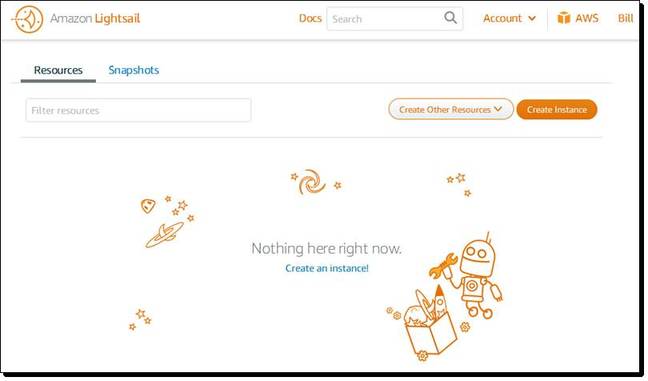 Starting at $5 per month for 512MB of memory, 1 virtual CPU, 20GB of SSD storage, and 1TB of data transfer, Lightsail is priced to compete with hosting providers like DigitalOcean, Linode, and Vultr.
But "starting" is not always what concerns individual developers and small development organizations. Often, for customers with less than unlimited funding, the final bill matters, because unexpected financial liability can derail ventures that aren't yet generating reliable revenue.
AWS customers have complained about bill shock for years, and while Amazon acknowledges the issue, it places the burden of cost mitigation on the customer.
There's some rationale for this – those running large online applications probably don't want them to turn off once a quota is met – but many developers want the option to limit their expenses.
Unfortunately for cost-conscious customers, Lightsail leaves room for unexpected charges. DNS queries in excess of 3 million per month are charged at $0.40/million. Static IP addresses cost $0.005/hour when not attached to an instance for more than 1 hour. And there are other potential charges, particularly for those using other AWS services.
In contrast, DigitalOcean makes cost control a selling point, stating on its website: "Always know what you'll pay per month." The service offers customers a notification when their bill approaches a specified limit.
Lightsail, DigitalOcean, Linode, and Vultr charge extra for bandwidth in excess of plan-specified limits, but Lightsail charges more – $0.09/GB compared to $0.02/GB at the other three.
By failing to offer sufficiently predictable pricing, and a billing cap, Amazon has limited Lightsail's appeal. Those who have already bought into the AWS ecosystem should appreciate the simplicity of the service. But those just getting into application development may need more reassurance.
The Register asked DigitalOcean and Linode to comment on the prospect of sharing their lunch with Amazon. DigitalOcean declined to comment.
In an emailed statement, Casey Smith, Linode's chief marketing officer, said, "We're flattered to see AWS create an offering similar to our own. There is great value in simplicity, which is why we've stuck with offering our services in this way since 2003."
Smith said Linode welcomes the competition and expects the developer and small business communities to benefit from it. "As for Linode, we will continue to differentiate ourselves as we always have – in server performance, quality of support, and our position as a hosting provider built for developers, by developers," he said. ®