This article is more than 1 year old
Nutanix makes thundering great loss, stock market hardly blinks
Investors don't care as sky-rocketing growth set to continue
A thundering great loss: that's the first thing to notice about Nutanix's latest quarterly results.
It's more than three times worse than the loss of the previous quarter: $162.2m vs $49.9m and the year-ago quarter's $38.5m loss; sales grew only 19 per cent sequentially so the rate of loss-making would seem to have accelerated.
Revenues for the hyper-converged infrastructure hardware and software vendor in Q1 2017, which ended October 31, were $166.8m, up 90 per cent year-on-year, beating estimates – so that's solid growth there. Overall, Nutanix did better than analysts expected: the upstart recorded a 37-cent earnings-per-share loss and analysts anticipated a 44-cent loss.
Nutanix CEO and chairman Dheeraj Pandey put the results in the context of a gap between VMware and AWS: "The time warp between an enterprise-friendly VMware and a consumer-friendly AWS is our cloud opportunity. Our first quarter results are reflective of the strength of our thesis on how enterprise computing will morph in the coming three to five years."
Translation: don't worry about this quarter's loss.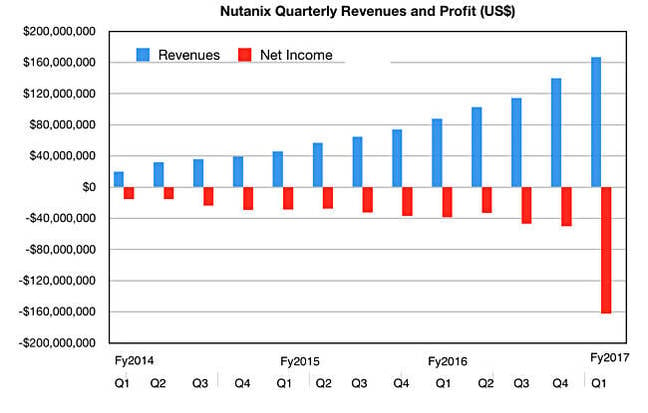 Nutanix revenues and net income to Q1 fy2017.
Customer growth was good, with a total of 4,473 end customers – 705 new end customers were added during the quarter, a record. There was strong growth in the US federal market with more than 100 deals in the quarter. The Dell-EMC threat is contained Dell OEM agreement that runs out in June 2017 has been re-signed – it now runs until 2021.
Nutanix says it hired 159 sales and marketing people in the quarter, up from 74 in the prior quarter and 115 in the quarter before that.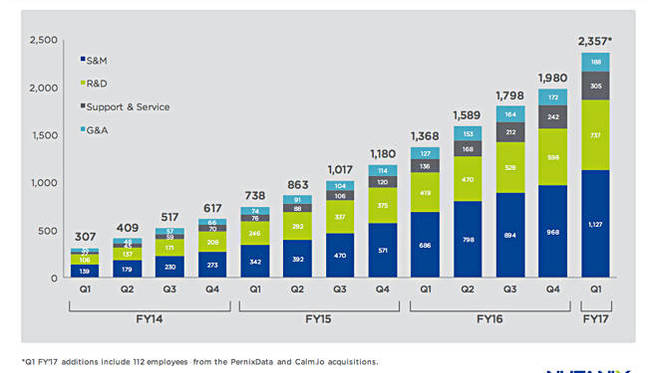 Headcount growth at Nutanix
The shares peaked at $34.75 yesterday and are now $34.11, a slight, 1.8 per cent fall, as investors digested the results and took the view that the growth prospects are still good.
Next quarter Nutanix expects revenues of between $175m and $180m, which would represent 72.98 per cent annual growth at the mid-point. Make that and the investors will be happy.
William Blair analyst Jason Ader says he thinks Nutanix is positioned to "achieve sustained profitability by fiscal 2019". ®