Dell EMC kills off VxRack Neutrino
EOL for hyper-converged, rack-scale, turnkey turkey
---
EMC is end-of-lifing its hyper-converged, rack-scale, scale-out, turnkey VxRack Neutrino product.
VxRack Neutrino was announced in February this year as a product on which to run cloud-native apps and Big Data analytics workloads in large data centres.
The component storage pieces in the VxRack 1000-based product were ScaleIO virtual SAN storage software and the ECS object storage software, and a DSSD all-flash array. In May the system was named the VxRack System with Neutrino Nodes - there could be up to 108 of them, and described as a pre-packaged OpenStack system.
It was composed from P Brick processing nodes and I Brick storage/compute nodes with hybrid flash and disk storage. The minimum VxRack system had four racks, 45 bricks and 108 nodes made from P and I bricks. There was then a separate VxRack System with DSSD.
Seven months later, EMC has decided to kill off the Neutrino systems. Customers, it said, wanted more flexibility than they got with a fixed, turnkey design. They also wanted to get support and training outside Dell EMC, with Red Hat mentioned as an alternative.
The blog (by engineering veep Doug Bowers from Dell EMC's Infrastructure Solutions Group), states:
Dell EMC has made the strategic decision to meet this customer demand for OpenStack private clouds with our Reference Architecture and Validated System portfolio and end of life VxRack Neutrino.
The alternatives for the VxRack Neutrino target customers are "The Red Hat OpenStack Solution – A validated solution using Dell servers and switches delivered via our strategic partnership with Red Hat and jointly engineered by Dell EMC and Red Hat," or ScaleIO OpenStack Reference Architectures, which support Mirantis and Canonical OpenStack environments.
The VxRack system with DSSD is not specifically called out in EMC's blog, although a search for "VxRack system with DSSD" on theregister.comEMC's website reveals no results.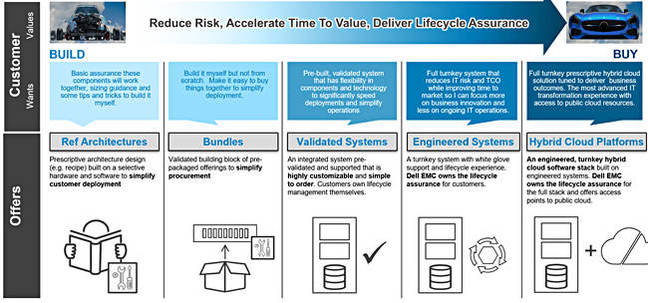 Chad Sakac build-vs-buy 5-step continuum.
A Chad Sakac* blog on the build-vs-buy system continuum provides a view on how to position reference architectures, bundles, validated systems, engineered systems and, at the end of this continuum, hybrid cloud platforms. Going on this post, VxRack Neutrino was too far to the right on the continuum for OpenStack customers. ®
* Chad Sakac is president of the VCE - Converged Platform division of EMC.