This article is more than 1 year old
HyperGrid's ex-ice hockey player evangelist wants to slot the puck
Murphy's Marrakech Express leads to metaphorical storage goal
Analysis It's said that hockey players wear numbers because you can't always identify the body from dental records, or that someone went to a fight and a hockey game broke out.
Kelly Murphy is a hard man, a Regina, Saskatchewan-born ex-professional ice hockey player, forced by injury to follow the puck off the hockey field and into an IT software career leading to starting and running IT companies. He is now chief evangelist at HyperGrid – Nariman Teymourian being the CEO.
HyperGrid is a Hyper-V-based hyper-converged infrastructure appliance (HCIA) that is extending its reach into the software-as-a-service (SaaS) market via its purchase of DCHQ. It was started up by Murphy in 2009, but we are getting ahead of ourselves here.
Murphy's parents were Irish immigrants and he grew up in the central Canadian flatlands – 1,000 miles with nary a hill in any direction. He went to college in Michigan and gained a degree in Computer Science and sufficient proficiency in ice hockey to turn professional and sign for the New York Islanders in 1984, being a seventh round pick on their entry draft. It was a tough, aggressive, slamming way of life and injury put paid to it as it does for many hockey players. Fortunately there was Computer Science to fall back on, and in 1990 Murphy turned to working for Finning in Canada as a software engineer designing and developing stand-alone and client-server based database applications for corporates.
This led in 1993 to a stint at Vision Consulting as a software engineer, then systems architect in the banking apps area, and finally a manager for emerging technology. Murphy moved to Ireland for this job after having met a lovely Irish woman on a trip to Mexico.
Marrakech express
He and others started up Marrakech, named after the place where it was conceived in 1998, to provide procurement-as-a service a decade before the SaaS concept became current. The idea was to manage and provide access to a company's inward supply chain so the enterprise's component companies and divisions didn't have to do it themselves and could get the advantages of central purchasing and supply.
Murphy moved from being CEO to CTO in 2003. Marrakech survived the dot.com boom and crash, counted the UK's Tesco amongst its customers and was sold in 2006 to AMT-Sybex, which was bought by Capita. For Murphy it had been a great eight-year ride.
While it was in operation, storage became a large and growing problem at Marrakech. It couldn't be scaled out or up easily and affordably when capacity limits were reached. There was no cloud bursting capability then. Murphy said: "We had significant difficulty in scaling Marrakesh." It was an infrastructure scaling problem.
The firm moved its hosted infrastructure from the YSA to Ireland in 2004, and shared a data centre in Ireland where Google had a facility and they saw how Google staff slid out dead server trays and slipped in new ones, just like that, with the Google operation not pausing. If only they could do the same with storage.
Gridstore history
Murphy, ex-Marrakesh senior system engineer Antoni Sawicki (chief architect who has since left) and Tomasz Nowak (principal engineer), started up Gridstore in 2009 to fix what to them seemed a common problem. They thought the way to fix it was by aggregating a bunch of servers' direct-attached storage into a virtual filer. Eventually it wanted to get into the hyper-converged business. They needed to stick driver code into the VMware kernel to do this. But VMware didn't want to play ball with a small startup, whereas Windows with Hyper-V was more open to Gridstore than VMware. So it switched to delivering its storage on Hyper-V and gained instant differentiation from the other virtual SAN and hyper-converged folks focussed on VMware.
There were funding issues as VCs took a while to realise that their technology was viably disruptive and not an off-the-wall fantasy. A $1.5m seed round was followed by a $12.5m A-round in 2012, an $11m B-round the next year and then a funding hiatus until 2016 and a $19m C-round.
Early products included a scale-out Atom-powered NASg box in 2011. Atom-powered? Murphy does say he is a contrarian. Geoff Barrall became chairman in January 2012; Murphy is nothing if not persuasive.
He stepped back from CEO to CTO in April 2013 when ex-Nexsan CEO George Symons became the CEO, Imation having bought Nexsan.
Hitting on Hyper-V
The Hyper-V-based semi-virtual SAN Gridstore v3.0 product came out in October 2013, with Hyper-V-running servers accessing back-end storage (scale-out nodes in a virtual pool) as if it was local to them.
Full-scale hyper-converged appliances for Hyper-V were introduced in October 2014, with Gridstore claiming it was much more efficient than other hyper-converged products. At the time Murphy said: "We are able to deliver the first All-Flash Hyper-Converged Infrastructure with performance that is 10X that of an All-Flash Array (AFA)."
It was also differentiated from the majority of other HCIA suppliers who were focussed on VMware.
Imation recruited Geoff Barrall to its board in December 2014, and he is now Nexsan's CTO.
Gridstore said it was growing gangbusters in November 2015; 440 per cent year-on-year growth for its third 2015 quarter. However the growth seemed to tail off.
It gained the $19m C-round funding in February this year, plus a new chairman, Nariman Teymourian, and three new execs: a CFO, a VP for Americas sales, and a chief strategy officer, James Thomason. He's now the CTO, getting that title in July. Teymourian is an ex-SVP and general manager for converged systems at HP.
Symons passed through the CEO exit door in February this year. Murphy became interim CEO, with Teymourian taking over in May.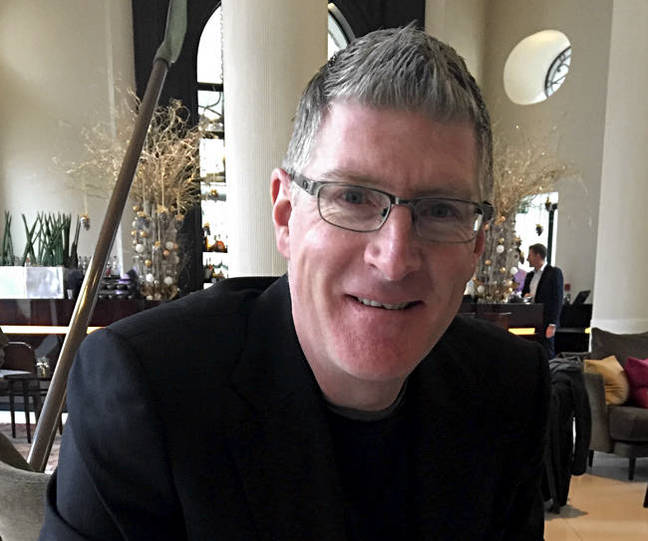 HyperGrid (Gridstore) co-founder and chief evangelist Kelly Murphy.
A new strategy emerged in July with Gridstore buying DCHQ and changing its own name to HyperGrid, aiming to deliver HCIA-as-a-Service, but actually to provide virtualised or containerised workload running services in a runt-time resource pool composed of on-premises kit, private hosted and public cloud services.
HyperCloud
The idea is that business should consume and not necessarily buy IT or build it. An IT department should become a service broker and be able to run workloads wherever they make sense; on-premises, in privately hosted facilities or in the public cloud. Workloads can be virtualised or containerised; Murphy says traditional apps could be containerised and so made capable of being run anywhere.
The service presented is an application platform and the branded product is HyperCloud. The world is going all-in on the public cloud. It's hybrid, says Murphy, who quotes Gartner in saying only 15 per cent of enterprise workloads are actually running in the public cloud.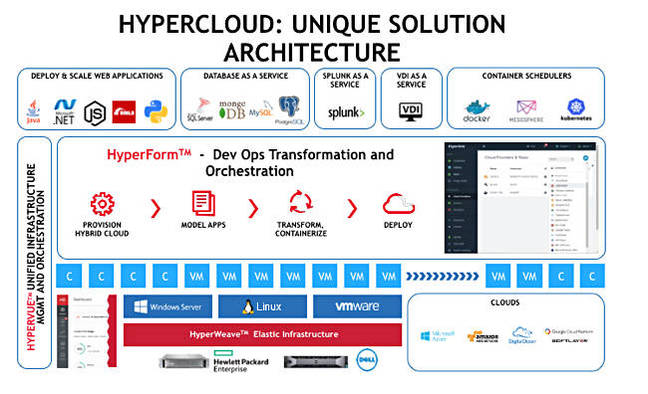 HyperCloud graphic
HyperGrid wants to intersect the cloud (and so differentiate itself from the mass of hyper-converged infrastructure appliance vendors. It's building a network of partners who will use HyperCloud to offer their own application platform services. Names will be announced in the new year and we can expect them to be of companies in the class of the UK's leading telco, although this is not a way of saying BT is involved, merely indicating its size and status as a comparator.
Murphy says HyperCloud helps them have a defence against Amazon, the great predatory elephant in the public cloud savannah.
The target market are tier 1 and tier 2 service providers, with small players being reached through partners. There has, he says, "been a huge uptake," of this product, with quarter-on-quarter bookings growth of more than 365 per cent for the third 2016 quarter . He says: "We're starting to deploy racks of equipment in data centres."
Slotting the puck into the goal
It's tempting to see this in ice hockey terms, with the Gridstore team designing a product (play strategy) to get through the opposing teams and score goals. To do this they constantly have to skate around to find clear (market) space they can use and dominate.
The product progression from scale-out NAS to hyper-converged appliance to a subscription-based cloud application platform service capability shows Gridstore/HyperGrid developing and pivoting the focus of its technology to meet changing market conditions. The exec team changes show the same thing at a people level.
We can't say Murphy's Law applies here but we can say Gridstore/HyperGrid has met problems and is still looking for the magic bullet, the right combination of technology, product, and market that can replicate Murphy's early Marrakech success.
Seven years in and it hasn't got there yet. Will it? Won't it? That's the exhilarating, frustrating, essential question all startups wrestle with, and HyperGrid is still out there, chasing the puck and giving it everything it's got. Come on team, slot that pucker into the goal. ®