This article is more than 1 year old
Micron wheels out 'highest density' SATA SSD on the market
3D TLC latecomer catches up
+Comment Micron has introduced a 5100 line of data centre flash drives and promises it will be the highest-density SATA SSD on the market.
There are three models and they all use TLC (3bits/cell) 3D flash and have a 6Gbps SATA interface:
5100 ECO – 480GB, 960GB, 1.9TB, 3.84TB and (coming) 7.86TB
5100 PRO – 240GB, 480GB, 960GB, 3.84TB
5100 MAX – 240GB, 480GB, 960GB, 1.92TB
Both 2.5-inch and M.2 formats will be available. The 7.68TB product is due in the first 2017 quarter.
We checked 6Gbps SATA SSDs available from Intel, Samsung and SanDisk, and none of them reach 7.68TB in capacity. Samsung's PM863, SM863 and 850 EVO reach the 4TB area but not beyond. SanDisk's Ultra II, X300 and X400 top out at 1TB. Intel's DC S3520 goes up to 1.6TB. All in all, Micron has a clear run above the 4TB capacity level.
The ECO model is said to be read-optimised and for cloud services and content sharing workloads. The PRO is for more mixed read and write use with the PRO targeted at data-intensive, high-volume applications. Micron is aiming these drives at the data centre disk replacement market as plug-in SATA drive replacements.
The random read and write 4K IOPS numbers are:
5100 ECO – 93,000 and 31,000
5100 PRO – 93,000 and 43,000
5100 MAX – 93,000 and 74,000
The 7.68TB product may have a different IOPS rating.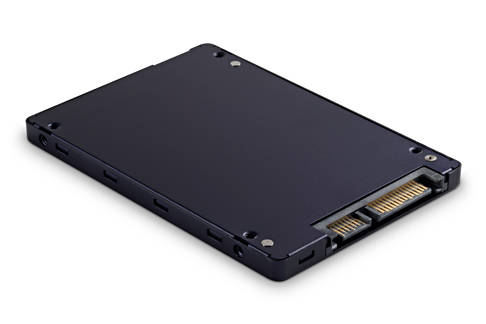 Micron's 5100 SSD
All we have in terms of sequential read/write bandwidth numbers for now are up to 540 MBps read and 520 MBps write but there may well be lower write speeds at the smaller capacities and also moving down range from the 5100 MAX model.
Micron says the drives have consistent write performance and do better than competing drives at queue depths of 4, 8, 16 and 32 on mixed read/write workloads.
The drives have a five-year warranty and the endurance rating is less than one drive write per day (DWPD) for the ECO, one for the PRO, and five for the MAX.
They use a Marvell controller with Micron FlexPro firmware. This enables a 7.68TB ECO model to be converted to a 4TB drive with PRO characteristics, but you can't do the change in the reverse direction.
The drives can also meet stringent US security standards such as TCH+G Enterprise and FIPS 140.2.
There will be a second wave of 5100 announcements in January 2017, with M.2 format products and a third in February.

Micron 5100 M.2 drive
We have no prices but the 7.68TB model price could undercut 15K SAS disk drive pricing. The general intent is to have these drives be lower cost on a TCO basis than 10,000rpm disk drives.
For example, the 7.68TB ECO is claimed to have a $65,522 five-year total cost of ownership compared to $165,277 for a 900GB 10K disk drive, when Micron compares a 22-ECO drive chassis implementation with 10 x (24 x 900GB drive) chassis installation (at 80 per cent utilisation).

Micron's SSD product range.
+Comment
Although Micron may be a little late to the 3D TLC SSD market, having lagged behind Samsung, the focus on an under-served high-capacity SATA SSD market looks neat. Cloud service providers and Colo's with trays of 10K SATA drives and 15K SAS drives may look favourably at these 5100s, especially if Micron's TCO calculations are seen to be realistic.
Samsung has a 15+TB SSD but this has no SATA interface. Unless it or some other supplier ships SATA SSDs with greater than 4TB capacity, Micron has this market to itself. ®