HPE launches two-pronged attack on hyper-converged market
HC 250? HC 380? What are they actually for?
---
Analysis HP has two hyper-converged systems for two different but overlapping markets – SMB, ROBO, and LOB at the low end, and LOB/data centre at the high end. Both the HC 250 and HC 380 are based on ProLiant server hardware and have different software environments layered on the common Store Virtual SAN. Their branding seems the opposite of what one might expect, though.
Back in 2011 and earlier, the ProLiant server line had its mainstream DL, or data centre line. One of these models was the DL380, and another was the DL2000. This was a 2U rackmount box with four half-width servers (cartridges) in it, in two rows of two; a pretty dense server box. Once hyper-converged systems from Nutanix and SimpliVity started to get market traction with their siren song of simplicity by way of one order number for a combined, resilient, and scale-out product, HP, as it then was, realised it had the right server hardware ready to build its own hyper-converged system running VMware's VSAN.
Around this time the EMC EVO:Rail bandwagon started as well. Thus was born the 2013 era ProLiant SL2500 – SL standing for Scalable Line. It had up to four independent SL210t Gen 8 hot-pluggable server nodes in its 2U chassis, with no shared interconnect back-plane. Each node had dual Xeon E5-2600 v2 processors.
At that stage HP also had an HPC and supercomputer line, with the rack-scale Apollo 6000 and liquid-cooled Apollo 8000. It wanted entry-level scalable systems and came up with the storage-dense Apollo 4000 and compute-dense Apollo 2000. The 2000 system was based on the ProLiant SL2500 hardware.

HP Apollo 2000
StoreVirtual VSA
In 2014, HP decided to start using its own StoreVirtual VSA, virtual SAN software it acquired when it bought LeftHand Networks. So the ProLiant SL2500 became the Converged System 240 (CS 240) in a CS 200-HC Store Virtual product category. There was a Converged System 200-HC EVO:RAIL configuration as well.

HP CS 240
The CS 240 had HP OneView InstantOn software, a deployment function enabling customers to spin up vSphere with StoreVirtual VSA in a matter of minutes. The EVO:Rail version went away in July 2015.
While this was going on the continued and remorseless generational ProLiant progress was ongoing. Gen 5, 6, 7, 8... and so on to the current Gen 9. As part of this process the CS 240 was upgraded to the CS 250 in 2015, which supported both VMware vSphere and Microsoft's Hyper-V. And then, this year, that system was renamed the HC 250, using Gen 9 ProLiant server nodes, and given a software makeover.

HP HC 250
The chart below shows this sequence of events.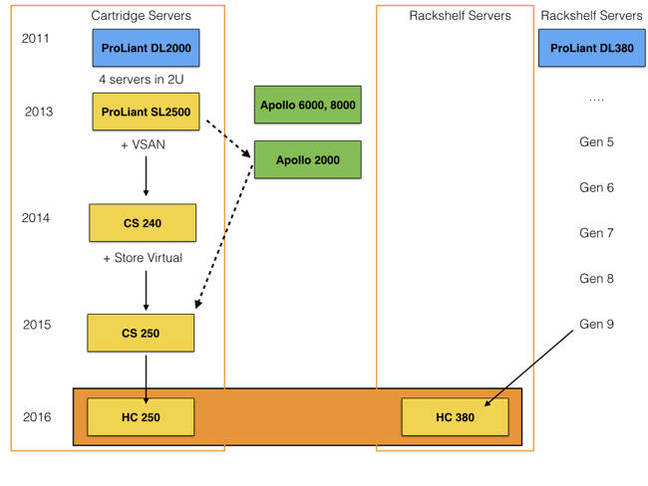 HP/HPE hyper-converged product lines progression
The HC 250 was said to use Apollo 2000 hardware. As we can see from the chart it is directly descended from the ProLiant DL2000. Inside the HC 250 chassis the four server sleds are at the back with the 24-drive bays in the front.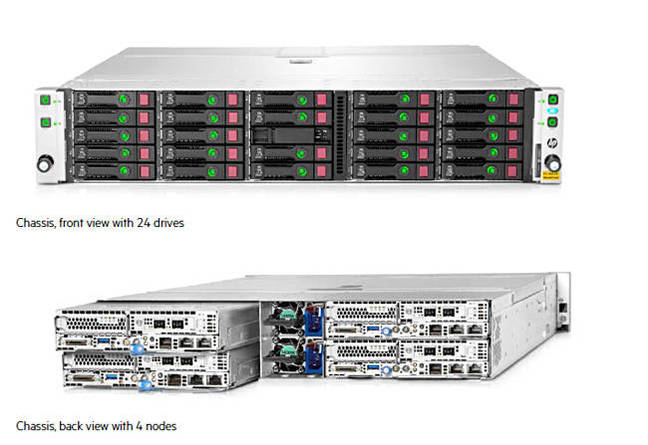 HC 250 front and rear views
HPE describes the HC 250 as providing a turn-key virtualisation solution for medium-sized businesses, enterprises, and IaaS providers. It says the system can be used as a primary virtualisation platform in medium-sized businesses or as a dedicated resource pool for specific applications in the enterprise. Two-node configurations are for ROBO environments.
The HC 250 is managed within VMware vCenter Server and OneView for vCenter, or with Microsoft System Center user interfaces and HPE OneView for System Center management integrations.
HC 380
While the genesis of the HC 250 was under way and in its later stages, HP became HPE and the Gen 9 ProLiant DL380 arrived. It was this 2U rackmount server tray that was used to build the second and larger of HPE's hyper-converged systems, the Store Virtual-using HC 380, which has a different system software environment from the HC 250.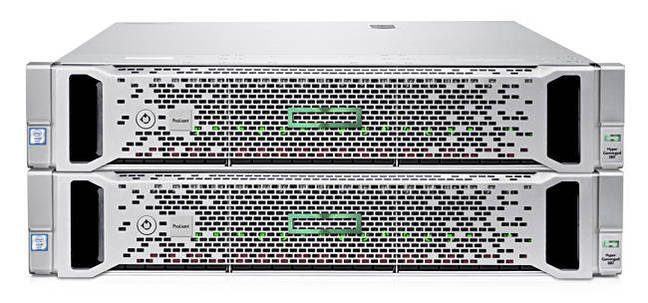 Two HC 380 nodes
This system only supports VMware's vSphere hypervisor.
HC 250 and 380 differences
The HC 380 has 99.999 per cent availability and scales from 1 to 16 nodes, with HPE describing it memorably as a VM vending machine. It has been given what HPE described as HCOE 2.0, the Hyper-Converged Operating Environment – user experience software disaggregated from the underlying infrastructure. This is not available on the HC 250 but will be ported to it and, as it were, sit alongside vSphere vCentre and and Hyper-V's System Center.
It was not apparently exposed before as HCOE v1.0. This v2.0 software provides multi-tenant workspaces. IT operators can, HPE says, compose and recompose virtualised environments instantly from a single resource pool and they have a self-service portal. There is also an analytics function showing how resources are being consumed and predicting future resource needs.
The HC 250 has had an interesting progression in the way its scalability has been described:
CS 240 could have from 4 to 32 (VSAN) nodes, from one to eight chassis, with replication enabling multi-site deployment
CS 250 could have one to four nodes, with 1 to 8 in a single management group
HC 250 can have four systems, meaning 16 nodes, in one HPE OneView InstantOn management zone
Another four systems, meaning 32 nodes in total, can be added manually but is not recommended in standard installations
There can be 24 x 2.5-inch drives in a four-node HC 250 chassis, six per node. The HC 380 has up to three storage blocks per node and, we understand, a storage block can have eight drives. That would make 24 drives per node, more than the HC 250's node drive count.
The HC 250 and HC 380 use the same Xeon processors; E5-2600 v4 Processor (Broadwell) and v3 (Haswell), with two per node in both the 250 and 380.
HPE positions the HC 380 as suitable for enterprise VDI, medium-sized businesses and IaaS use, with HC 380 customers preferring simpler systems, hence HCOE, while HC 250 customers are in enterprises accustomed to using System Centre and vCentre.
The HC250 runs vSphere or Hyper-V, and Store Virtual, with the two systems being called Hyper Converged 250 for VMware vSphere and Hyper Converged 250 for Microsoft Cloud Platform System Standard. The vSphere one is certified for vSphere Metro Storage Cluster (vMSC) usage and so can be used in stretched VMware vSphere clusters. This contrasts with the vSphere-only HC 380.
+Comment
The positioning of these two hyper-converged systems is confusing. We observe that the physically larger and vSphere-only HC 380, with its brand number larger than the HC 250, is for use by operators requiring operational simplicity, whereas the physically smaller and denser HC 250 is for more complicated operations in both vSphere and Hyper-V environments, yet it covers ROBO needs where customers don't have skilled IT staff.
Getting some ProLiant DL380 brand goodness in the HC 380 name, Apollo supercomputer brand messages in the HC 250 name, and not yet providing HCOE v2 to the HC 250, has provided confusing brand positioning.
It also seems that both systems should support Hyper-V and HCOE v2. That would make customers' lives simpler. The HC 380 should have its scale-out limit go past 16 nodes. Thirty-two would be good and then it would match the non-standard and non-recommended 32-node limit of the HC 250. ®