This article is more than 1 year old
What can we use to hit Intel between the eyes, thinks Qualcomm – a 10nm ARM server chip
Centriq 2400 now sampling, due to beat Chipzilla by a year
Qualcomm says it has started shipping to customers samples of the Centriq 2400, its 10nm 64-bit ARMv8-A general-purpose server-grade system-on-chip.
The mobile chip designer, based in San Diego, California, has recruited engineers from AMD, Intel and Broadcom, as well as tapped its internal pool of techies, to work on the processor family. Qualcomm believes that by going straight to 10nm, it will motor ahead of Intel, which is right now shipping 14nm server CPUs.
In Intel's x86 world, processors are manufactured using a particular process node first for desktops and laptops, and its server CPU family catches up about a year later. For example, Intel's 10nm PC chips, codenamed Cannonlake, are due to arrive in the second half of 2017, and 10nm Xeon server parts will follow roughly 12 months later in 2018.
Qualcomm says it is on target to ship 10nm FinFET server CPUs in volume in the second half of 2017, a year ahead of Intel. While Intel is PC-led in terms of chip fabrication technologies, Qualcomm says it is mobile-led: its 10nm FinFET Snapdragon 835 SoC for smartphones will be fabricated by Samsung and ship before next summer. Qualcomm is taking its expertise in 10nm mobile semiconductors and bringing it straight to the data center.
Qualcomm is not aiming Centriq at specialized niche workloads that other ARM-compatible data center chips have drifted towards; the chip designer reckons Centriq can compete with Intel's Xeon data center workhorses. The Centriq 2400 will have up to 48 cores and be a single-socket part. Qualcomm's engineers say that if that latter detail freaks you out, because you were expecting it to be dual socket, think of it as two 24-core sockets in one system-on-chip package. Intel's Xeon E5-2600 v4 has up to 22 cores per socket, and the Xeon E7 v4 has up to 24.
Another thing to take into account is that this is not a fat Snapdragon system-on-chip spruced up for data center tasks. It uses Qualcomm's designed-from-scratch Falkor microarchitecture that is ARMv8-A-compatible and produced specifically for the Centriq line. Although it shares some design blocks with its mobile cousins – such as some analog electronics for temperature sensing, for example – it has rather different goals. As a server part, it is focused on performance per watt with, ideally, no compromise on the performance side, it will have large caches, it will feature RAM controllers to match the memory typically found in compute nodes, and so on. Its dies are also expected to be sorted into bins depending on their tested performance as they come off the fab lines whereas mobile SoCs don't go through this binning process – a die either completely works to spec or it doesn't.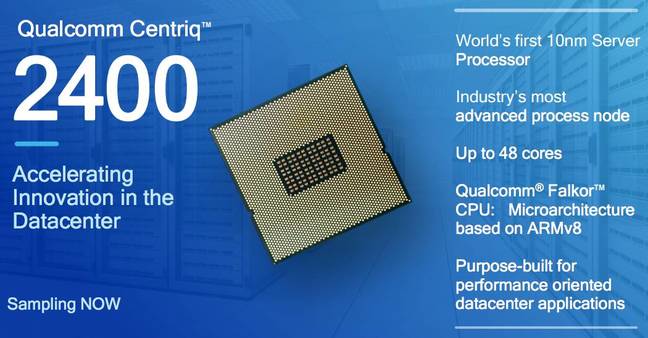 The main details ... Slide from Qualcomm's sampling launch of the Centriq 2400
Centriq was chosen earlier this year as the brandname for Qualcomm's 64-bit server processors. In October last year, Qualcomm showed off 24-core 14nm FinFET prototype silicon of what would evolve into the 10nm 2400. Back then, the semiconductor designer was sending off development kits featuring the prototype chips to the top-tier cloud providers to investigate. Now it's mailing them samples of what will eventually be commercially available Centriq SoCs.
The chips, Qualcomm's engineers told The Register, conform to ARM standards – the server base system architecture and the server base boot requirements, meaning the hardware can be understood and supported without any black magic or secret drivers involved. This should, it's hoped, attract the ARM development community to the platform, who will bring with them applications, middleware, operating systems and support. The silicon will also include ARM TrustZone for security tasks.
"Drivers for the Qualcomm Centriq 2400 will be upstreamed into Linux similar to other server processors, including Intel's. These upstreamed drivers will then be picked up by the distributions similar to what they do today," a spokesperson for the team told us.
Qualcomm is aiming to sell these processors – which include the CPU cores, memory and IO controllers and various peripheral controllers all in one – to cloud giants (think Google, Amazon, etc) and relatively cheap white-box server makers (think Wiwynn, Quanta, Foxconn, etc) who can turn out, say, Open-Compute-compatible machines for organizations to buy, install and run open-source software on. The top eight cloud goliaths – Google, Amazon, Microsoft, Baidu, Tencent et al – are test-driving Centriq right now.
It's still early days: Qualcomm is being coy about the exact specs, binning, and speeds and feeds for now as we're more than six months away from a real product hitting the system assembly lines.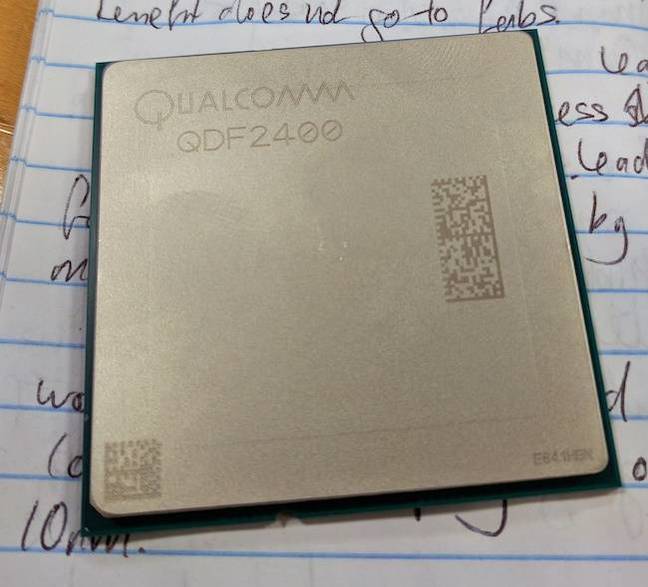 Snapped ... we managed to snatch a pic of the chip up close earlier this week at Qualcomm's San Jose offices in California
As for the multibillion-dollar question – why should anyone consider moving their compute workloads from x86 to ARMv8 – Anand Chandrasekher, Qualcomm Datacenter Technologies' boss, said server makers will be able to do interesting things things with Centriq, which we guess could mean tightly pairing the SoCs with accelerators, such as FPGAs and GPUs. You can, of course, hook these additional engines to x86 CPUs today, and big businesses doing machine-learning and other number-crunching are doing so right now.
Chandrasekher acknowledged there is another reason to consider ARM: it is a second source. Google and others are trying out IBM Power and ARM cores in their data centers to evaluate alternatives to Intel processors – Google is particularly keen to introduce a mix of architectures to its data centers, which has helped cement Qualcomm's confidence in there being a market for its ARM server chipset family.
Essentially, Intel's CPUs make up 99 per cent of the world's data center compute processors, and any competition in that area is good for innovation, pricing and supply security.
It's hoped the top-tier cloud providers will consider the ARM-based Centriq as a general-purpose workhorse and then, if they take up the architecture at scale, word of their successful deployments will pull in large enterprises and other big business, and slowly make a dent in Intel's monopoly.
"Choice is good for them, and the innovation possible with Centriq drives their interest," Chandrasekher said on Monday. "We're working first with the mega data center guys, who will have a gravitational pull on enterprises."
Timing
Qualcomm is, perhaps, in the right place at the right time. There has been a lot of hype and a fair number of casualties in the ARM server-class chip market as that hype bubble burst. Calxeda promised a new era of computing only to flame out by just not having a 64-bit CPU ready in time. Applied Micro's X-Gene family is being sold off, Broadcom's Vulcan project is effectively dead, and AMD has put its ARM server chip efforts on the back burner while it tries to use its x86 Zen architecture to right its fortunes. Qualcomm may manage to tiptoe past the bodies and deliver something people have been looking for.
The Centriq has three ingredients that were previously unavailable when all the ARM data center fuss kicked off more than five years ago. It has a 64-bit ARMv8-A architecture, whereas when the hype started, there was just 32-bit. It has a 10nm process node, which may be crucial in bringing the performance and power needed for a viable server-grade ARM CPU.
It can also ride on the shoulders of cloud giants, which are gradually taking more and more IT spend from traditional on-premises suppliers. When you spin up a node in the cloud to run some software-as-a-service, you probably don't really care if it's x86 or ARM, as long as it performs and provides the APIs and system environment you need. And even if it's marginally cheaper to run an ARM-powered server compared to an Intel-based box, without compromising on performance, that'll be enough for cloud giants, who buy thousands upon thousands of processors a quarter, to consider a switch. It becomes an economic problem, not a CPU architecture one.
Why so coy?
There is a lot of secrecy surrounding ARM server chips – so much so people thought the whole scene had more or less died. Aside from things like the Vulcan project vanishing, there are three reasons for the irritating level of secretiveness, based on conversations we've had with sources within the semiconductor industry.
One is that these chips are being touted to the tier-one cloud players – Google, Amazon, Microsoft, Baidu, etc – because these giants always looking for new silicon to evaluate and potentially plug into gear customized for particular applications. These outfits are horrendously secretive and fight ferociously to prevent their rivals from learning anything about the technology powering their networks and apps, because it may give away a competitive edge. So you'll rarely hear from Google et al on precisely how well non-Intel chips are performing or being used.
Another reason is that China is showing a lot of interest in non-Intel chips, particularly processor designs that can be licensed and developed as homegrown components. You won't hear much about them in the West.
Finally, the third and biggest reason is Intel. Chipzilla has a substantial apparatus built to deal with anyone who dares challenge its dominance in the PC and data center worlds. Its virtual total monopoly on powering server warehouses worldwide is no accident.
This pressure squad lures and cajoles organizations that are considering non-x86 gear to forget such fanciful notions and just buy more Xeons. No one working on ARM server chips wants to tip their hand and reveal to Intel their target specifications and pricing until the very last moment, because doing so early gives Chipzilla the time and ammunition it needs to strike special supply deals with companies testing ARM and Power systems – deals that involve not using non-Intel chips.
Qualcomm will know, with the Centriq, that it has a hit on its hands when it feels the full uninhibited fury of Intel. ®