This article is more than 1 year old
Huawei Nova: A pleasant surprise in a 5-inch phone
An Android smartie with just one funny story
Hands-on Last year, Huawei built a phone for Google called the Nexus 6P, and everyone who had one loved it. Huawei's "nova" (officially lowercase) resembles a slimline version of the Nexus 6P. But while it retains the quite beautiful design, the Nova is not a Nexus 6P at all.
The five-inch Nova is the latest in a rapidly proliferating range of Huawei models. (I follow Huawei pretty closely, and it's hard to keep up. There's already a "nova Plus" with a 5.5‑inch display.)
The Nova doesn't do anything badly, and it looks terrific, and feels really good to hold. The 2.5D curved glass meets the curved back very nicely. But that doesn't matter.
The Nova is a comedian with one joke, albeit a good one. And the joke, or the USP, is this: the Nova is almost exactly the same size as a 4.7‑inch iPhone.
The Nova therefore hits a sweet spot in the market: the "compact." With phone makers abandoning producing anything with a display diagonal of under five inches, the Nova has the iPhone-sized 'Droid market almost entirely to itself.
It manages to pack in a five‑inch display, thanks to smart use of space – the bezels are very narrow, much narrower than the iPhone. The Nova therefore is a phone that's going to succeed or fail depending on how much people want a stylish, cheaper iPhone-sized 'Droid.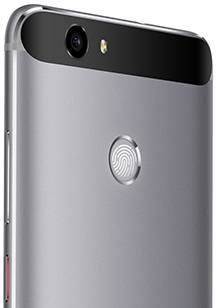 That's all that matters here. There are no hidden depths or subtle surprises. That's it.
The Nova is priced exactly where you would expect a midrange phone from a top brand to be priced. Huawei is now confident enough, we guess, in the familiarity of its brand, to forego the familiar "trust us" discount. Huawei is not a stranger on these shores any more.
Carphone Warehouse is selling the Nova SIM-free, where it comes in £20 more expensive than a OnePlus 3. But it's nowhere near the amazing value of the 3, with its gargantuan helping of RAM, expensive camera, and flagship processor. But maybe that doesn't matter, if the punter wants something the size of an iPhone.
In itself it's a respectable midrange performer, with 3GB of RAM helping to keep the frugal Snapdragon 625 chugging along. As we found with the Blu, if you stuff in enough RAM, even a modest chip can deliver a good experience. But you won't care about that. It's the same size as an iPhone. Do you see?
In all honesty, it's a surprise in itself to find a Huawei that doesn't have a surprise somewhere. We knew Huawei made good quality phones with an eccentric, sometimes intrusive shell, called EMUI. We knew it's good at radio engineering, and has set about making the bezel disappear for years. It's dual SIM: no surprise again.
But that's the Nova. And did we mention it's about the same size as an iPhone?
We did? Oh.
Now on to the camera and a bit more about performance – with a sprinkling of screenshots along the way (click to enlarge the images below).