This article is more than 1 year old
WDC loads its belt-fed drive cannon, blasts out disks 'n' cards galore
Fat helium spinners and fast and fat flash stores
Western Digital Corp wowed analysts with exec spiel and five – or was it six? – product announcements. We have helium gas-filled drives, a 3D TLC NAND microSD card, two SSDs and a promised furiously fast flash platform array overflowing with IOPS.
We'll start with the rotating rust and an Ultrastar He12, 12TB helium-filled drive, 2TB more than the earlier model, the Gen 3 He10 helium-filled disk with its 7 platters.
The He12 is HGST's 4th generation helium drive and has eight platters inside its 3.5-inch case, two more than highest-capacity air-based drive which has 8TB and 6 platters.
It uses standard perpendicular magnetic recording – no shingling to reach the 12TB capacity point – and has 1.5TB platters.
The drive spins at 7,200rpm and has either a 12Gbit/s SAS interface or a 6Gbit/s SATA one. There is a self-encrypting drive feature and Instant Secure Erase. It has a 2.5 million hours MTBF rating and a five year warranty. The He10 has these characteristics too.
By adding shingled tracks to this drive HGST is developing a 14TB disk drive. It says this product will apply to cloud service providers that have implemented SMR support in their software architectures. HGST shingling is host-managed and not drive-managed.
Seagate's helium-filled drives are at the 10TB capacity level and it is relying on HAMR technology to reach 16TB in, we understand, 2018 or 2019. Toshiba's highest capacity drive is the 8TB X300 Premium, and it has not yet introduced helium-filled drives.
WDC says it has shipped more than 12 million helium-filled drives to date, and no doubt aims to ship another 12 million as fast as it can.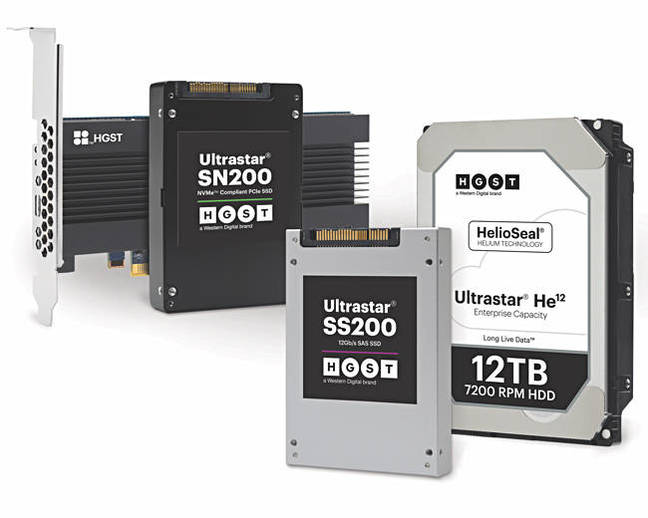 WDC Ultrastar SSDs and HDD
SSDs
We have Ultrastar-branded SS200 and SN200 products. Each come in capacity-optimised and endurance-optimised variants with one drive write per day (DWPD) and 3DWPD ratings respectively in their five year warranty.
The SN200 is an NVMe drive in 2.5-inch and half-height:half length (HH-HL) add-in card format. It effectively replaces the existing SN100 and has greater capacity and higher speeds.
The 2.5-inch version has capacities of 800GB, 1.6TB, 3.2TB and 6.4TB in the endurance-optimised version, but 960GB, 1.92TB, 3.84TB, and 7.68TB in the capacity-optimised models. HGST does not tell us what kind of flash it is using. We would assess it as MLC 15nm SanDisk NAND.
The performance numbers are slightly different for the capacity and endurance optimised versions and 2.5-inch and HH-HL versions in certain ways. In the 2.5-inch form factor both capacity and endurance kinds have up to 830,00 random read IOPS but 75,000 random write IOPS when capacity-optimised and up to 200,000 when endurance-optimised. The sequential read and write figures apply to both kinds and are 3.3GB/sec and 2.1GB.sec respectively.
In the HH-HL form factor there 1.2 million random read IOPS with 75,000 random write IOPS when capacity-optimised and 200,000 when endurance-optimised. The sequential read bandwidth is a huge 6.1GB/sec but 2.2GB/sec for sequential writes.
The SN200's write latency is 20µs and it has dual-port NVMe 1.2 (PCIe gen 3) in the 2.5-inch version but single port in the HH-HL AIC variant. Both have a 2 million hours MTBF rating, Flash-aware RAID and end-to-end path protection.
This is an impressive drive, WDC saying it is the highest capacity NVMe PCIe SSD available in these form factors. Also it has up to 100 per cent more sequential read, and up to 61 per cent more random read performance, than the company's previous-generation NVMe-compliant Ultrastar SN150 SSD (in HH-HL format only).
WDC also claims it has best-in-class 70/30 mixed read/write random performance of up to 560,000 4KiB IOPS, which applies to the 6.4TB HH-HL version only.
It sees the drive being used in workload-intensive cloud and hyperscale environments such as ecommerce, search and social networks, as well as environments processing massive volumes of data in real-time, including intensive analytics.
Ultrastar SS200
The SS200 is described by WD as its fastest and highest capacity SAS SSD to date and is a dual-port 12Gbit/s drive, also coming in capacity-and endurance-optimised versions. WDC tells us it uses SanDisk 15nm NAND and we understand it's MLC (2bits/cell).
The endurance-optimised capacities are 400GB, 800GB, 1.6TB, 3.2TB, and 6.4TB, with capacity-optimised levels of 480GB, 960GB, 1.92TB, 3.84TB and 7.68TB. Both variants run at 250,000 random read IOPS, with capacity drives doing 37,000 random write IOPS and endurance ones 86,000 IOPS.
The sequential read/write numbers are 1.8GB/sec and 1GB/sec respectively for both capacity and endurance drives, and they each have 100μs average Read/Write latency.
As with the SN200 they both have a self-encrypting drive option, Instant Secure Erase and a 2.5 million hour MTBF rating. WDC says the drive us intended for storage arrays, hyper-converged and software-defined architectures that require dual-port design with a SAS interface, and data-intensive, critical enterprise and cloud-based applications; pretty straightforward.
Fast flash platform
WDC made much of a forthcoming fast flash platform in its announcement. Thus will be a 2U tray filled with NVMe drives and connected to accessing servers over a switched PCIe fabric. It says tests have shown 18 million IOPS, the highest performance per rack unit in the industry.
The target market is disaggregated cloud-scale data centre infrastructures, and enables, WDC points out, separate provisioning of capacity and performance; a riposte to hyper-converged infrastructure approaches. It will have high availability and serviceability, WDC says; well, yes, of course.
Potential application areas are real-time and streaming analytics applications such as credit card fraud detection, video stream analysis, location-based services, advertising servers, automated systems, and solutions built on artificial intelligence (AI), machine learning (ML), or deep learning (DL).
WDC said it plans to contribute software in support of this technology to the open source community.
MicroSD card
SanDisk has an Edge 256GB microSD card using 64-layer, 3D TLC (3bits/cell) flash. This type of flash us known as BiCS3 and is an obvious advance on the previous 48-layer BiCS2 generation. We await BiCS3 SSDs as they promise even higher capacities than the latest SS200 and SN200 SSDs.
This Edge card is for OEM use in surveillance and dash cameras, drones and the like.
At the analysts' day analyst haus Stifel Nicolaus' MD, Aaron Rakers, writes Dr. Siva Sivaram, EVP Memory Technology, said the BiCS3 64-Layer roadmap is continuing through 2017, and includes Multi-Layer Cell (MLC), Triple-Layer Cell (TLC; X3), and also Quad-Level Cell (QLC; X4). He anticipates BiCS3 64L 3D NAND will enter full mass production with device capacities from 16GB to 32TB.
According to Rakers, Dr Sivaram also expects initial ReRAM (Resistive RAM) storage class memory product to appear in the second half of 2018, with a second generation in 2019. DRAM, WDC believes, can scale no more and there is a need for what Sivaram called SDM-ReRAM as that does scale.
This ties in with our understanding of the timing for HPE's use of ReRAM storage-class memory.
Availability
The Edge card is currently shipping. The flash rocket sled platform will become available in the first half of 2017.
To please financial analysts WDC revealed it has signed a new, eight year cross-licensing agreement with Samsung. Rakers estimates this will be worth about $30m in the second fiscal 2017 quarter.
Both new Ultrastar SSDs are currently shipping as is the Edge. The He12 and He14 disk drives are sampling with selected customers. ®