Who killed Pebble? Easy: The vulture capitalists
DIY hero made Faustian pact. Now his company is dead
The Fall of Pebble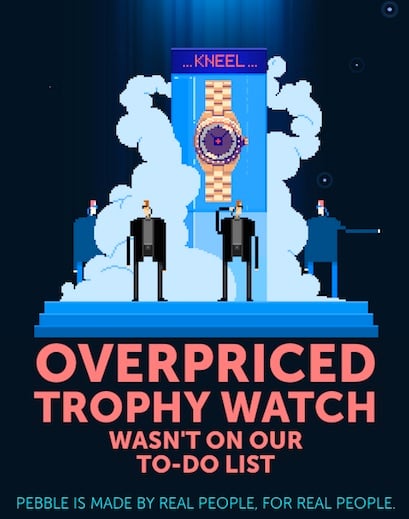 Well, from that point on, the execution left much to be desired. Yet the company made decisions that were surprising for anyone who knew Migicovsky. You see, Pebble wasn't exactly the independent free spirit you might have thought it was.
In 2013 Charles River Ventures had handed Pebble $15m in funding. A venture capitalist at CRV, George Zachary, who owed his reputation to funding Twitter early, took a seat on the Pebble board.
Few smartstraps ever appeared. The colour Pebble didn't have such a great display after all, as we found. The non-Gorilla Glass model scratched easily. The software took the user experience backwards in a few ways: slower, and more cumbersome. After that, successive firmware updates were slow and often buggy. A "Round" model announced later that year was an attempt to make a more stylish and better looking timepiece, but the cost was a big fall in battery life, to about a day.
"Pebble has strayed further away from its hobbyist DIY roots," we noted.
Pebble had benefited from the smartwatch hype but it was catching a cold from the backlash. Pressure from investors caused it to move further from its DIY roots and go for "health". Why? Well, now we know. That's where the VC community had decided a buyer would come from, allowing the funds to cash in their chips.
Pebble was being touted for a sale. Fitbit had made a successful flotation on the stock exchange, so had cash to spare, and won.
Pebble's grassroots backers are entitled to feel particularly aggrieved. The company continued to use Kickstarter as a cash machine, raising $20m in its Time funding round and $12.8m more for the Pebble 2. Refunds are promised but it leaves a sour taste.
Ultimately, Migovsky had made a Faustian pact, a dance with the Devil. Charles River Ventures killed Pebble but made a decent return: a $40m return on its $15m investment. Let's hope the next Pebble can avoid the clots entirely.
We're regularly told that we need more technology VCs. Few groups do more special pleading. You have to wonder why this is. ®