This article is more than 1 year old
RIP John Glenn: First American in orbit – and later, the oldest, too
Last of the Mercury 7 crew passes on
Obit John Glenn, America's first man into orbit and the oldest person ever to make it into space, has died at the age of 95 after a short illness.
Glenn shot to national fame in the early 1960s as part of the Mercury 7 – seven pilots selected by NASA to be the first Americans into space. On February 20, 1962, Glenn and his spacecraft Friendship 7 successfully completed three orbits around the earth before splashing down in the Atlantic, after a trip lasting four hours and 56 minutes that saw America enter the space age.
It was going to be over 30 years before he made it into orbit again, this time at the age of 77. Glenn, who had been a member of the US Senate before retiring, convinced NASA to let him go up again in the space shuttle Discovery as part of an experiment into the effects of space travel on older humans.
Glenn was born in Ohio in July 18, 1921 and initially studied engineering. He enlisted the day after Pearl Harbor and spent the Second World War flying in the Pacific with the US Marine Corps. After a spell as an instructor after the end of hostilities, Glenn then served two combat tours in Korea, earning the nickname "magnet ass" for has ability to attract flack.
In 1954, he graduated from naval test pilot school and spent four years testing aircraft for the Navy, which back then was a very long assignment in such a dangerous job. In 1957, he made the first supersonic transcontinental flight over the US thanks to in-air refueling.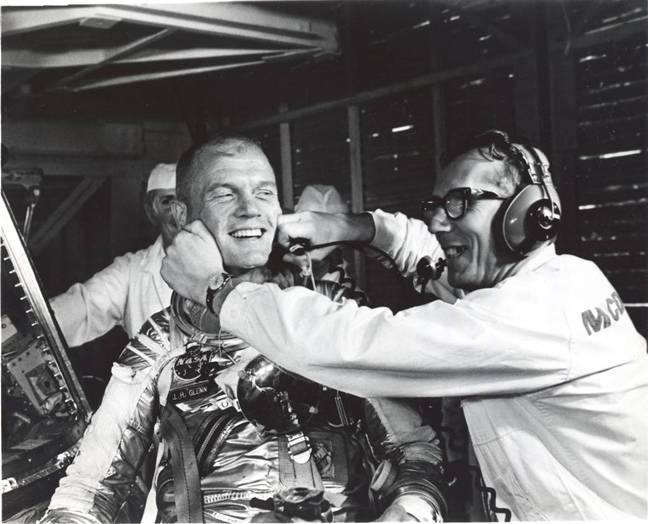 Glenn prepares for his first flight
When the astronaut program was announced, Glenn was one of over 500 applicants for the job. After a grueling series of mental and physical tests, he was selected to be one of the Mercury 7. NASA also recruited 13 women who passed the necessary tests but weren't allowed to be considered because they were not test pilots, a decision Glenn testified in favor of in Congress.
"Men go off and fight the wars and fly the planes, and women stay at home," he said. "It's a fact of our social order."
Infinity and beyond
The Friendship 7 flight was the third Mercury mission and the first to make it into orbit – an achievement the Russians had cracked a year earlier.
NASA had wanted Glenn to fly within a year of Uri Gagarin's flight, but technical problems with the Atlas rocket delayed the mission. Repairs continued until minutes before the launch, as one of the bolts holding the capsule doors shut failed.
Finally, at 1447 UTC, the Atlas rocket blasted off and fired Glenn into orbit. He took manual control and swung the capsule around so he was facing the direction of travel and spotted the Australian city of Perth, whose residents had turned on all their lights to be visible from space.
"That sure was a short day," he said after completing the first orbit. "That was about the shortest day I've ever run into."
Glenn caused consternation on the ground when he reported that the capsule was surrounded by a swarming cloud of luminous objects. These were later discovered to be ice crystals forming on the capsule's surface.
As Glenn was due to reenter the atmosphere, NASA grew concerned that the heat shield on the spacecraft was malfunctioning. As it turns out, the problem wasn't an issue. Using a combination of manual and automatic flight, Glenn came back to Earth after a trip of 121,794 kilometers (65,763 nautical miles).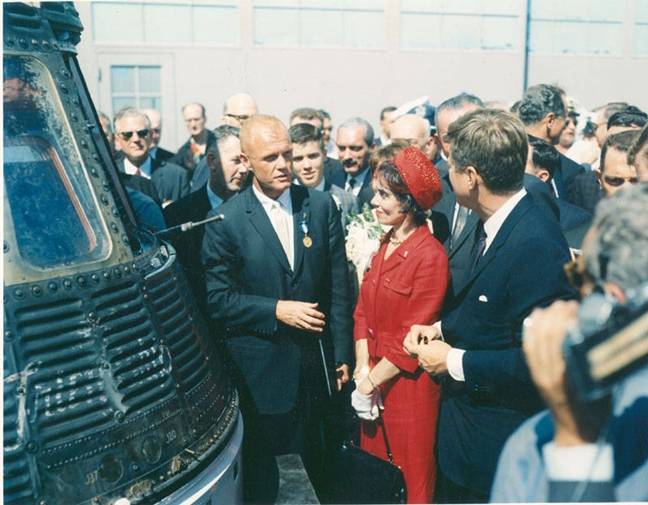 And this, Mr President, is the hatch they levered my massive balls out of ... John Glenn, center, with Anne Glenn, in red
He received many tickertape parades and became a national hero – so much so that NASA decided that he couldn't be risked for any more space flights. His Mercury colleague Gus Grissom was later killed in the Apollo 1 disaster.
Life after space
With spaceflight no longer an option, Glenn resigned from NASA in 1964 and went into business. In 1970, he decided to run for the US Senate in his home state of Ohio as a Democrat. When an opponent accused him of having no experience outside of the military, Glenn savaged him in a speech that won him his party's nomination.
"Look those men with mangled bodies in the eyes and tell them they didn't hold a job," he said. "You go with me to any Gold Star mother and you look her in the eye and tell her that her son did not hold a job."
He won the race handily and remained in the Senate until 1999. While in office he was one of the chief authors of the 1978 Nuclear Non-Proliferation Act, spent eight years as the Chairman of the Senate Committee on Governmental Affairs, and was briefly implicated in the 1989 Keating scandal after he accepted a $200,000 donation, but he was subsequently cleared of wrongdoing.
In 1998, he got his second ride into orbit, this time as a payload specialist on STS-95. Glenn was able to give a view on how his perception of zero-G had changed over the years, and conducted other medical experiments on the ability of a 77-year-old human to handle metabolism and sleep in space. Once again the city of Perth left its lights on at night to salute Glenn.
After his Senate career, Glenn served at the John Glenn College Affairs and took on other odd jobs, like guest starring on the TV show Frasier – a performance that had alien conspiracy theorists all aflutter.
He died after a brief illness and was accompanied in his last moments by Annie, his wife of 73 years, and his family.
"The last of America's first astronauts has left us, but propelled by their example we know that our future here on Earth compels us to keep reaching for the heavens," said President Obama. "On behalf of a grateful nation, Godspeed, John Glenn." ®