This article is more than 1 year old
Marc Andreessen has a pretty creepy relationship with Zuck
Pension funds sue Valley brohood, alleging conflicts of interest
Silicon Valley is very big on virtual reality right now. But imagine a VR "game" where you can control a company remotely, but without any of the fiduciary duty that the law places on a company executive, or an investor?
You don't need nerd goggles to play this game. For it's very similar to the relationship that's emerged between Mark Zuckerberg, founder and CEO of Facebook, and his Valley bromate and mentor, Marc Andreessen, a Facebook board member, in an obscure shareholder lawsuit brought by pension funds and individual investors.
Older readers may remember Andreessen as the man who cofounded, then watched AOL destroy, Netscape. Years later, thanks to social media and a full-court press, Andreessen was reborn as a kind of public intellectual – as the New Yorker put it: "An evangelist for the church of technology, afire to reorder life as we know it."
The lawsuit alleges that Andreessen privately coached and protected Zuckerberg while publicly playing the part of an independent board member. Zuck essentially wanted to be able to sell most of his Facebook stock while retaining voting control of his social media giant. By doing so, he would dilute investors' influence on the business.
To tackle this awkward situation, the board set up a committee to represent shareholders; that panel included Andreessen, who was – the lawsuit claims – feeding information back to Zuck to give him an edge in his negotiations.
It's also emerged from the lawsuit's discovery process that Zuckerberg wanted to get into politics and take a US government role for two years, again without having to give up control of Facebook. This was a bit much for one board member, Erskine Bowles, who was skeptical of the whole scheme.
Despite this opposition, Andreessen and Zuckerberg prevailed nonetheless, with the proposed changes approved by a shareholder vote. The lawsuit seeks to challenge that result, claiming that the process was flawed with a clear conflict of interest between Zuck and Andreessen.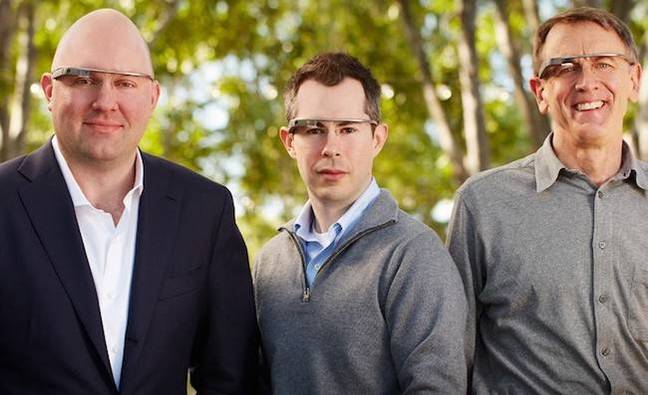 The Google Glass Collective ... Andreessen is on the left
The clue to understanding Andreessen's boutique VC firm Andreessen Horowitz (which pretentiously styles itself as "a16z") is that it's an old trick in new clothes. In the New Yorker's must-read profile last year, Andreessen emerges as a man-child with a brutally determinist point of view, one lacking in human psychological insight. The firm's unique business twist is the older men's relationship with their younger, naive clients.
a16z is fundamentally a consulting firm that its clients can never fire. Grandly, it calls this a "services model." The New Yorker's Tad Friend wrote:
When a16z began, it didn't have even an ersatz track record to promote. So Andreessen and Horowitz consulted on tactics with their friend Michael Ovitz, who co-founded the Hollywood talent agency Creative Artists Agency in 1974. Ovitz told me that he'd advised them to distinguish themselves by treating the entrepreneur as a client: "Take the long view of your platform, rather than a transactional one. Call everyone a partner, offer services the others don't, and help people who aren't your clients. Disrupt to differentiate by becoming a dream-execution machine."
Sweetly, when the pair were victorious in their power struggle with skeptical shareholders, Zuckerberg was confused.
"The cat's in the bag and the bag's in the river," Andreessen texted Zuck.
"Does that mean the cat's dead?" Zuckerberg replied.
The New Yorker notes that a16z's first fund returned a meager 2X return – less than an investor would have reaped from the London property market. It missed out on many hits, preferring to bet big on, er, Google Glass. Not really a "dream-execution machine" for investors, then. (And with Trump on the rampage, that's going to get worse: very little emerging from Silicon Valley's internet culture looks like a safe bet right now.)
Remember the Google Glass Collective?
Of course you do.
This week, highly regarded and highly liquid – it had no problem raising lots of cash – Pebble paid the ultimate price for getting into bed with VCs. ®