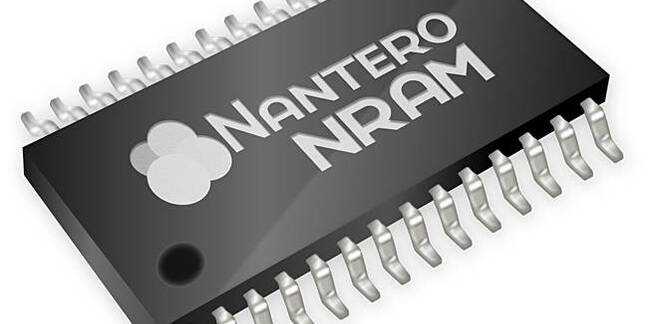 Nantero's 16-year march to carbon nanotube memory products just got another slug of cash to help it on its way, over $21m, to be specific.
NRAM (non-volatile RAM) is a DRAM replacement and not a DRAM-flash gap-filler, like, for example, Intel and Micron's 3D XPoint. The firm was founded in 2000 and its technology involves a matrix of crossing nanotubes on a substrate of transistors. If two tubes touch, lowering electrical resistance, we have one binary state (zero) and if they are separated we have the other (one). The states are stable and can be switched at DRAM speeds, 50ns or less, and NRAM can be made in a denser way than DRAM, with lithography going down to a claimed 5nm.
The lead investor in the latest round was Globespan Capital Partners with participation from new and existing strategic and financial investors. Nantero says it has now taken in more than $110m in funding. We know of these funding rounds:
2001 - $6m A-round
2005 - $10.5m B-round
2005 - $15m C-round
2012 - $10m D-round
2015 - $31.5m E-round
2016 - $21m + F-round
The pace and amount of funding has picked up remarkably in the past couple of years, which is connected to two Fujitsu semiconductor business units licensing the technology with 256Gbit, 55nm chip output scheduled for 2018.
There are two markets for NRAM chips, broadly speaking: NRAM DIMMs for servers and embedded devices needing DRAM speed non-volatile memory.
Nantero says it has more than a dozen partners and customers in the consumer electronics, enterprise systems and semiconductor industries actively working on NRAM. Nantero co-founder and CEO Greg Schmergel said: "With this additional funding, we will be able to help these existing customers speed their time to market while also supporting the many other companies that have approached us about using Nantero NRAM in their next generation products."
Chips might appear in 2018 – with products using them appearing in 2019. It will have been a long march. ®
Sponsored: Webcast: Ransomware has gone nuclear