This article is more than 1 year old
Microsoft Edge's malware alerts can be faked, researcher says
Fiddle with a URL and you can pop up and tell users to do anything
Technical support scammers have new bait with the discovery that Microsoft's Edge browser can be abused to display native and legitimate-looking warning messages.
The flaws exist in Microsoft's Edge protocols ms-appx: and ms-appx-web: which the browser uses to present warning messages when phishing or malware delivery sites are located.
When Edge detects suspected Malicious sites it colours them red with a feature called "SmartScreen."
Buenos Aires security tester Manuel Caballero says scammers can create warnings that replace SmartScreen text and phone numbers indicating that a nominated site also displayed in the address bar is infected.
"When we place a telephone-like number a link is automatically created so the user can call us with a single click - very convenient for these scammers," Caballero says.
By altering URL characters and appending a hash and a URL of a legitimate-looking site, a technical support scam page can be forged that is much more convincing than the deluge of fake Android and blue screen of death pages common to torrent sites.
window.open("ms-appx-web://microsoft.microsoftedge/assets/errorpages/BlockSite%2ehtm?"+ "BlockedDomain=facebook.com&Host=Technical Support Really Super Legit CALL NOW\:"+ "800-111-2222#http://www.facebook.com");
Caballero found some of the Edge assets could be loaded directly through the address bar, albeit with errors, such as ms-appx-web://microsoft.microsoftedge/assets/errorpages/PhishSiteEdge.htm, while others would fail and perform a Bing search on the URL instead.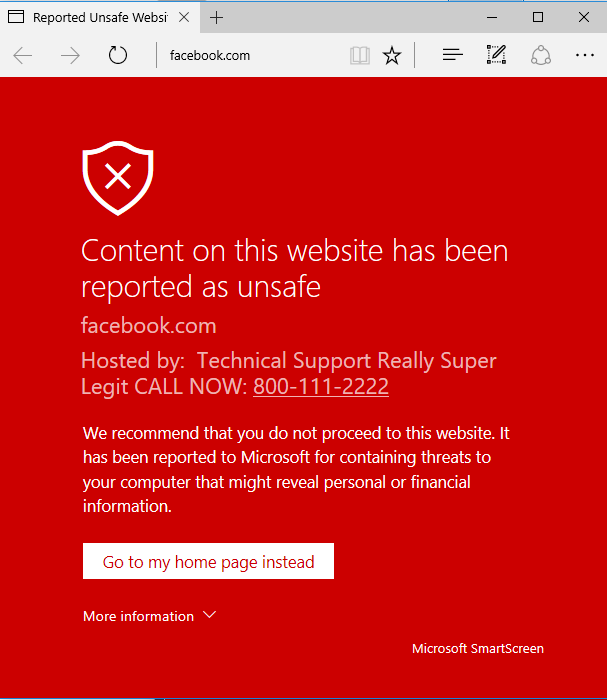 The Edge proof-of-concept.
Those errors could be avoided by changing a single character in URL, and the displayed address changed to a legitimate site by appending a hash. ®