VMware releases 'not cool, but very useful' integrated containers
Virtzilla embraces Docker with open source vSphere extensions
---
VMware has released its long-touted vSphere Integrated Containers (VIC), the company's way of making vSphere a fine place to run containers.
Plenty of pundits have suggested that containers stand a good chance of killing virtual machines, citing the former as lighter, faster and better-suited to building the kind of apps that work well at scale on the web and with mobile devices. VMware's response has been to agree that containers are wonderful things, even more so when running inside a virtual machine.
That argument rests on the assertion that the VM-centric ecosystem is more mature than the container ecosystem and has already been paid for. Rather than creating a whole new silo just to do containers, VMware argues it makes sense to run containers inside the robust and familiar environments organisations have already built to wrangle virtual machines.
As VMware admits in an announcement of VIC's public debut, that's "Maybe not cool, but very useful."
VMware's also admitted, tacitly, that operations folks are more likely to be excited about its approach than developers. To enthuse the latter, it's therefore done two things.
The first is to give VIC a Docker-compatible interface, plus a container management portal and a registry to keep track of containers.
The second is to open-source the registry, known as Harbor, another tool called "Admiral" that adds container support to vRealize Automation and therefore helps automation along. "VIC Engine", a tool that deploys the Virtual Container Host (a vApp) on vSphere. That vApp replicates Docker so far as developers are concerned.
VMware knows VIC isn't for everyone: this one's aimed at vSphere users. Virtzilla's also therefore cooked up its Lightwave and Photon container tech for those who like the idea of containers-inside-VMs, but don't already use much of the VMware stack.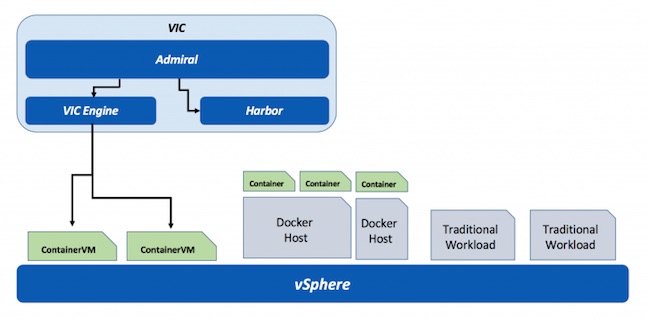 How VMware integrated containers fit together
Analyst firm Gartner rated getting traction with developers as VMware's key challenge in this year's Magic Quadrant for x86 virtualisation. With the release of VIC, VMware's cares are now all on the table. Developers: are you in? ®