Analysis Squeezed between the giant pressures of hyper-convergence, the public cloud, object storage and software-defined/cheap commodity hardware, the old guard storage suppliers face shrinkage into shadows of their former dominant selves.
Ten years ago and before that Dell, EMC, HDS, HPE, IBM and NetApp represented the bulk of on-premises, shared storage sales to business and the public sector, with SAN and filer systems. A wave of startups with better SAN and filer tech had been absorbed and squashed with none surviving as independent storage suppliers of consequence: 3PAR, Compellent, EqualLogic, Exanet, Isilon, etc.
But now the future looks different. This old guard has so far failed to squash newcomers in the all-flash array, hyperscale, object and software-defined storage areas. This is despite the established firms adopting these technologies and acquiring some startups.
The prime tech transition in the SAN area is from disk and hybrid flash/disk to all-flash arrays. Such systems take up less physical space and need less power and cooling to operate. Despite a solid wave of startup acquisition and tech adoption, Pure Storage has emerged as a post-IPO independent and Kaminario survives and is growing.
The three hybrid array startups – Nimble, Tegile and Tintri – have morphed into all-flash array vendors, with Nimble running an IPO. These three are also surviving and growing, meaning three more suppliers sharing the SAN market.
Another transition is from buying servers, storage and networking separately to buying converged systems. We are grouping this with trad storage as it's merely a different way of buying the same old stuff, being crude.
The hyper-converged sector is different, replacing arrays with server-based storage, and has taken off like a rocket, with Nutanix and SimpliVity emerging as startup leaders while Cisco, Dell-EMC, and HPE make strenuous and successful efforts to grow their own hyper-converged businesses. Every HCIA sale represents a lost SAN sale.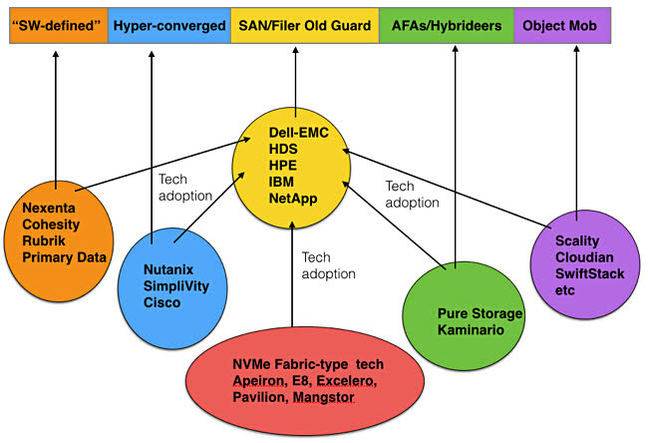 Chart shows main on-premises storage market divisions
The software-defined storage sector – software running on off-the-shelf x86 hardware – represented by Nexenta and DataCore, has been joined by storage silo convergers, such as Actifio, Cohesity and Rubrik, focussing on different aspects of silo sprawl, such as copy data proliferation, backup and so forth. All these suppliers' activities tend to reduce SAN and filer sales.
Startups and snapups
Object storage is an allied market and there has been some acquisition here, such as IBM buying Cleversafe and HGST acquiring Amplidata. When filers are perceived to be inadequate for large-scale, unstructured data storage then object-based products tale over and filer sales suffer.
Coming up is a vanguard of startups with NVMe drive and NVMe over fabric-type access to storage arrays, using fast RDMA techniques to virtually abolish network latency. Suppliers such as Apeiron, E8, Excelero and others represent the latest technology assault on the Fibre Channel SAN. EMC has already responded with its DSSD product, while HPE, Kaminario, Pure, Tegile and others promise NVMe over fabrics and NVMe drive adoption by their products.
It is too soon to tell if an NVMe array startup will emerge to independence. If one or more does then that's another player or two demanding to share the on-premises array market.
Looming over all of these areas of the storage market is the public cloud, with Amazon, Google, Microsoft, IBM and Oracle doing their best to get data stored in their clouds and also processed there.
We see then that the old guard now have to share the SAN and filer domain they previously owned, with the consequence that their legacy SAN/filer businesses will shrink and that, in several cases, their overall storage businesses will shrink as well.
Storage supplier positioning
Given this situation how are the incumbent suppliers and startups positioned in this contracting market, in this not-so-bright new world that is coming our way?
Cisco - positioned just fine with hard-pushed hyper-converged offering based on Springpath plus multiple meet-in-the-channel deals with SimpliVity, etc. It should grow and prosper in HCIA much better than its prior Invicta all-flash array.
Dell EMC - will do well in AFA and HCIA and object storage but its legacy array business will likely shrink more than these will grow.
Fujitsu - will do relatively less well than Dell EMC in AFA, HCIA, and object, etc, and legacy array business will likely shrink more than these will grow.
HDS - growing enterprise business now but facing same forces and it will likely shrink.
HPE - facing shrinkage as legacy SAN business fades faster than HCIA/AFA/object/etc businesses grow.
Huawei - could/should grow on back of home Chinese market growth, Asian market growth and determined tech assaults. Perceived weakness in HCIA and object storage.
IBM - storage business already shrinking for many quarters but cloud storage is growing – not enough to outweigh legacy storage business shrink though.
Lenovo - a solid HCIA prospect and starting to grow in wider storage with, for example, Nimble partnership. Expect more products/deals.
NEC - will grow unspectacularly in its HYDRAstore backup/archive niche and fade elsewhere.
NetApp - growing well in AFA, nowhere in HCIA, poor position in SW-defined and object storage. Expect overall shrinkage.
Oracle - the world's best customer base milker shows every indication it will survive the on-premises to cloud transition with its own Oracle cloud. Expect overall growth.
Supermicro - expect growth from server-based storage sales.
Newcomers
Cloudian - the rising object tide is lifting Cloudian's boat. How strong is the tide?
DDN - growing its niche like topsy as enterprises feel the need for HPC-like speed in unstructured data storage and analysis.
Kaminario - this company is growing but, to be comfortably placed, needs to grow faster.
Nimble - post-IPO and getting over its delayed AFA entry, Nimble should carry on growing.
Nutanix - the Pure Storage of HCIAs is seemingly unstoppable – witness Dell EMC still OEM'ing it after EMC acquisition.
Scality - the next best-positioned object storage acquisition candidate with leading market ranking (Gartner, Forrester) and strong alliances, HPE for example.
SimpliVity - a strong second to Nutanix as an HCIA startup, and rising with HCIA tide but, possibly, in need of stronger incumbent vendor alliances.
Tegile - growing, growing and on track to prosper.
Tintri - also growing and on track to prosper.
Comment
What about the NVMe drive and fabric gang? This market is still nascent, and we won't be in a position to assess supplier health for another couple of years realistically. At this stage, with many existing suppliers saying they will adopt both technologies, then any NVMe array startups will need to develop their technologies and business like gangbusters to ensure survival.
In general, there appear to be too many storage suppliers. But that judgement could be a consequence of thinking about storage in the old way, the way of having a SAN market dominated by an old guard. We think those days are gone, and that the storage market is heaving with such a variety of new technologies and application use-cases that we might conclude only the general SAN sector has too many suppliers and is ripe for consolidation, once the AFA growth surge levels off.
When will it level off? Perhaps in 2018 and 2019. Until then, though, only struggling stragglers like Violin and Nexsan will be having really tough times. Everyone else, except the old guard, should see their businesses growing.
For the storage old guard though, contraction we fear may become a way of life, with the recent history of IBM's overall storage business being the example of what might befall them. ®