This article is more than 1 year old
IBM makes clever, safe acquisition, swallows object storage market
IDC marketscapers scope out rankings
IDC has updated its object-based storage marketscape to show IBM has leapt to a chart-topping position through buying Cleversafe. Scality is second. Dell EMC has hustled up the charts to third place, pushing most other players down the rankings.
The IDC analysts see "a standardisation and integration of the Amazon S3 and OpenStack Swift API, an emphasis on computing paradigms such as containers, native support for file interfaces, and a focus on vertical/use case–centric solution offerings." Many offerings have a scale-out file system superimposed on an underlying object storage system. Cloud-based object storage services were not included in the report.
The report writers think "object-based storage capacity is expected to grow at a CAGR of 30.7 per cent from 2016 to 2020, reaching 293.7 exabytes in 2020. Revenue-wise they see a $19.8bn object storage market in 2020.
Compared to the previous report, "a fragmented OBS market has now somewhat consolidated." IDC sees all-flash object storage systems being developed for "Big Data/analytics, rich media, and technical computing."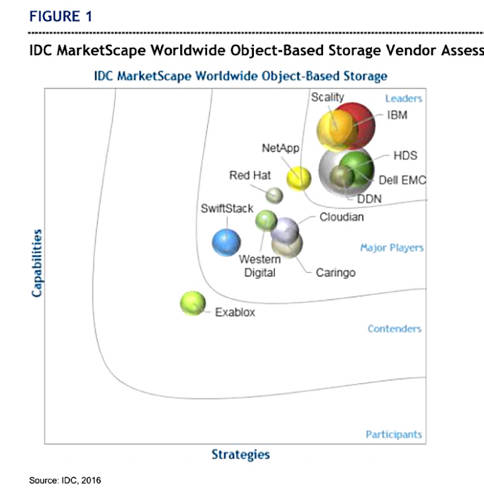 IDC 2016 object storage Marketscape
Here's a previous object storage marketscape chart for comparison: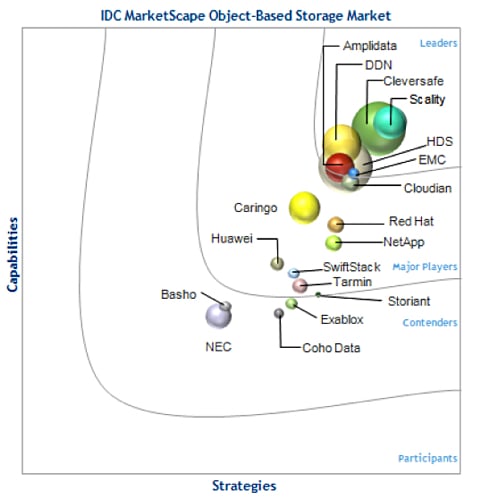 IDC object storage Marketscape Jan 2015
Here is a list of players and changes from previous position with overall ranking numbers:
Leaders

1st - IBM (Cleversafe) with Cleversafe 2nd before and IBM not in chart
2nd - Scality (was 2nd)
3rd - Dell EMC (EMC was 6th, Dell not in previous chart)
4th - HDS (was 4th)
5th - DDN (was 3rd)

Major Players

6th - NetApp (was joint 10th)
7th - Red Hat (was 9th)
8th - Cloudian (was 7th)
9th - Western Digital (WDC sub HGST acquired Amplidata which was 5th)
10th - Caringo (was 8th)
11th - SwiftStack (was 12th)

Contenders

12th - Exablox (was 15th)

Participants
Suppliers no longer listed are Tarmin, Storian, Coho Data, Basho and NEC (with HYDRAstore). HOE is not in the chart directly but does have a partnership with Scality. ®