Disney sued in race row: Axed IT workers claim jobs went to H-1B hires
While Trump recruits Mickey Mouse CEO to advise on growing US jobs
Thirty former IT staffers at Disney, who were replaced by foreign H-1B recruits, are now suing their ex-employer for alleged racial discrimination.
Court papers, filed on Disney's home turf in Orlando, Florida, state that in October 2014, the Mickey Mouse operation told 250 or so technicians that they were being laid off and that they could apply for other roles within the entertainment giant. The lawsuit claims the techies were not successful, and instead the positions were taken by non-Americans on H-1B visas, who had to be trained by the axed IT bods.
Essentially, it's alleged Disney racially discriminated against its own experienced American workers by replacing them with non-citizen rookies parachuted in from India.
"Between October 2014 and January 31, 2015, Plaintiffs applied for employment in several available positions posted by Defendant," the filing [PDF], submitted on Monday, reads.
"Plaintiffs were well-qualified for these positions, but were denied further employment with Defendant. On or about January 31, 2015, Defendant terminated the employment of Plaintiffs based solely on their national origin and race, replacing them with Indian nationals."
Sara Blackwell, a Florida attorney representing the dumped workers, told The Register she has spent the past 18 months pursuing the case against Disney as well as acting for other workers who have allegedly suffered a similar fate at IBM and the cruise ship company Carnival. Such lawsuits are tricky to win, although she's not giving up.
"Businesses have tweaked the laws to make this happen," she said. "These are hard claims to win but what these companies are doing is morally and legally wrong. Just because they've figured out a way to do this doesn't make it right."
H-1B work visas are in high demand – this year's allocation list of 85,000 vacancies was filled less than a week into the process. Although it is billed as a way to fill skills gaps for American companies, this year 81 per cent of applicants were in the bottom two skill levels used for entry-level IT admins and programmers.
Companies love H-1B workers because they are cheaper than hiring American staff, and they complain less and generally work longer hours because if their employer sacks them, they have only 14 days to leave the country.
"Like the two other dismissed cases brought by this lawyer, this latest lawsuit is nonsense and we will defend it vigorously," Disney told The Reg in a statement.
Donald Trump campaigned in Florida on the issue and had one of the Disney employees named in the suit, Leo Perrero, speak at his rallies. If elected, he vowed to sort out the abuses in the H-1B visa system.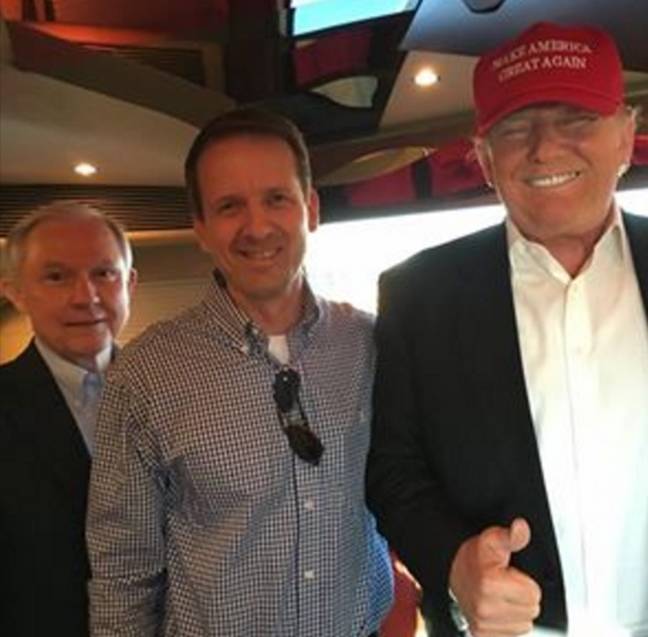 Senator Jeff Sessions, Leo Perrero, and The Donald
... Source: Perrero's Facebook page
"The H-1B program is neither high-skilled nor immigration: these are temporary foreign workers, imported from abroad, for the explicit purpose of substituting for American workers at lower pay," Trump said.
"I remain totally committed to eliminating rampant, widespread H-1B abuse and ending outrageous practices such as those that occurred at Disney in Florida when Americans were forced to train their foreign replacements."
Now that he is the president elect, he has set up President's Strategic and Policy Forum, an advisory group designed to work out how to bring jobs back to America and end outsourcing. One of the people named to the Forum is one Bob Iger, chairman and CEO of The Walt Disney Company. ®