It seems that there is something that Google can't buy, beg or steal: a small piece of land right in the heart of its Silicon Valley campus.
Like real-life versions of Up's Carl Fredricksen, the Martinelli family refuse to sell their one-acre lot even though the tech giant has offered $7m for it in order to expand its footprint.
"We don't need the money. Right now it's not for sale," said Leonard Martinelli, 49.
The Martinellis no longer live there but they did as kids when their father bought the land back in the 1940s when Silicon Valley was still farms and fields. They recall picking fruit and playing around on a tractor.
Times have changed, though, and Google has gradually bought up all the surrounding land as it has expanded from internet search company to online advertising behemoth. Among the slick modern buildings holding tens of thousands of wide-eyed Googlers, the little patch of land that holds fruit trees, a couple of busted cars and a small number of artist renters.
Google wants it but the Martinellis aren't budging, even when the ad giant started upping the price to a figure that most people would never even dream of receiving. Mountain View is one of the most expensive parts of the planet.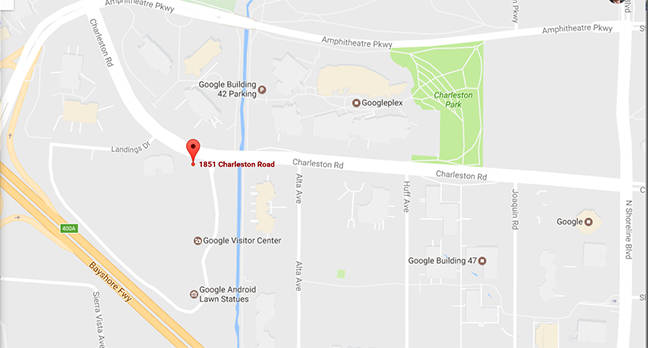 Welcome to Google land! And that little red pin? Martinelli land
The average price for one acre of farmland in the United States is just over $3,000. Taking in account all land – both developed and undeveloped - at the lowest end, Wyoming is a bargain at just $1,558 per acre.
California is the eighth most expensive state, with one acre of land worth $39,000, but that doesn't account for the fact that California is a huge state and away from the coasts, much of it is undeveloped. Most expensive is New Jersey, which has the highest proportion of developed land in the country and as a result one acre there will set you back $196,000.
As for Mountain View, two patches of land that have an area of 0.44 and 0.52 acres are on sale for $2.5m and $2.8m respectively. As such, Google, cofounded by Larry Page and Sergey Brin, is actually offering above market prices even accounting for the insane value of local land.
And while we have to applaud the Martinellis for sticking with their principles and refusing to be bowled over by a corporate behemoth, you do also have to wonder: what would you do with $7m? ®
Similar topics