Will Wikipedia honour Jimbo's promise to STOP chugging?
WMF meets December Sprint fundraising target. Let's see.
---
Will Wikipedia halt its guilt-inducing appeals for cash, as Jimmy Wales promised it would, once it reaches its fundraising goal for this year?
This week the Wikimedia Foundation smashed through the $25m target it had set for its "December sprint" – with a full 15 days of the month left. On December 3, Wiki's globetrotting figurehead Jimmy Wales promised that as soon as the Wikimedia Foundation met the target it had set for its traditional year-end fundraising drive, it would cease making the intrusive appeals.
"We would still stop the fundraiser if enough money were raised in shorter than the planned time," Jimmy Wales promised on December 2. But there's no sign of the Foundation doing that, yet.
The WMF has now raised $25,530,943.01 in December, and $51,182,044.37 this year. That means it's on course to smash 2015's fundraising record of $53,756,012.58. (2015's drive raised over $10m in the past 15 days of the calendar year.)
"It's important here to remember that the Wikimedia Foundation has nothing to do with writing or checking the content of Wikipedia. All that is done by unpaid volunteers," writes former Wikipedia Signpost co-editor Andreas Kolbe in a detailed analysis of the WMF finances.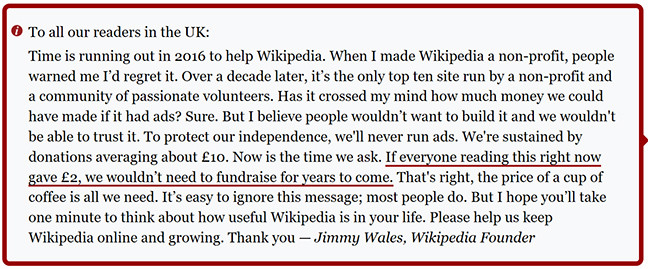 Alarmist? The appeal implies Wikipedia will go offline if you don't donate
Although the fundraising appeal states alarmingly that your cash is urgently required to "keep Wikipedia online", this is not the full picture. (As a WMF staff member admitted in 2014: "The urgency and alarm of the copy is not commensurate with my [admittedly limited] understanding of our financial situation".)

Each year, the Foundation raises far more than it costs to operate the site, estimated at $3m a year. The clue comes in the full quote from the WMF, that cash is needed to "keep Wikipedia online and growing". The Foundation's own reports reveal what exactly it is that's growing.
Upstairs, downstairs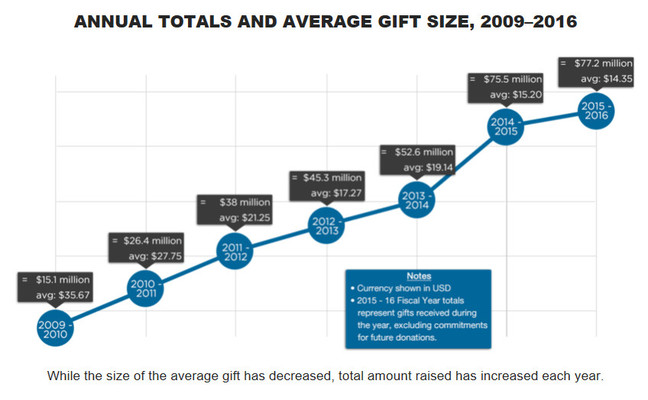 The cash tsunami has created a two class society, with a new, "bourgeois" class of around 300 Foundation staff and developers receiving the cash. 17 staff were employed in fundraising alone last year. Money is also spent on political campaigns*. Meanwhile the volunteers workers - the Wikipedia 'proletariat' who write and maintain the pages enjoyed by millions, go unpaid. The Foundation has raised over $300m since 2009, yet accepts donations from some of the poorest people in the world. There's enough cash to create an endowment.
In 2013, Sue Gardner, the outgoing Foundation executive director and the architect of its fundraising success, admitted money had been wasted. She also warned against corruption, noting that the dispersal process was "dominated by fund-seekers, [and] does not as currently constructed offer sufficient protection against log-rolling, self-dealing, and other corrupt practices."
Gardner herself controversially received a $100,000 payrise after she stepped down.
Unsurprisingly, conflict of interest issues have arisen, and one project that applied for and received funds entailed going to pop concerts.
The Register was the first to question why such a wealthy organisation engaged in such aggressive fundraising four years ago – since then, others have begun to question it too. ®
Bootnote
*Money raised under the pretext of keeping Wikipedia online was spent on: "Legal defense to preserve your right to access, share, and remix knowledge, including court battles won over Wikimedia content in Brazil, Germany, France, and India," the Foundation says. You can see up-to-the-minute data here.