Data centre sentry
But of course we didn't get the Roboking in for its domestic qualities, instead hoping it would make a data centre sentry.
In that role you'll need to connect it to WiFi, a task accomplished quite easily with LG's ThinQ app for Android or iOS.
Once connected, the app offers a rather more intuitive way to automate the vacuum's operations and the chance to see the world through its camera. You can also drive the device manually with simple Left/Right and Forward controls.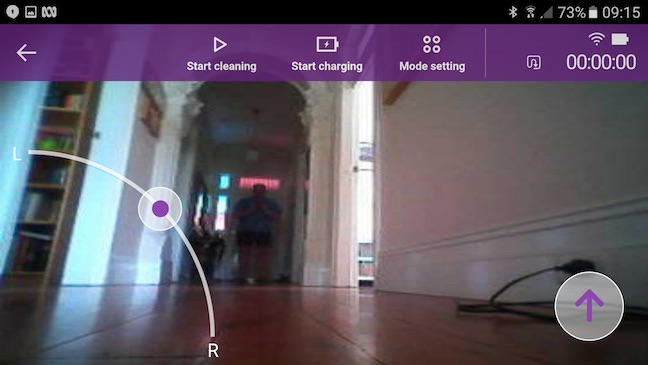 Yours truly, driving the Roboking while it photographs me
This is all possible if you're on the same WiFi network as the Roboking, or if you've left home and are using a public mobile phone network. Impressively for consumers, this can all be set up without needing to make a single change to router settings, learn the meaning of the acronym "VPN" or footling about with services like DynDNS. We'll get back to that later, as we consider security.
The remote viewing feature that most interested us is called HomeGuard and lets you instruct the machine to watch out for any movement. Once it spots motion, it sends an Alert to the app along with a photo. The app captures a handful of photos in a hurry and puts the most recent one on-screen.
HomeGuard works well, perhaps too well. My first trials of the feature took place while I watched tellie and was treated to Nigella Lawson preparing something containing suicidal quantities of butter. The Roboking noticed her fluttering knives and quickly decided I needed to know what was going on.
I later tried Homeguard in the central corridor of my house, asking the kids to emerge from doors. The Roboking unfailingly spotted them and my phone, a Galaxy S6 Edge, produced a warning within a second.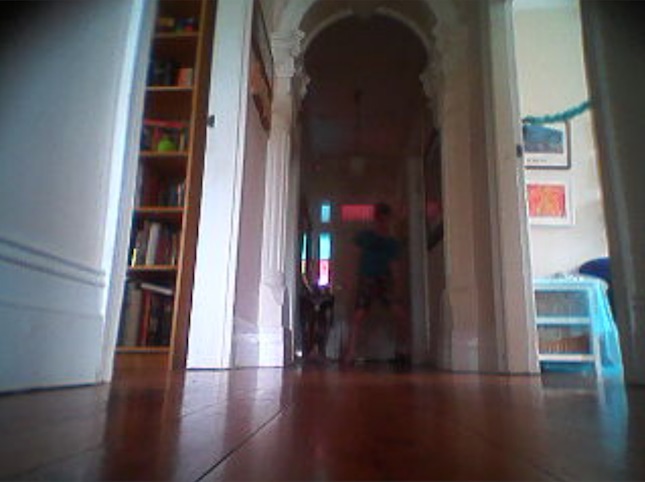 Young master Sharwood emerges from his room and is spotted by the Roboking
All very impressive, until you look at the picture quality. Which as the laundry shot above shows is deeply average in any light. The resulting shots will be no use if Nigella's been spotted. The Sasquatch-grade shot above will tell you there's something bipedal in your data centre without giving you much chance to identify what or who is on screen.
Sadly none of LG's data about the machine reveals the camera's resolution.
Security? They've heard of it, which is better than many other IoT thing-makers
Anything that operates in the data centre needs to be secure. We simply can't say whether the Roboking's remote access routines are secure, and worry they will disqualify it from data centre duty. But LG has done a couple of things to give you a bit more confidence.
Firstly, it maintains an impressive portal listing all open source software used in its products, which also offers the licences under which the software is distributed and lets you download it all.
It's also possible to update the vacuum's firmware, through the app. Sadly there's scant information about the updates, so you won't know exactly what you're getting.
Conclusion: A question of hygiene
My tests suggest the Roboking can do a job anywhere. As a vacuum, it will keep a data centre floor nicely clean. As a webcam, it will alert you to motion and detect it in most light conditions and do so perhaps too well and too often.
Whether you decided to adopt it in either role is a question of hygiene, but I fear the security aspects of that question are worryingly hard to answer.
If LG or another manufacturer added a higher-resolution camera, more detailed guidance on security and automatic scheduling for the Homeguard feature, they would have a very interesting offering indeed for organisations with small data centres that lack layered physical security.
For the rest of us, the Roboking Turbo+Homeview will do a job around the home or office and also offers a tool that could conceivably come in handy one day. ®
Similar topics