This article is more than 1 year old
Grab an ARMful: OpenIO's Scale-out storage with disk drive feel
Object storage networked drive JBOD with direct access
OpenIO has launched its SLS-4U96 product, a box of 96 directly addressed drives offering an object-storage interface and per-drive scale-out granularity.
The SLS-4U86 is a 4U box holding up to 96 vertically mounted 3.5-inch disk drives, providing up to 960TB of raw storage with 10TB drives and 1,152 TB with 12TB drives. The disk drives are actually nano-servers, nano-nodes in OpenIO terms, as they each have on-drive data processing capability.
A nano-node contains:
ARM cpu - Marvell Armada-3700 Dual core Cortex-A53 ARM v8 @1.2Ghz
Hot-swappable 10TB or 12TB 3.5-inch SATA nearline disk drive
Dual 2.5Gb/s SGMII (Serial Gigabit Media Independent Interface) ports
The amount of DRAM is not known.
The SLS-4U96 product has no controllers or motherboard in its enclosure, featuring dual 6-port 40Gbit/s Ethernet backend Marvell Prestera switches for access. These are for both client connectivity and direct chassis interconnect, which can scale up to more than 10PB per rack. The chassis has four x N+1 power supplies and 5 removable fan modules, and OpenIO says it has no single point of failure.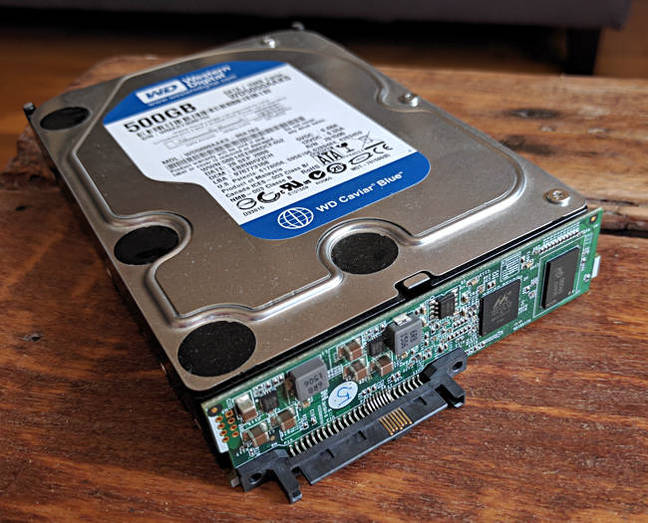 OpenIO SLS-4U96 disk drive with ARM board
The failure domain is a single drive which, with in-chassis erasure coding, is survivable. New or replaced nano-nodes join the SLS resource pool without needing a rebalancing operation and the process takes less than 60 seconds and doesn't impact performance.
SLS stands for server-less storage by the way.
OpenIO CEO Laurent Denel said: "The SLS-4U96 hardware appliance revolutionises the storage landscape by providing network HDDs as an industrial reality." He claims that with a cost that can be as low as $0.008/GB/month over 36 months for a fully populated configuration and the ease of use of our software, a single SysAdmin can easily manage a large multi-petabytes environment at the lowest TCO.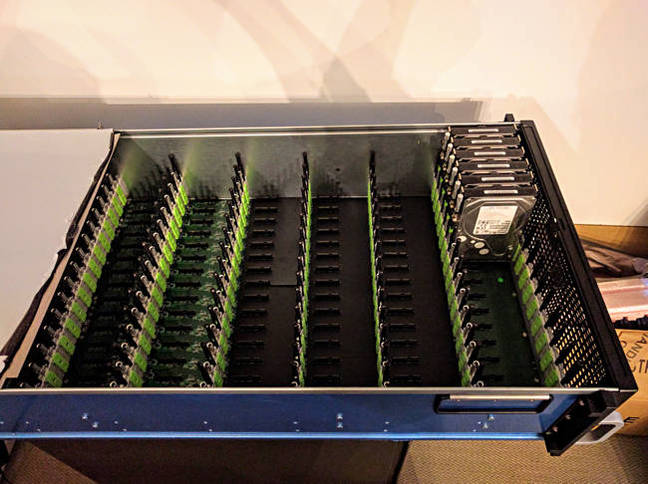 Partially populated SLS-4U96
The open source SDS software used by SLS has these features;
Automatic nano-node discovery, setup and load balancing
Easy to use management via a web GUI, CLI and API
Local and geo-distributed object replica or erasure coding
Quick fault detection and recovery
Call-home support notifications
S3, Swift and Native object APIs
Multiple file sharing access methods: NFS, SMB, FTP, FUSE
It is said to be fully compatible with existing x86 based SDS installations and a 3-node cluster can be deployed ready for use in five minutes. It can be a mixed hardware cluster as well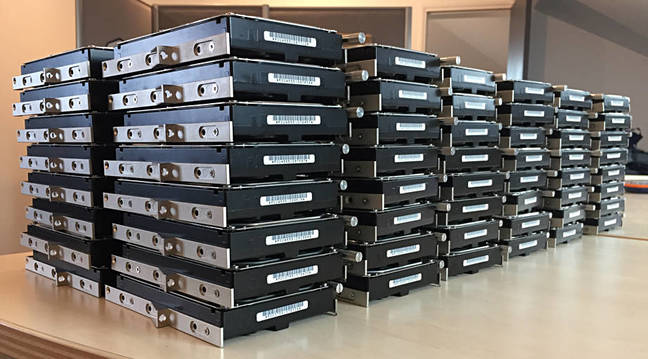 OpenIO SLS-4u96 nano-nodes ready to be stuffed into the chassis
Okay, very good, but what is this storage for? OpenIO suggests email, video storage and processing in the media and entertainment industry, and enterprise file services. It says there are "dedicated applications connectors such an Email connector for Cyrus, Zimbra, Dovecot and Video connector to sustain high demanding content service around adaptive streaming and event-based transcoding."
There's no performance data available yet. Hopefully that will come out in the next few months.
Grab yourself a data sheet here; it's more of a brochure actually. Get more technical white papers here. ®