This article is more than 1 year old
Jimbo Welshes on pledge to stop fundraising
At cash-soaked Wikimedia, enough is never enough
The Wikimedia Foundation won't honour a promise made by Jimmy Wales to halt its aggressive fundraising drive, even though it reached its fundraising target last week.
The 'December Sprint' is the WMF's big annual fundraiser, and this year the foundation set a target of $25m. (The site costs $2m to run).
On December 2nd, Wales had vowed that the intrusive and alarm-raising banners soliciting cash would disappear if the fundraising goal was met early. The foundation now says it will tone down some banners, but otherwise keep on chugging for the rest of December.
In a statement the WMF confirmed it had reached the $25m target early, but would carry on anyway.
The cash-rich foundation has come under fire in recent years for spending its resources on itself rather than on paying hard-working Wikipedians. And it's unlikely to win many new friends when they discover some of its justifications for continuing to raise cash.
One of these would impress Dilbert's Pointy Haired Boss. WMF says it will fund "Support for an inclusive and truly global movement strategy process."
Katherine (another WMFer) recently shared the exciting news that the Board has approved a US$2.5million spending resolution to support the development of a Wikimedia movement strategy. Coming to consensus on a strategic direction will help us know what destination we are headed, which path we will take, and how we will ensure our work is well supported.
WMF will also throw more money into its controversial Wikimedia Endowment.
Pay no attention to The Register, they were mean to me once
So how did Wikipedia's Maximum Leader justify breaking his promise? Enough is never enough, he explained. As is traditional, Wales accused his critics of "trolling" and on noticing that The Register is involved, showed us that he's still hurt by a line by a reader from 2004.
"For some (who like to troll about it) this is an opportunity to try to cause trouble, but for most this is a reason to rejoice: we can raise money that we need to accomplish things that are community priorities, while at the same time having a less aggressive banner schedule over the coming months. That's a good thing," Jimbo explained.
"The fact remains: if enough money were raised, we would stop the fundraiser. The stopping point is not hard and fast at the minimum goal, obviously. I think it would be better if we spelled out the exact options on the upper end as well, even though we never expect to get all the way there. Something on the order of "We must raise $X, and if we hit that we scale back over the holidays until we hit at least $Y in which case we stop completely.
"We don't need to raise infinite money, but neither do we need to guess a priori how well the fundraiser will go down to the last dollar."
He wasn't done, though.
"I should think you'd know that The Register is a satirical rag rather than a valid source. Perhaps you have forgotten or never knew that they once ran an article calling us 'Khmer Rouge in Diapers,' etc," snarled Wales.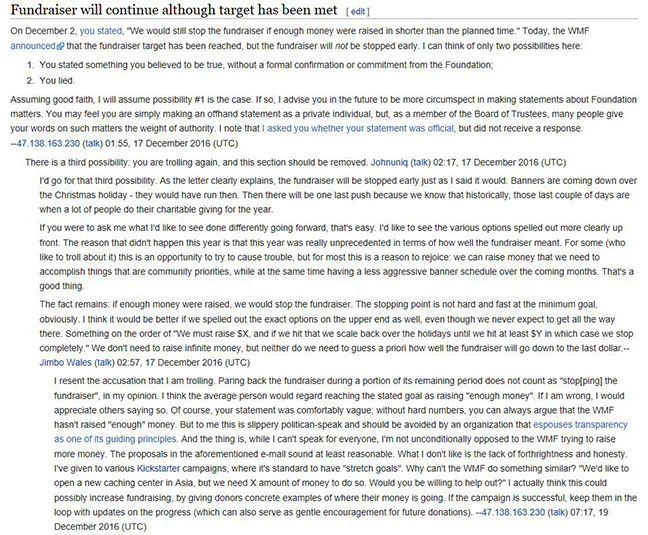 In his own words ... Jimbo Wales tries to explain himself (click to enlarge)
Wales invariably attributes the Khmer Rouge quote to this reporter. Each time, no one seems able to explain politely to the cofounder that he's misattributed it, as you can see here.
We wish all honest, hard-working and unpaid Wikipedians a very Merry Christmas, and look forward to reporting on the foundation's exciting "movement strategy" process, as soon as it's reached a consensus. ®