This article is more than 1 year old
Back up a minute. So you're saying they're buying fewer appliances?
Data backup Domain shrinks as market looks to the sw-defined and public cloud
Glory days... not really. IDC sees the purpose-built backup appliance (PBBA) market shrinking in the third 2016 quarter, by almost 8 per cent on an annual basis, to $737.5mn.
This is the market dominated by Dell EMC's Data Domain products. And it seems to be affected, like storage arrays, by an enterprise buying slowdown.
The company's storage systems research manager, Liz Connor, is quoted as saying: "The PBBA market closed out the third quarter on a downturn, following a similar trend as the enterprise storage systems markets. Spending in more mature geographies saw a decline, while the market saw favourable growth in emerging markets. Meanwhile the shift in spending away from commodity hardware continues, with PBBA software spending taking market share."
Dell EMC saw the largest revenue share drop of 14.9 per cent to $444.9m. Other share-fallers were Veritas, which was previously Symantec up to the final 2015 quarter, and HPE. IBM gained a 5.7 per cent revenue share with a massive 42 per cent annual rise.
Here's the table of numbers IDC released: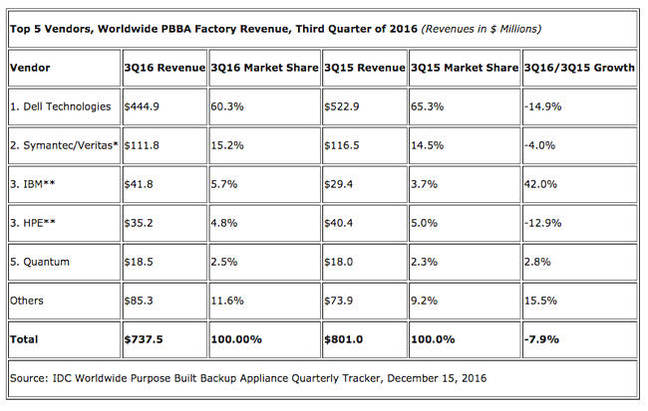 It also released a stacked bar chart: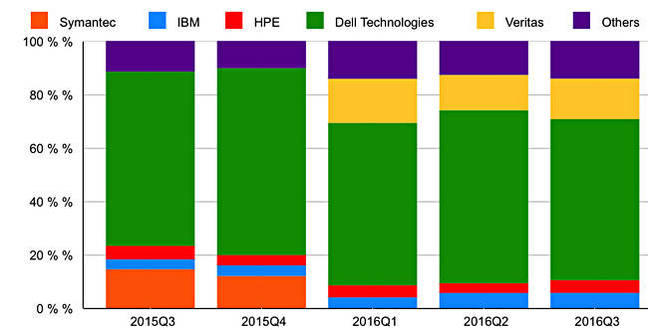 We re-charted IDC's numbers and added a few back to last year to come up with this trend chart: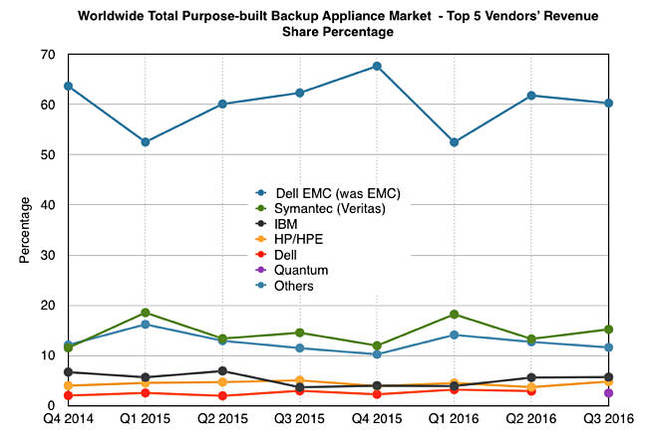 This shows how EMC/Dell EMC's share has turned down over the past three quarters and is now below its fourth 2014 quarter starting point.
Symantec, now Veritas, is above its starting point. Quantum has emerged as a top-five player only because Dell bought EMC. We have no insight into how it has been doing since the start period of this chart, although its revenue share has grown this quarter, by 2.8 per cent, when the market overall has shrunk 7.9 per cent.
HP/HPE and IBM are basically level pegging, even though IBM shows a 42 per cent revenue share rise on a year ago; it being the second individual vendor gainer of market share this quarter.
We can be fairly certain the public cloud, software-defined backup storage software – think Veeam, and possibly on-premises object storage are eating into the PBBA market. It could be that the PBBA glory days are over. Maybe Dell EMC should think about adding global dedupe to Data Domain? Or even buying Veeam. ®