MH370 hunters call for new search of extra 25,000km2
Drift experiments and new modelling suggests we've been looking in the wrong places
The Australian Transport Safety Bureau, which is in charge of the search for missing Malaysian Airlines flight MH370, has recommended an extra 25,000km2of the Indian Ocean be searched in an effort to find the plane.
The new recommendation emerged today in the MH370: First Principles Review report that chronicles an early November meeting at which experts revisited previous analysis of the plane's final resting place and incorporated new data offered by debris from the plane, drift simulations and a new look at satellite metadata.
The current search area for MH370 was chosen largely on the basis of seven pings from the plane to a satellite. Analysis of those pings was used to select a 120,000km2 area to the south-west of Australia. Most of that search zone has now been probed with sonar, to no avail. But as recently as July, searchers were sure they were looking in the right place.
The effort to find the plane nonetheless expanded. Finds of debris from the Boeing 777 in Eastern Africa and Indian Ocean islands have given searchers clues about where the aircraft parts may have originated and the state of the aircraft at impact. Together with further analysis of satellite handshakes, those efforts led to the early November publication of a new theory suggesting the plane came in faster and steeper than previously thought, and perhaps to the north of the search zone.
That theory now looks to have been largely accepted by the First Principles Review, which strongly suggests that an area north of the current search area be scanned. The newly recommended search area is starts at 36°S and ends at around32°S, along the "7th arc" in the search zone.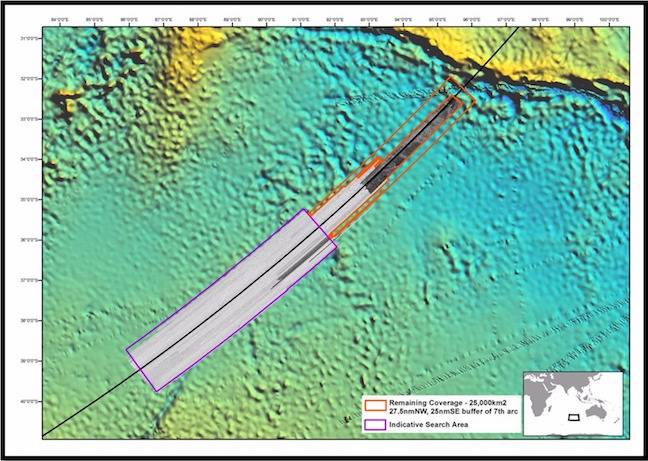 The area recommended as a new search zone in the hunt for MH370, depicted in orange. Larger version here.
Australia has carriage of the search for MH370 because, as the nearest nation to the theoretical crash site and a member of the International Civil Aviation Organization (ICAO) and the International Maritime Organization (IMO) is it obliged to do so. Malaysia and China have assisted with material and cash, but the search has to date cost Australia over AU$100m. But the three nations have in the past agreed the search will be suspended if the current search area does not yield evidence of the plane's fate.
A decision to extend the search, and the funding to make it happen, will therefore be needed if the First Principles Report is to be acted upon. ®