Analysis Pot plant surveillance cameras in a Colorado marijuana farm feeding Quantum's StorNext multi-tiered and scale-out, file virtualisation and data services software with video footage show the substantial market changes to which Quantum is having to adapt.
CEO Jon Gacek told a visiting press crew in December: "I feel like the captain of a small boat in a rough sea." His company has navigated the rough seas of the tape-based data protection market downturn when it had an ocean of debt from buying ADIC, and when the nirvana of a vastly profitable deduplicating disk backup market was hijacked by Dell EMC's Data Domain unit.
An asset inside ADIC called StorNext turned out to be good news, as it provided the tiered and scaled-out file storage underpinnings for complex workflows involving the combination of new and old files with much processing to create movies, analyse surveillance videos and store life sciences data for subsequent reference.
The common factors here are that unstructured file data from captive end-points, like video cameras and genome sequencers, needs storing over the long term yet it has fast access needs when it is referenced, for example, when parts of an old video clip are re-used in a new movie. Organisations need access to the old data but storing it all on a single storage tier is either impractical or unaffordable and a multi-tiered approach is not feasible unless the several tiers can somehow be combined into a single logical repository with a single access software layer. Step forward StorNext.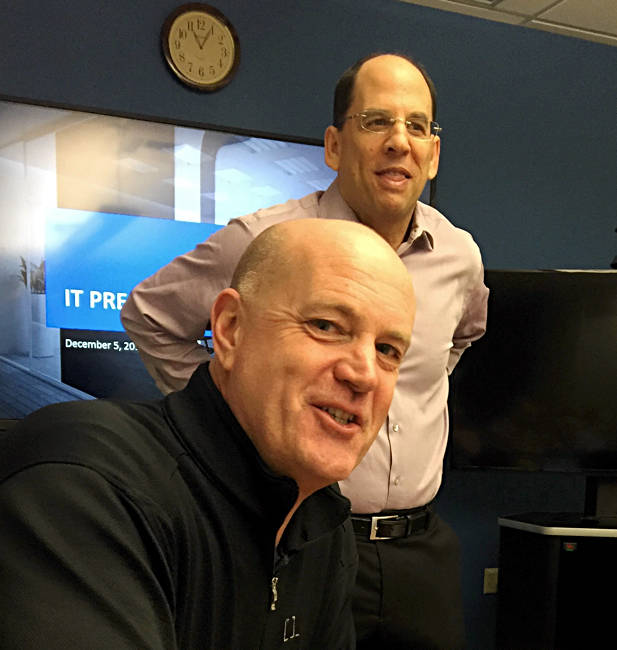 Quantum CEO Jon Gacek (front) and corporate comms head Brad Cohen (rear).
This is software that combines primary disk and flash file storage, object-based nearline storage, and tape and cloud archival storage into a single file namespace and fetches data on the nearline and archive tiers when needed by applications operating on the primary tier.
There is a data life cycle involvement and also a workflow aspect:
Data ingest from capture devices and/or data creation inside process
Storage on appropriate tier driven by performance, access and budget needs
Data processing by applications and people in a process fetching data from multiple tiers as if from one repository
Storage of created data on appropriate tier
Archiving of old data for later reuse
What Gacek's Quantum has done is to manage its tape- and deduplication-based businesses as they declined and faced lowered growth respectively, while building up the scale-out StorNext business. It's now back in profit, and growth is looking feasible after years of overall revenue decline.
Go where the growth is
But this is hard grind growth, not growth from a new storage technology rocket. And even today Quantum finds that more revenues come from the data centre, Gacek saying: "We make our money on the data centre products side. People selling our backup products will sell another product eventually."
The growth is not there though, with Quantum saying the traditional IT infrastructure market has a negative 1 per cent CAGR over the next five years - it's elsewhere;
Public cloud infrastructure - 19 per cent CAGR
Private cloud infrastructure - 10 per cent
Media and entertainment storage - 15 per cent
Surveillance storage - 17 per cent
Growth markets in the unstructured data area also include technical computing (satellite and telescope imagery, energy research and AI), manufacturing, the automotive industry and life sciences. For Gacek, surveillance is a big opportunity; "There are huge deals. We can have more streams and we can add the tape backend. Getting the tape backend is the real differentiator." He mentioned the idea of having a StorNext client on a camera as a potential differentiation point.
Market changes
Gacek sees backup, archiving, file systems and data management coming together, and points out that "there are more dollars in an archive tape than a backup tape." Tape, he asserts, absolutely will be in the public cloud as it's the cheapest long-term storage technology.
Backup is heading towards the cloud: "I think a lot of backup is moving to the cloud [and] the data that's created in the cloud will stay in the cloud."
He said: "We believe the market has moved towards us. … We used to sell speeds and feeds.. With scale-out we sell to business users. It's not speeds and feeds. We sell to business people, not technical people."
As the entertainment and media-style workflows have spread with the rise of sports broadcasting, in-house video production by a variety of organisations, and reference processing of archived unstructured data, then StorNext has found its niche expanding.
From data centre to LOB
Overall, for Quantum, more storage buying is being handled by lines of business inside enterprises, because they need systems specific to their needs and workflows than central, CIO-led IT, can't provide.
Because of that and because Quantum has learnt to work with skilled vertical VARs, it can compete against far larger suppliers who offer single tier systems with a technical, data centre-oriented sell to such customers.
One example; a European customer was looking to store autonomous car driving data, with 20PB of data foreseen over a 10-year period. It was tendered a $15m system, which was unaffordable.
The Quantum StorNext alternative was $1.6mn, with cost-savings from having a virtualised disk and tape system, and with claimed better performance. It featured Xcellis arrays for primary data, fed in from in-car sensors and worked on via researcher workstations, with old data spun out to a Scaler tape library.
This system was sold to a small business unit inside a larger conglomerate, not centrally to a CIO or data centre organisation. Without StorNext, the business wouldn't have been there for Quantum.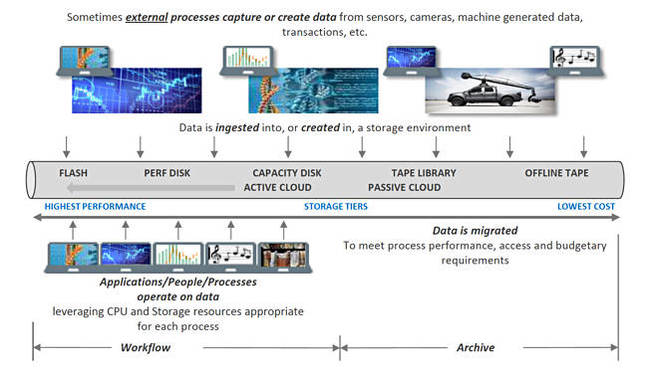 Workflow schematic from Quantum
Gacek reckons Quantum is in a better place to survive such enterprise storage buying changes than legacy array vendors: "We don't have a disk business to screw up."
Marketing VP Molly Rector told us that Quantum doesn't really care about media. It primarily sells name space and data handling technology, with tiering being a key part of this. The media is a means to this end.
We hacks on this press visit also met startup Primary Data, another silo-converging business, which said it was active in media and entertainment and never saw Quantum. Having talked to Quantum we think this may be because Quantum sells to entertainment and media lines of business inside large companies while Primary Data typically sells at the CIO and data centre level
Quantum has two faces
On the scale-out side of its product divide, Quantum has its Artico product providing a public cloud and tape gateway. The recently announced StorNext v5.4 has a file system namespace that extends across the public cloud, meaning AWS and Azure, and on-premises object storage such as NetApp's StorageGRID, IBM's Cleversafe and the Scality RING. The Xcellis arays are starting to be able to run application code, in KVM virtual machines, inside the array. Overall it has a set of product technologies, predominantly on-premises, unified underneath or inside StorNext
StorNext could run in the public cloud: "It's possible but we haven't turned it loose yet." The cloud, for Quantum currently, is just another data store - off-premises media, which could evolve to having some Quantum software running in the cloud as well. Its customers are hybrid, having a mix of on-premises and public cloud infrastructure, and Quantum products help bridge the two environments.
Quantum also has its data protection products (DXi deduplicating disk arrays, QXS hybrid storage, Scaler tape libraries, Q-Cloud Protect for AWS) and its Scale-out product set (StorNext plus component products such as Lattus object storage, Xcellis primary arrays and the Artico cloud NAS gateway). There may be a downturn in enterprise storage buying and also in purpose-built backup appliances, but, overall, data protection is a $4bn market and will last for a long time; not something you walk away from.
A collection of niches
The scale-out market is now growing steadily and Quantum should grow with it. However, although sharing common factors, this market is a collection of vertical niches, often flavoured by unique data capture devices and application software. There's not a lot of obvious commonality between the collection and processing of autonomous vehicle data in manufacturing on the one hand, and the sequencing of DNA and analysis of the results on the other; only there is - the workflows and data amounts are similar. And surveillance with its image/video capture and processing is a connected market.
Its Quantum's realisation of this, and tapping into the resulting opportunity, that has enabled it to do much better than other tape-based suppliers of the past such as Overland Storage, Tandberg Data, or Imation. But it is also not a high-growth opportunity, not like hyper-converged appliances powering into the data centre, or all-flash arrays mass invasion of the disk array turf.
As these entertainment and media, life sciences, and surveillance-type niches expand and ripple outwards into general business then Quantum could, and should, grow steadily, if unspectacularly. From DNA sequencers through autonomous vehicle sensors to movie SFX and beyond, it's got products ready to ingest data, feed it to processing apps and archive the results. Quantum may not be able to walk on water but it can sure smoke its competitors in the pot plant cam business. ®