This article is more than 1 year old
NAND, fab-ulous NAND, price rises make DRAM a cash cow
Low supply put them in the mood, so Micron results are up now
Happy days for Micron, it seems. Its first fiscal 2017 quarter results were lifted by high demand and price rises driven by supply constraints. The market wanted more DRAM and NAND bits than the firm's fabs could ship and DRAM prices went up.
Revenues of $3.97bn were 18.5 per cent higher than a year ago and 23 per cent upon the previous quarter. CEO Mark Durcan's quote was a simple and straightforward one: "Positive market momentum, driven by favorable demand trends and limited industry supply, produced solid results for our first quarter. We continue to make significant progress on our key technology and product initiatives, and we are pleased to have closed the Inotera acquisition on December 6, 2016, which we expect to further improve Micron's strategic position and financial results."
Net income was positive, at $180m - unlike last quarter's $170 loss - not much down on the year-ago's $206m. A look at a chart - see below - of Micron's quarterly results shows a clear recovery in its fortunes over the past three quarters as a trough has bottomed out.
The revenue bump was mostly because of 18 per cent and 26 per cent increases in DRAM and trade NAND sales volumes, respectively, and a 5 per cent increase in DRAM average selling prices, with net income helped by manufacturing cost reductions.
The multi-year transition from 2D planar NAND to 3D flash is well under way, with almost 90 per cent of NAND shipments in 2020 expected to be 3D NAND, compared to 17 per cent currently (IDC numbers). 2D NAND is looking to be a long tail, niche market in the future with 3D flash taking over the mainstream. Micron's 2nd gen, 64-Layer, TLC (3 bits/cell), 3D NAND should be in mass production by August 2017. This is late compared to Samsung and Western Digital.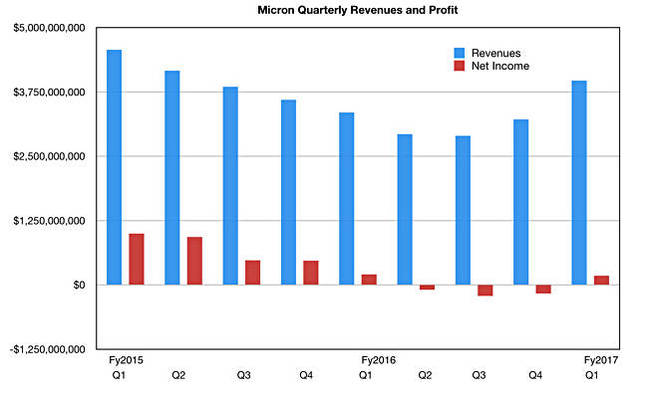 Stifel MD Aaron Rakers notes Micron "continues to see tight demand / supply dynamics for NAND flash entering 2017 with an expectation of favorable pricing trends continuing." He points out "IDC has significantly increased its NAND flash revenue forecast, now calling for revenue to grow at a ~5 per cent CAGR through 2020 and up from its prior forecast of a ~2 per cent CAGR.
Nothing was said in the results statement about the Seagate-Micron SAS SSD relationship, lending credence to speculation about Seagate and SK Hynix getting together. That potential blot on Micron's landscape apart, its future looks quite rosy. ®