Just another sweet week in storage with a blitz of news candy covering archiving, flash arrays, compression and removable disk backup.
Mimecast has topped Gartner's enterprise information archiving magic quadrant. It is some way ahead of Microsoft, Proofpoint, Global Relay, Veritas and Smarsh in what looks like a product space dominated by specialists.
MicroFocus is the only challenger. Capax Discovery, CommVault, Barracuda Networks, Dell EMC, and Google are niche players. The visionaries are HPE, ZL Technologies, Bloomberg and Actiance.
Gartner's report alongside its quadrant notes: "The grid-based back-end scale and capabilities of Mimecast-owned data centres enable aggressive SLAs for email availability and also search/discovery of the archive data." The analysts mention that Mimecast touts integrated modules for archiving, continuity and security for email.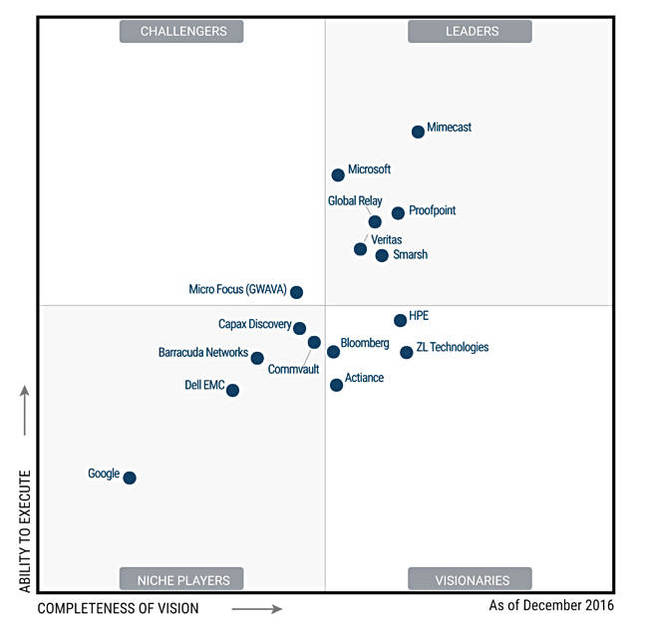 No one puts, er, Google in the corner ... Gartner's latest enterprise information archiving magic quadrant
Nimbus Data announced it has patented the non-blocking all-flash architecture used in its ExaFlash product. The US-registered patent, number 9,268,501, describes a "high performance solid-state-based computer data storage array", with Thomas Isakovich, CEO and founder of Nimbus Data, named as the inventor.
Permabit's Virtual Data Optimiser aka inline compression code for Linux has run at more than 8GB/sec using Samsung NVMe solid state drives. The company combined VDO with Red Hat's Ceph Storage software, and 24 x 480GB Samsung PM953 U.2 NVMe PCIe SSDs. It delivered single-node performance of over 8GB/sec read and 3.6GB/sec write using workloads generated by Ceph RADOS bench, we're told.
According to Permabit, these results are more than twice as fast as published compression performance numbers for proprietary single node storage arrays, and they were achieved without the use of hardware acceleration boards. Louis Imershein, Permabit's product veep, said: "We're looking forward to also leveraging the full multi-node, scale-out capabilities of the Red Hat Ceph storage platform as we test further in 2017." Are we looking at possible 20GB/sec compression?
We also have Tandberg Data announcing a 4TB version of its RDX removable disk. It will nestle between 500GB, 1TB, 2TB and 3TB RDX disks and the 128GB and 256GB solid-state drives on the biz's product lineup. These 2.5in-format drives fit inside Tandberg's eight and four-bay RDX QuikStation backup boxes, providing offline security like tape but with disk access speed. The 4TB cartridge isn't cheap: it has an MSRP of $599 (€539).
RDX drives have been available for ten years with some 850,000 RDX systems deployed and more than 2.9 million cartridges sold, we're told, representing a capacity of 1.4 Exabytes sold worldwide. That's a nice niche product area success. ®