Uber's self-driving cars get kicked out of SF, seek refuge in Arizona
After registration revoked in Cali, upstart looks for less regulated climes
Analysis The California Department of Motor Vehicles (DMV) on Wednesday revoked the registration of 16 self-driving Uber vehicles, sending a signal to the regulation-averse startup that the agency is not to be publicly defied.
Privately, it appears to be a different matter. Uber's subsidiary Otto has been, by its own admission, testing autonomous trucks on California roads without a permit for several months. Otto's reasoning is the same as Uber's – there's a human supervising operations.
Asked Thursday whether the DMV's action against Uber has altered Otto's testing regime, a DMV spokesperson didn't have an immediate reply. And neither Uber nor Otto responded to inquiries on this matter.
Uber, which last week began offering rides in self-driving cars in San Francisco as an experiment, said it didn't need a permit to test its self-driving cars on state roads. It asserted that its self-driving cars don't qualify as autonomous vehicles under California law because they're operated under human supervision.
The DMV, backed by California's Attorney General, disagreed. Following a meeting between the two camps on Wednesday, the DMV said it took action because Uber's cars were not properly marked as test vehicles and noted that it simultaneously "invited" Uber to apply for a proper permit. Such language is notably more conciliatory than the agency's previous insistence that Uber "shall" seek a permit.
The DMV's decision to revoke vehicle registrations rather than seeking an injunction in court suggests lack of confidence in its legal position. Perhaps there's some merit to Uber's argument that the way state law defines autonomous vehicles is vague.
The DMV, in a statement emailed to The Register, said California's testing regulations for autonomous vehicles attempt to balance public safety with support for innovation and noted that 20 companies are presently testing more than 130 autonomous vehicles on state roads.
"Uber is welcome to test its autonomous technology in California like everybody else, through the issuance of a testing permit that can take less than 72 hours to issue after a completed application is submitted," the DMV said. "The department stands ready to assist Uber in obtaining a permit as expeditiously as possible."
If Uber does obtain a permit in the new year, it will not be obligated to report any of its 2016 self-driving car data.
Uber, in a statement emailed to The Register on Wednesday, said it has suspended its self-driving pilot test in San Francisco. "We're now looking at where we can redeploy these cars but remain 100 per cent committed to California and will be redoubling our efforts to develop workable statewide rules," the biz said.
Being 100 per cent committed to California evidently does not preclude setting up shop in Arizona. "Our cars departed for Arizona this morning by truck," an Uber spokesperson said in an email on Thursday. "We'll be expanding our self-driving pilot there in the next few weeks, and we're excited to have the support of Governor Ducey."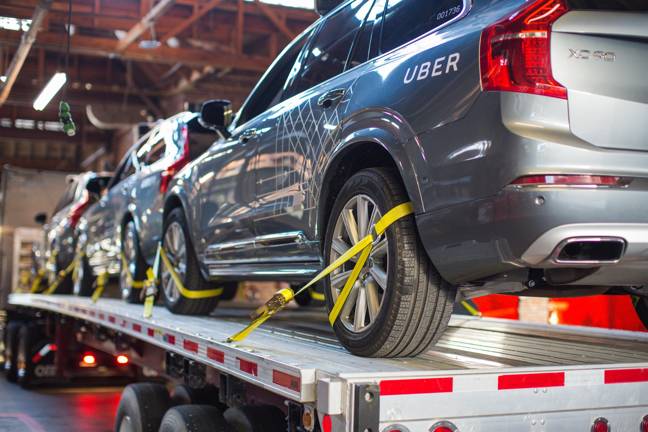 Uber has a problem with rules, and not without reason. Its business model is predicated on the avoidance of costs imposed by government regulations – and with an estimated loss of $800m on $1.7bn in revenue during the third quarter of this year, it needs to keep costs down if it's ever to turn a profit.
What's more, the businesses threatened by Uber and its ilk, specifically taxi companies, see saddling Uber with regulations as a way to level the playing field.
In New York City, Uber faces another fight over rules proposed by the Taxi and Limousine Commission (TLC). Ostensibly to combat driver fatigue, the TLC wants for-hire vehicles to provide it with passenger drop-off location and time data, in addition to the pick-up data already provided to it. The agency suggests that this information could be used to more accurately calculate driver work hours and from there to arrive at some calculation of driver fatigue.
These data points are already collected with taxis. The rules would extend to other for-hire vehicles, like the ones operated via the Uber and Lyft apps. The TLC is accepting public comment on the rules until January 2, 2017, and plans to hold a hearing to discuss them on January 5.
The problem for Uber, and for privacy advocates, is that this data is made available to the public through New York State's Freedom of Information Law (FOIL) and the NYC OpenData portal.
Uber has taken to emailing its customers in the area to enlist public support against this plan.
"Today, the city requires Uber and other companies to hand over a lot of sensitive personal passenger data, including where you're picked up on every trip," Uber's email explains. "Now the city wants more. They're trying to force companies to tell them where you're dropped off, as well."
The email asks Uber riders to get involved in the debate, warning that the city doesn't need the data and can't be trusted to safeguard it.
"We have an obligation to protect our riders' data, especially in an age when information collected by government agencies like the TLC can be hacked, shared, misused or otherwise made public," an Uber spokesperson said in an email to The Register.
History has shown that large data sets can often be de-anonymized and/or linked to other data sets. And the debate is taking place at a time when the incoming Trump administration has people worried about how data will be used. New York City has just stopped retaining data for its municipal ID program, reportedly over concerns that the incoming administration might want to use the data to advance its immigration policy.
The TLC insists that it does not collect personal names, that location data would be at a neighborhood level rather than something more specific, and driver or vehicle license numbers would not be included.
In a phone interview with The Register, John Verdi, VP of policy for the Future of Privacy Forum, expressed skepticism of the TLC's approach.
"Combating driver fatigue is surely a super-important safety thing," he said. "But speaking as a privacy professional, there has to be a better way to do that than asking for the passenger data down to the granular detail of every passenger in New York City."
Whether or not Uber prevails, its regulatory entanglements and demands for its data can be expected to continue. A San Francisco official who spoke with The Register on condition of anonymity described Uber's action as part of a campaign to shape the regulation of the curb.
Uber appears to be trying to steer the debate about what kinds of community benefits and data potential users of regulated curb space in cities would need to provide to regulators. "Generally, public right of way may not be designated for specific purposes, so laws will need to be changed in order to allow Uber, Lyft and other providers to use designated curb drop off and pickup zones," the person said.
The fight over curb access has taken visible form in San Francisco. For several years, corporate shuttle buses operated by Google and its peers utilized bus stops in the city to pick up tech workers, without paying much for the privilege. The battle, a proxy for resentment of soaring real estate in the area, concluded in February 2016 when the SFMTA formalized its shuttle program and adjusted the fees.
But these issues can be expected in urban areas, where growing populations and inflexible transport infrastructure invite new approaches to mobility, demand for data to validate these approaches, and interest in using the data, for better or worse. ®