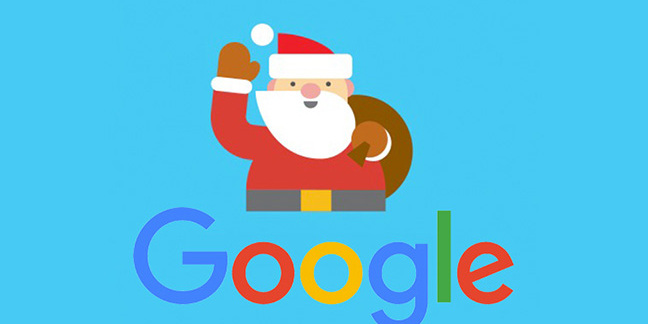 Special Report The dictionary defines charity as unselfish acts that benefit other people. Google boasts that it does a great deal for charity. So how come the biggest beneficiary of Google's charity seems to be Google itself?
Google.org is the charitable arm of the giant multinational, founded 11 years ago. It dispenses $100m in the form of grants and donations to non profit organisations. However a significant amount of this ends up being returned to Google, in the form of Chromebook purchases. The laptops are preconfigured to ensure children use Google Services.
The answer lies in Google's relationship with a much lauded "civic crowdfunding" initiative called DonorsChoose.
As Google.org's Sasha Buscho tells us in a new blog post:
"Google.org is supporting classrooms in need by funding projects that have requested Chromebooks and other technology via the educational giving platform DonorsChoose.org."
The most critical learning resources that teachers need are often exercise books, pen and paper, but incentives built into the process steer educators to request and receive Google hardware, rather than humble classroom staples.
How so? To understand this, it helps to grasp the nature of the intermediary, DonorsChoose.
DonorsChoose predates Google's philanthropic arm. Founded in 2000, it's a charity that allows Americans to donate directly to school projects, and is dubbed a 'civic crowdfunding' initiative. The teachers request what materials they need, and donors pledge to fulfil the requests. It has been lauded for its "innovation" and attracted the great and the good. Stephen Colbert has promoted the venture and sits on its board.
But spend some time comparing the requests and the donations, and a striking disparity emerges. Most requests are for staples, but most grants are for hi tech equipment, particularly in the form of Google Chromebooks.
That's because, teachers explain, that DonorsChoose takes a cut of all projects with a minimum of $30.
"So most requests on DonorsChoose trend toward expensive grant-like requests (iPads, Chromebooks, field trips, etc.) and away from essentials (paper, colored pencils, etc.)," a teacher wrote on the Reddit website.
Another breaks down the costs:
With donorschoose.org, there is:
• 3rd party payment processing fee $1.67
• Fulfillment labor & materials $30.00
• Suggested donation to help DonorsChoose.org reach more classrooms $25.29 on a ~$111 project, that is $50 or almost 50%!!!
No wonder we're not seeing "Give the bare essentials for my class room!" and instead seeing high-cost technology requests.
Knowing this, the teachers ask for what they're likely to get: Chromebooks. If you ask Santa Google for a Chromebook, your Christmas wishes will come true.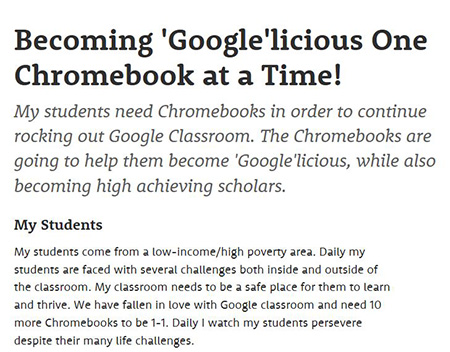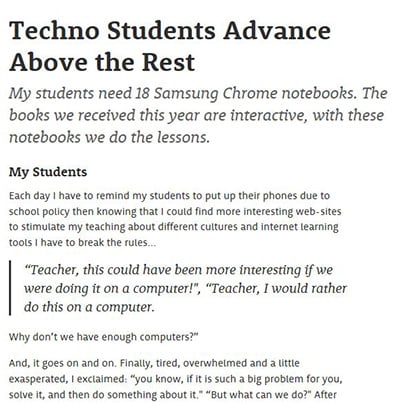 A teacher at Timberland Charter Academy wanted funds to "become 'Google'licious", and submitted a $2,097 request for Chromebooks. Yet at the same school, another teacher put in a humbler $399 request for basic schools supplies: pencils, paper, erasers, etc. That remains unfunded. It still needs $315 as of time of writing.
At Timberland, Google has paid out $18,130 to fund a request for 35 Chromebooks. Over at Ronald McNair Academy, singled out in Google.org's most recent blog post, one Mr Jones has got the Google bug. Last year he requested 67 Chromebooks "to boost the confidence of students", and 35 more this year, in grants worth over $50,000. He also received $7,000 for a "hobby laser" and a 3D printer last year.
Google loves a teacher who loves his toys.
Over at Bunche Middle School, Google dispensed $3,910 and $1,648 for a request by Mrs Glass to make her classroom a 'Google Classroom' and another $11,123 cheque to eliminate another teacher's 'Computer Blues'.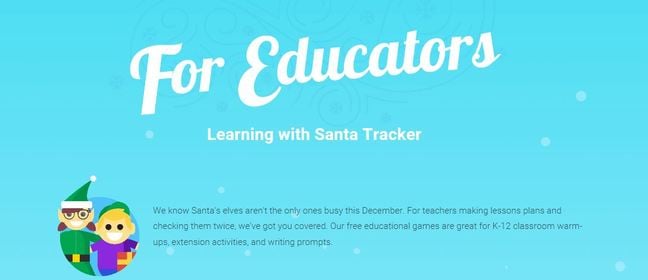 Even the most innocuous sounding Christmas theme turns out to have a promotional value for Google. "Santa's Village" is a sprawling portal of games, that on closer examination, promotes the educational ventures Khan Academy, Pratham Books, Libaries without Borders, Code.org (itself a giant infomercial) and DonorsChoose.org (the Chromebook crowdfunder) with a simple coloring game. Each nonprofit has its ornament alongside a short blurb about how it works to promote educational opportunities worldwide. It urges kids to:
"Pick an ornament with your favorite charity and start coloring!"
There's plenty of blame to go round. The incentives in the DonorsChoose platform favour big ticket technology items over the basics that schools need the most. Some teachers prefer to give children screens and digital edutainment over real world classroom engagement.
Why should teachers have to beg for classroom supplies anyway?, The Guardian newspaper asked three years ago. Reader theodp, who documents the influence of Big Tech in education, pointed out:
"Nothing says Christmas fun more than making ornaments to celebrate Google's pet causes. Teachers can beg for the supplies that their schools couldn't provide because Google and others duck their taxes!"
The Dutch Sandwich saved Google £2.9 billion in tax this year, according to estimates based on company filings. That would buy a a few exercise books - a wish that Google's favourite "charity platform" can't seem to fulfil. ®
Sponsored: Ransomware has gone nuclear