Microsoft's marketing boss Chris Capossela has confessed the infamous your-Windows-10-upgrade-is-ready pop-up that tricked so many people into installing the thing was a step "too far."
Speaking on this week's Windows Weekly podcast on Twit.tv, Capossela was asked to list his low points of the year for Redmond (it's 17 minutes, 44 seconds in). He said that from a marketing and brand point of view, the sneaky popup was a major mistake.
The pop-up asked users to schedule an upgrade but if they clicked on the red X on the top right of the box it didn't just close the window – it scheduled the update anyway.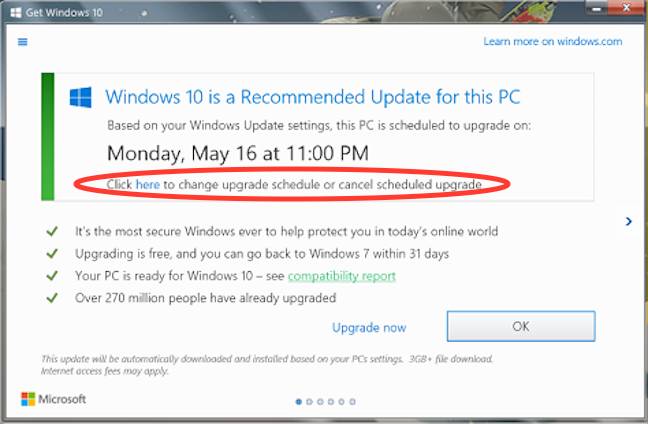 Misleading ... Closing this dialog box using the top-right red X scheduled the upgrade rather than cancel and ignore it
"We know we want people to be running Windows 10 from a security perspective, but finding the right balance where you're not stepping over the line of being too aggressive is something we tried and for a lot of the year I think we got it right, but there was one particular moment in particular where, you know, the red X in the dialog box which typically means you cancel didn't mean cancel," Capossela said.
"Within a couple of hours of that hitting the world, with the listening systems we have, we knew that we had gone too far and then, of course, it takes some time to roll out the update that changes that behavior. Those two weeks were pretty painful and clearly a lowlight for us. We learned a lot from it obviously."
Er, two weeks, Chris? Reg readers were waving red flags over this egregious behavior in May and it wasn't until the end of June that Microsoft pulled the infamous dialogue boxes. Still, it's a sort-of-but-not-apology – albeit one in the last week before Christmas when most people have their mind on other things.
The episode left a bitter taste in peoples' mouths, particularly as a lot of them lost their PCs to the upgrade at critical times. Microsoft is also facing legal action and has settled at least one case of an unwanted version update causing a crash.
Other cockups for the year, according to Capossela, included Microsoft writing off its feature phone business. Ballmer's bonkers decision to buy Nokia, then shut it down as a cost of billions wasn't a high point, he noted.
That said, Redmond did see some notable successes this year. The Studio, Microsoft's first desktop PC, has been selling faster than the biz can have them manufactured, and the Surface Pro and Book lines are doing well. ®
Similar topics