If you've noticed that Wikipedia has been much less annoying this Christmas – you can thank El Reg.
Jimmy Wales had promised that the alarmist banner ads that adorned each page during the Wikimedia Foundation's 'December Sprint' fundraiser would no longer be needed once the target of $25m had been met. The Sprint achieved that goal with a full 15 days of December to go. But the WMF announced that, "Given this momentum, we believe that it would be wise and worthwhile to continue to fundraise more in the month of December".
So the fundraising charged on, and the banners stayed, as we reported here.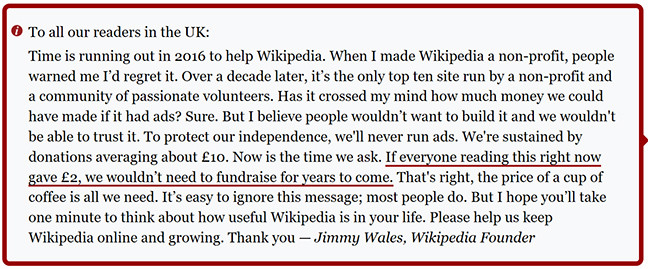 Wales told marketing weekly The Drum that his promise hadn't really been a promise at all.
But greed never looks good, especially not at Christmas, and after increasing community pressure, the banners have now gone. And a further New Year appeal has been cancelled, the WMF's Lisa Gruwell finally announced.
The Wikimedia Foundation (WMF) finally retired its fundraising banners on December 19th, which means roughly 300m fewer irritations for the site's users around the world. The operation will serve over 700m Wikipedia pages in December.
As Wikipedia Signpost editor Pete Forsyth notes on Facebook, the real credit should go to community advocate Andreas Kolbe, who provided an in-depth analysis of Wikipedia's finances here. However the only professional news outlet to report on the issue was The Register. The rest are obsessing either about "fake news" – or inventing it.
The WMF will raise some $77m in the 2015-16 cycle. The site costs $2m to operate. The rest goes to paying a new administrative class of staff at the WMF - the fundraising alone employs 17 people - and a new endowment, which can be used for political lobbying. The hard-working volunteers who write and edit the pages don't get a penny. ®
Bootnote
And what are the most popular banner-free pages at Wikipedia this Crimbo? 20 of the top 25 Wikipedia pages were entertainment pages, with Star Wars and Zsa Zsa Gabor related entries snaffling 10. Details here.