HPE bucks trend to retain high-end server crown
Technical and HPC gains offset commodity server losses
---
IDC bean-counters saw strong high-end server revenue growth in the third quarter high-performance technical computing market but revenue falls in low-end sysyems.
HPC server sales growth contrasts with the decline in the overall world-wide server market, which IDC says shrank by 7 per cent to $12.5 Bn in the year since the third 2015 quarter.
Customers spent $2.8bn, at factory revenue level, on servers for technical computing in the third 2016 quarter (Q3 2016), up 3.9 per cent on the year-ago quarter's $2.7bn.
The IDC beanies divide the market into four segments; supercomputers ($ $500,000 or more), divisional systems ($250K - $499K), departmental systems ($100K - $249K) and workgroup ones (below $100K).
Here are the splits;
| | | | |
| --- | --- | --- | --- |
| Segment | Q3 2016 | Q3 2015 | % Change |
| Supercomputers | $985.3m | $805.7m | 22.3% |
| Divisional Systems | $568.4m | $464.5m | 22.4% |
| Departmental Systems | $836.2m | $976.4m | -14.4% |
| Workgroup Systems | $395.5m | $433.0m | -8.7% |
Earl Joseph, IDC's program VP for Technical Computing, said; "Higher-priced systems led the way with year-over-year growth exceeding 22 per cent, while lower-priced system revenue declined." The dip in departmental and workgroup HPC server sales is thought to be temporary by IDC.
HPE was the highest-performing server vendor, with a 35.8 per cent share of the overall HPC server market and 37 per cent of the supercomputer section. Second-placed Dell's respective numbers were 18.5 per cent and 13.3 per cent. Lenovo was in third place with 8.6 per cent and 8.1 per cent respectively, while Fujitsu was awarded 7.0 per cent of the supercomputing segment, not featuring as an identified vendor by IDC in the overall HPC server market.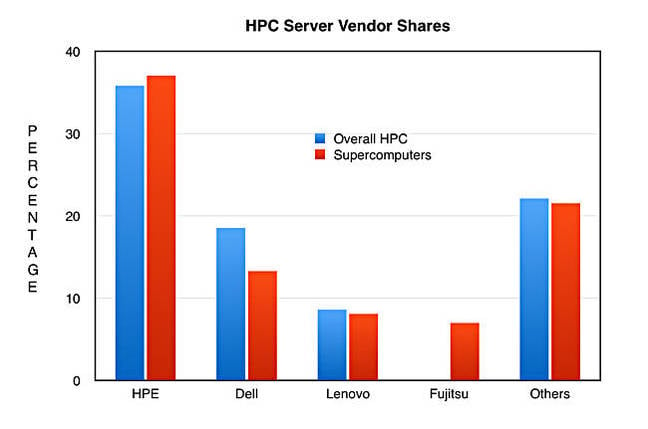 IDC award the Others category 22.1 per cent of the overall HPC server market and 21.5 per cent of the supercomputing one. You will notice the vendor share numbers don't add up to 100 per cent in either the supercomputing or overall HPC server markets; IDC no doubt keeping certain numbers back for paying recipients of the full Worldwide High-Performance Technical Server QView report.
The research house says buyers have spent $8.1bn in the three 2016 quarters so far, which is 3.4 per cent more than the $7.8bn spent in the same three 2015 quarters. So the market is growing steadily. It also basically involves selling x86 servers, a pretty simple business, and there are more than 30 players in IDC's Others category reflecting this.
HPE has a commanding share and gives Dell a big target to chase. ®
Similar topics
Broader topics