MacBook killer? New Lenovo offering sexed up with XPoint booster
Desk warriors get Optane cache to chew through data faster
Lenovo has a ThinkPad T570 notebook computer coming out which will be able to use Intel Optane 3D XPoint memory as a cache.
XPoint is the faster-than-flash, slower-than-DRAM non-volatile memory being produced by Intel and Micron. Optane is Intel's brand, QuantX is Micron's. An Optane cache should be faster than a cache using flash.
The T570 will reportedly arrive in March with a 15.6-inch display and a starting price of $909. Expect to pay much more for a top-end model.
The specification will include a range of compute and storage options, such as Intel Kaby Lake CPUs, Nvidia GeForce 940MX graphics, 32GB of DRAM, a 4K touch display option and Windows 10, plus the ability to use 16GB of M.2 PCIe-connected Optane cache – when Intel ships it.
Lenovo is providing an Optane-equipped server test bed in IBM's BlueMix cloud.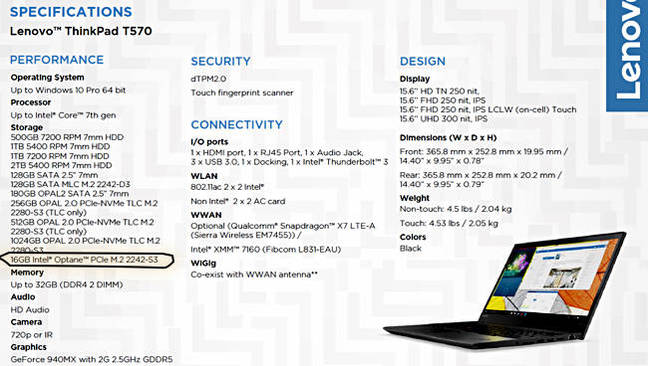 Lenovo T570 spec sheet
With this spec (PDF) such a notebook with XPoint glamour could make Apple's MacBook line look outdated, out-performed, and vastly over-priced – especially if Lenovo is not alone in enjoying Intel's Optane largesse. ®