This article is more than 1 year old
Regular or premium? Intel pumps out Optane memory at CES
Just a dash to Kaby Lake splash
CES 2017 Intel has announced Optane memory products in M.2. format to ship in the second 2017 quarter.
Optane is Intel's brand for its 3D Xpoint memory, jointly developed with Micron, and a non-volatile memory that is faster than NAND but slower than DRAM. Intel says (PDF) "a hard disk drive coupled with Intel Optane memory affordably gives you SSD- like speed while maintaining large-storage capacity … [and] delivers amazing desktop responsiveness."
Intel has said it will develop both DIMM and SSD XPOint devices and the first SSDs are being revealed at CES in the shape of these M.2 products.
There are two capacity levels: 16GB and 32GB and the devices are a disk drive cache memory option for its i7 Kaby Lake seventh generation Core CPUs. They will also be sold separately for use with certified "Intel Optane memory ready" motherboards and other platforms.
A system that is Intel Optane memory ready will include either a 7th Gen Intel Core or Xeon E3 v6 processor.
Intel's video (available here) pushes Optane as a disk drive caching device, a role that flash has used for years. It does not compare such Optane caching to flash caching, which suggests the perceived difference will not be significant.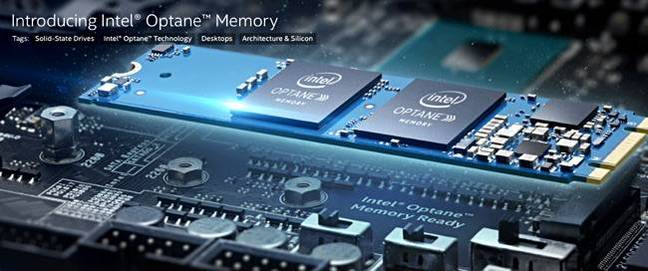 Intel Optane M.2. format card
There is a PDF Optane brochure which provides no quantitative performance information at all. Neither is there any pricing information. We expect a price higher than M.2. NAND but lower than the equivalent DRAM capacity. ®