This article is more than 1 year old
Seagate performs upgrade transplant surgery on LaCie external drives
External drive capacity and connectivity boosters
CES 2017 With two Seagate LaCie drive revisions, we see the storage industry doing what it does best at a device level; capacity and connectivity upgrades so as to store more data and get at it faster.
The LaCie d2 and Rugged products are nattily designed by Neil Poulton and are external drives for creative video, image and music workers, or anyone else working on complex collections of files on their laptop or all-in-one desktop. The d2 is a single 3.5-inch drive while the Rugged is a shock-protected 2.5-incher inside a bright orange rubberised case. Both have been given capacity and connection upgrades to cope with storing and accessing, for example, higher-resolution videos and images, and more detailed music files.
The external casing designs remain the same.
Rugged
The Rugged drive is a shock-insulated 2.5-inch drive inside a bright orange rubberised protective case. There was a bus-powered version in June 2014 with 1TB or 2TB disk capacity, or a 250GB or 500GB SSD inside instead. Transfer speeds were up to 122MB/sec from the disk model and up to 387MB/sec from the SSD version.
The 2017 Rugged Thunderbolt USB-C has up to 5TB of capacity from its 5,400rpm BarraCuda disk drive. For faster data transfer, there is a 1TB SSD version with speeds of up to 510MB/sec; Seagate saying this is a 30 per cent increase over the previous SSD generation. The disk version transfer speed is up to 130MB/sec.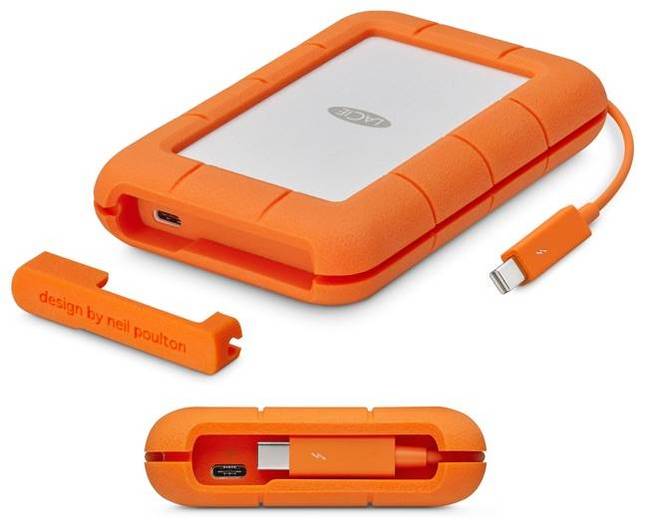 LaCie Rugged drive
It gets USB-C connectivity, which combines USB 3.x and Thunderbolt connectivity, supporting 40Gbit/s Thunderbolt 3. The integrated Thunderbolt 3 cable is compatible with Thunderbolt 1 and 2 standards.
With Thunderbolt 3, users can daisy-chain dual 4K displays or a single 5K display to a storage device. LaCie has been adding USB-C and Thunderbolt 3 connectivity to its external drives throughout 2016. The USB-C protocol supports gen 1 (5Gbit/s) and gen 2 (10Gbit/s) USB 3.x protocols. Apple's updated MacBook Pro only offers USB-C connectivity, with dongles available to convert from USB 2.0 to USB-C for example.
The Rugged drive is shock, dust, and water resistant to IP54 standard, meaning it is protected against drops of up to two metres (6.6 feet), dust, water, and being run over by a 1-tonne car. It can be protected against unauthorised access with separately downloadable AES 256-bit software encryption*, and has a three-year warranty.
d2
The Thunderbolt 2 d2 external 3.5-inch drive was announced in September 2014. Inside its Neil Poulton-designed aluminium case it contained a single Seagate 6TB 7,200rpm drive with transfer speeds of up to 220MB/sec though dual Thunderbolt 2 ports. Up to six of these devices could be daisy-chained together and USB 3.0 is also supported. Seagate said there would be a USB 3.0-only model with 3, 4 and 5TB capacities.
This d2 could have an SSD upgrade via a 128GB PCIe flash card installed through the d2's rear panel.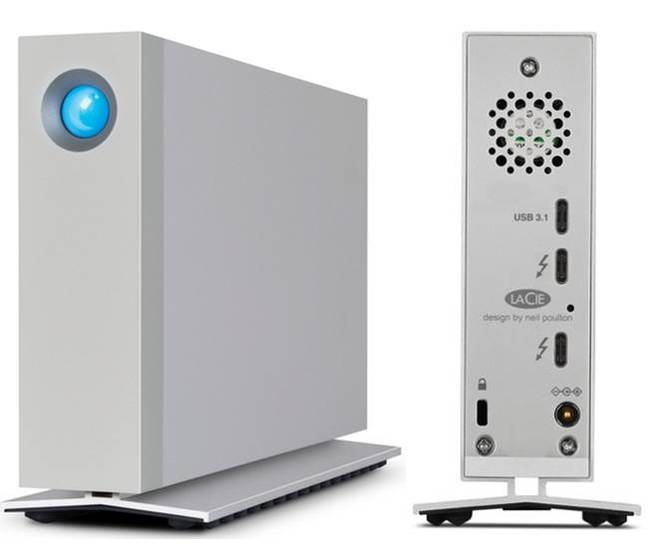 LaCie 2017 d2
The 2017 d2 has up to 10TB of capacity from a 7,200rpm BarraCuda Pro 3-5-inch disk drive and transfer speeds up to 240MB/sec. It has USB-C and dual Thunderbolt 3 port and supports USB 3.1.
Seagate made no mention of any add-on SSD card for the updated d2 and said the new d2 has a 5-year warranty.
Availability
The new Rugged drive will come in 2TB, 4TB and 5TB HDD and 500GB and 1TB SSD capacities starting at $249.99. The updated d2 drive will come in 6TB, 8TB and 10TB capacities starting at $429.99. Both new Rugged and d2 drives will be available at LaCie resellers worldwide this quarter. ®
*Not available in Russia.