This article is more than 1 year old
Hapless scouser scours streets for lost Crimble drone
Puppies and pussies ousted from lamp-posts by free-ranging tech toys
Pic If your heart sinks every time you see a badly photocopied picture of a missing cat, we've got some good news. They're about to be replaced by far better quality pics of missing drones.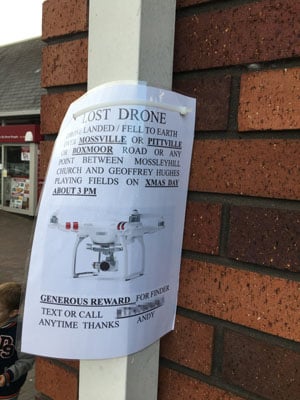 Photo by Brian Gannon
Reg reader Brian Gannon spotted this (rather well produced) flyer outside his local Tesco superstore in Liverpool, UK, over the Winterval.
As Brian says, "Was only a matter of time before these started turning up."
"Xmas day though is harsh," Brian added, imagining "some Dad [is] in the dog house after losing his kid's Christmas present."
Now you'd think there'd be some kind of geo-fencing to stop drones, robots and similar technology developing a mind of its own and wandering off from its rightful owner. Well, think again.
As we reported just before Christmas, machine ethicists are pondering just how much "free will" we should allow our future companion machines and sex robots. And one school of thought is that if we allow machines to start making decisions for us, we should also allow them to start making decisions for themselves.
In which case, we can expect an awful lot more of this sort of thing as [semi-] autonomous tech decides to up sticks if you regularly let its batteries run too low, or feed it lower grade flash cards. ®